The Vampire Diaries treated viewers to a trick-filled installment on Halloween night, one filled with multiple storylines, a lot of exposition and at least one mother of a surprise.
Seriously, we all knew Katherine Pierce was one bad motherf-cker... but who would have guessed she truly was one bad mother? F-cker!
Let's start there in this rundown of The Vampire Diaries Season 5 Episode 5 ...
Points to The Vampire Diaries for remaining true to Katherine's backstory. And no, I'm not just referring to her chopping off of poor Uncle John's fingers.
We were told a long time ago that Katherine gave birth to a girl deemed "illegitimate" and was therefore banished to England, where she met Klaus and Elijah and the rest is globe-trotting, Doppleganger history.
But does anyone really care to see his history resurrected in the form of Nadia? Katherine has never really been a real character. She's been used as plot device again and again, showing up whenever the writers needed to find a convenient way to move the story forward.
And, my goodness, she just won't die! Yes, the show winked at this fact through every reference to Katherine "dodging the diabolical," but seriously. It's time for her to go.
I was hoping Silas would drain her, that he'd come alive via The Cure (so he could die again, ironic) and then Nadia and her Traveling buddies would wage war against him and Damon and Elena and a whole lot of craziness would ensue.
And, yes, I'm quite certain we're still headed in a crazy direction. (Correction: we've met Tessa, haven't we? The crazy quotient has been filled for a couple weeks now.) I just can't bring myself to care about anything involving Katherine.
She's been too misused over the years and the idea of her VERY long-lost child coming back to save her just seems far too wild and random. Even for The Vampire Diaries.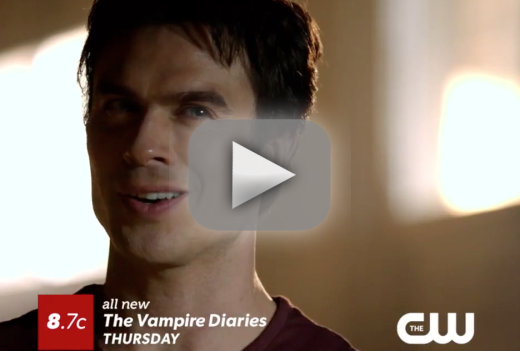 Let's get the other negative out of the way now: Tyler. Talk about random and misused.

The guy is inexplicably away for months (no cell phone service?!? If cell phones can work in his family's underground maze, they can work in Tennessee), shows up, has a ton of sex with Caroline (damn him!) and then leaves because he must go take down Klaus?!?

Yes, this verifies the theory that those werewolf attacks in New Orleans were committed by young Mr. Lockwood and, sure, I'm excited to see him on The Originals. But why even come back? Why not send Caroline a text? Sry. Off 2 kill Klaus. TTY never!

Would that have been cold? Absolutely. Colder than returning, getting his naked swerve on a few times and then walking away for good, though? I don't think so. Low move, Ty. You don't deserve any Beignets in The Big Easy.

So that's 0 for 2 so far. I'm not intrigued by Katherine as a mother nor did it seem worthwhile to bring Tyler back for a mere TVD cameo.

Ah, but then there's Dr. Wes Maxfield. And now we're getting somewhere!

He's experimenting on vampires? He says Jesse is the "perfect candidate?" He warns Elena people are watching her and her friends at Whitmore and they should pack up and leave? He's the guardian of some mysterious student named Aaron? Interesting... fascinating... question-inducing... awesome. I'm all in. Give me a lot more of this (evil? brilliant? helpful? benevolent?) professor, please.

And a lot less of Katherine never dying.

What did everything else think of the latest Vampire Diaries Season 5 installment? Are you blown away and enticed by this Katherine development? Are you missing the old, memory-filled Stefan? Do you wish Hallmark actually made I'm Sorry Kegs?

And were you excited at the return of Elena's diary entries? Or thinking we should all chip in at this point and buy her an iPad? Sound off below.

Matt Richenthal is the Editor in Chief of TV Fanatic. Follow him on Twitter and on Google+.

Tags: The Vampire Diaries, Reviews