Agents of S.H.I.E.L.D. Review: Feeling A Bit Thor
by Jim Garner at . Updated at . Comments
For anyone who has been to the theater to see Thor: The Dark World, this week's opening was for us.
If you haven't gotten out to see it yet, I can say (without spoiling anything) that the clean up the team was doing in the beginning of Agents of S.H.I.E.L.D. Season 1 Episode 8 takes place after the events of the movie. 
While it was announced and advertised that an episode of Marvel's Agent of SHIELD would feature a tie in the Thor sequel, after the nods and jokes in the opening, I was surprised to see the hour continued with the team chasing an unknown Asgardians artifact.
But what a great surprise it was!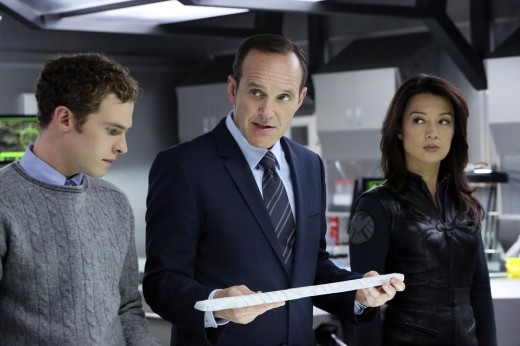 In the continuing trend of giving us more information on the rest of the team, this week Grant was up to bat as he grabbed one part of the broken staff and it stirred up memories of his brother and when he first felt hate.
My compliments to Jonathan Frakes and his team for the clever presentation of Grant's memory to make us all think that Grant was the one in the well and that his hate was towards his brother. Finding out at the end that he was at the top of the well and that hate was at himself for not standing up for his brother made me like Grant a little more. 
Speaking of liking Grant, I would have never called Melinda and Grant having a nightcap in her room. I'm not sure where they are going to take that little rendezvous, I'm just hoping it doesn't all happen off camera. 
Did her comment about dealing with her worst memory every day makes you want to learn more about her even more than you already did? Me too.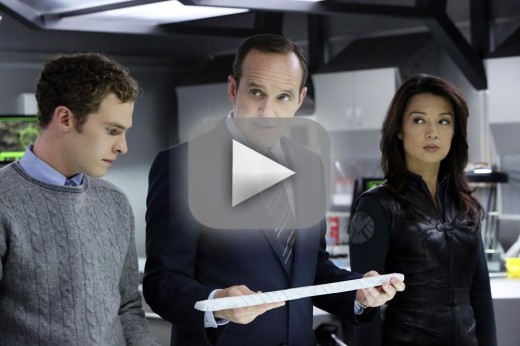 One of the things this episode did was make me remember how much space there is between the movies for great stories to be set and still fit in the Marvel universe. I loved Peter MacNicol as Professor Elliot Randolph and by far the biggest shock of the episode was finding out he was actually an Asgardian hiding on Earth. 

Okay, to be fair, it was also pretty shocking when Coulson stuck his hand in Elliot's chest to save his life. Clearly he's earned his Level 8 status. Who else is going to go fishing around in the chest of an alien? 

Overall, this installment continued the trend of well-written episodes that we've been seeing over the last few weeks and it makes me excited to see where they are going to go. Maybe we will end up with an episode in Tahiti. After all, I hear it's a magical place. 

Jim G. is a TV Fanatic Staff Writer. Follow him on Twitter.

Tags: Agents of S.H.I.E.L.D., Reviews