Brooklyn Nine-Nine Cast Teases Thanksgiving, Talks Fun Theme Song
by Jim Halterman at . Updated at . Comments
Ready for Thanksgiving, Brooklyn Nine-Nine style?
Not only does the new sitcom tackle the classic holiday, it succeeds beautifully at doing so. (I won't spoil anything... but while there are many amazing moments, I have to say the best one belongs to Andre Braugher. We can talk once you've seen the episode.)
I had the chance to chat with cast members Stephanie Beatriz (Diaz), Chelsea Peretti (Gina), Melissa Fumero (Santiago) and Terry Crews (Terry) recently and asked them not only to tease the Thanksgiving episode, but also their thoughts on the show's strong run so far, along with that fabulous theme song.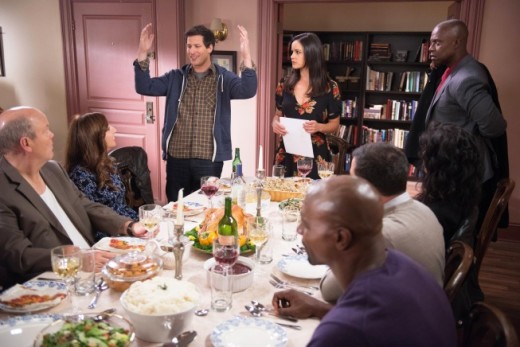 The Thanksgiving storyline: "The squad ends up having Thanksgiving dinner together and shenanigans ensue," said Beatriz. And while we'll see where Amy lives since she's hosting dinner for her co-workers, Fumero said her television home "wasn't what I expected."

Peretti added: "I think you get to see a side of Amy that is new and that's fun to see. You get to see her in her natural habitat, let's say that."

Holiday episodes = Giddiness: "We got to all have these late night shoots, which wound up being bonding for the characters and us as people," Peretti saod of the Thanksgiving episode filming. "I think anytime you're sitting there staring at Thanksgiving dinner it's like some weird sense memory where It just opens up something weird in you and I fell like everyone was a little open and giddy and strange."

Dreams Come True: "I always dreamed of being on a show that people loved and quoted," said Crews. "People are quoting the lines from Chelsea and Joe and Andy and myself. It just feels so good! And just to hear what people are saying and how they're enjoying it. It's so nice. It's like a warm blanket on a cold, frosty afternoon!"

Shhh! The Writers Are Listening!: Now that the show has been up and running for a little bit of time, are the writers writing towards the talented actors in the cast? Peretti thinks so. "There's just stuff that starts to develop between characters organically and then it's kind of a feedback loop. I feel like they see stuff that's happening when you're acting what they've already written and then their writing to more of that so it sort of goes back and forth."

Diaz, The Tough Cookie: Beatriz smiles a lot easier than her TV alter ego, so how difficult is it to play someone so tough as nails? "I think that it's not that challenging, actually," she said with a laugh. "I just sort of dip into that part of myself that everyone has that sort of hates and is annoyed by many things around them. Also, my parents...they have strong personalities, which is a polite way to say they were very tough but loving."

Will They Or Won't They: Fumero is glad that the show isn't weighing too heavily on the potential romance between her Santiago and Andy Samberg's Peralta.

"I think that there's so much more to their relationship and their partnership than that," the actress said. "If we go there in the future, yeah that could be, but I feel like so much still needs to be built up between the two of them to even jump into that and if they did it now it would just be a disaster because Jake still has so much to learn and Amy is so unaware and what would that relationship even be?"

Best Opening Titles Ever?: "There's something kind of retro and throwback about it, which I love," Fumero shared. The first time the cast saw it was a surprise, said Peretti, adding: "It was not something like 'Is this cool with you?' We were sitting there watching an episode and all of a sudden it had the opening on it."

Ba Da Ba Ba Da. The catchy theme song is something that's heard on the Brooklyn Nine-Nine set. A lot. "Terry Crews, when we're talking on set or making jokes, he'll do the theme song and it always makes everyone laugh," Peretti said. "I think they definitely picked things that are emblematic of all of our characters."

Comedy Is Hard: "Comedy is the hardest thing ever because no one can agree on what's funny," said Crews. "Like drama, the dog is dead! Oh my god! Everyone knows that's a sad moment but nobody knows what's funny."

But the former NFL-er said one thing he agrees on is the Brooklyn Nine-Nine cast. "I have to say, the stars aligned with this show. Dan Goor and Mike Schur created the cast so everyone complimented each other and that's hard to do because one thing out of place and all the dominoes just come falling down."

Time To Breathe Easy?: The sitcom has been picked up for the rest of this season and is airing after the Super Bowl. Does that mean it's smooth sailing from now on? "It's definitely a lot less anxiety-ridden and I'm nauseous a lot less now," half-joked Fumero. "It's so great, though, to hear people's responses to the show have been so overwhelmingly positive and I feel like we're having so much fun on set and people are now having fun watching the show and they're on the ride with us. It's so satisfying."

Brooklyn Nine-Nine Season 1 airs Tuesdays at 9:30 p.m. on Fox.

Jim Halterman is the West Coast Editor of TV Fanatic and the owner of JimHalterman.com. Follow him on Twitter.

Tags: Brooklyn Nine-Nine, Spoilers, Interviews, Exclusives