Drop Dead Diva Creator Teases Season 5 Finale, Season 6 Renewal
by Jim Halterman at . Updated at . Comments
Usually, at the end of a Drop Dead Diva season, fans (and the show's cast and crew) are on pins and needles waiting to hear if the show will be renewed - but not this season.
Lifetime handed down a sixth season renewal recently and, among others, creator Josh Berman couldn't be more excited.
In fact, he already has big plans for next season and, as he told me last week, we'll see some of the seeds on Drop Dead Diva Season 5 Episode 13 including more Paul, more with Owen and Stacey and, of course, more with Jane and Grayson.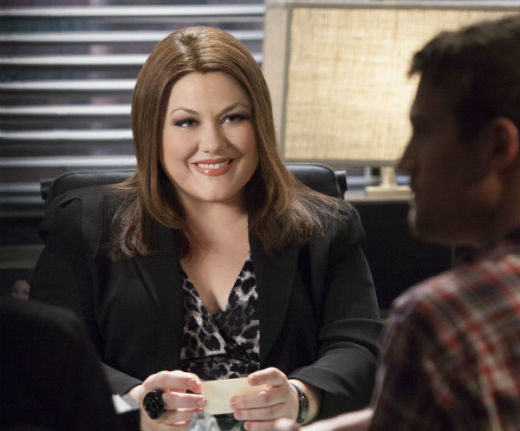 TV Fanatic: I feel like the renewal news came so early this time as opposed to pretty much every other year.

Josh Berman: It's crazy. It took all of us by surprise how early it came.

TVF: Were there big discussions going on?

JB: I kept hearing how happy everybody was creatively with Drop Dead Diva this season so that made me feel really, really good and I knew that they were excited about some ideas I had floated for next season but I didn't know that the pick up was coming until right before it happened.

TVF: I'm guessing this finale for season five was already done before you knew about season six, right?

JB: Yes. And there's an awesome cliffhanger at the end of season five so I was hopeful. Our ratings were so strong this season that I was very hopeful that there was going to be a season six so I actually used the last episode to platform the potential season six so thankfully my hunch was right. We got picked up.

TVF: Jane's mother – played by Faith Prince – pops up this week. What does that story bring to Jane's journey in the finale?

JB: Without giving anything away I would say that certainly this time Jane's mother takes a more serious role on Drop Dead Diva and just as Deb's mom in the last episode helped convince Jane that she should come clean with Grayson, Jane's mom does the same thing but in an unexpected way.

TVF: Talk about this journey with Jane and Grayson all season. It feels like maybe they're on the same page at the same time about things. What will we see?

JB: I think that it's the first time in five seasons that they're on the same page and that gives a great foundation to start season six. And a lot of viewers were complaining that Jane spent season five mourning, that she was 'sad Jane' all of a sudden, and the truth is, life has its ups and downs and Jane had to take a real significant detour in season five.

She thought she was going to marry Owen. She thought she had put her feelings away for Grayson and, in the last minute, obviously right before she was about to get married, everything changed and then she kissed Grayson in front of her fiancé, which is a pretty awful thing for a character that's so good to do. So she was living with the repercussions of her actions and she was in a real funk. And it took a season for her to probably shake that funk off and now I think season six we're going to see a new, more empowered diva. A happier, empowered diva.

TVF: And there's also, as usual, a cavalcade of great guest stars in this final episode. They kept popping up one after the other!

JB: I have been trying to get Doug Savant on the show since the first episode of the series and he's said when the right role comes along he wanted to come on Diva and then when he read the part of the Amish man, he finally said yes. And then also Peri Gilpin from Frasier. I always wanted to work with Roz and I loved the fact that she was willing to come on for a day.

TVF: And I've always been a fan of Rebecca Mader, who plays the dominatrix.

JB: Oh my God. She's amazing. She was so good. When we saw her audition it was like, 'Okay. I'm in love with her.'…and that accent is so beautiful.

TVF: I have to say that I just love how Paul (Justin Deeley) has become such a part of the show and I really hope he's back for season six.

JB: Oh. Paul is definitely back. Actually you'll be the first place I confirm it but I will confirm that Justin Deeley is coming back for season six.

TVF: Yay! That's good news.

JB: Justin Deeley as a human being is an amazing person. The sweetest guy in town and a great actor and he'll actually have a bigger role in season six because what I love about him as Paul is he's a rule breaker. He doesn't care about the rules. It's just like Deb in real life didn't care about the rules and that's exactly what Jane needs because she's been following the rules for five years. Now let's break her out of her shell.

[Justin Deeley further teased: Paul had a nice arc as far as a seemingly careless, nomadic angel and then he slowly began to understand how important Jane was to him...it all comes full circle in the finale.]

TVF: Were you sure that Paul would click with everybody?

JB: Obviously we had Ben Feldman on the show for the first three seasons and he was really hard to replace so we went completely different way [with] Carter MacIntyre in season four and we always envisioned that role as just a one-year role and it was a very different kind of angel. It was the professional, lawyer-like angel.

I think with Paul we've gone another direction completely, which is a male version of Deb. He is as shallow as Jane was before her transformation and I think that in that and in falling in love with Deb it's the same way you fall in love with Paul and I hoped that he would gel with everyone.

One unexpected combo that I never saw was I never really envisioned a scene between Owen and Paul but in episode eleven of season five they were in a scene together and they were so funny that I expect to write a lot more scenes for the two of them together.

TVF: And I have to say I was a little worried that if Owen and Jane didn't work out, Owen might fall to the wayside but you've kept him around in a real organic way, too.

JB: Oh yeah. For him to come to the firm and never really know if his intentions were about Jane or he said it was because he wanted a more stable environment but either way, having him as her partner at the firm ended up working out really well.

TVF: And also his story with Stacy (April Bowlby). I really like the two of them together whether it becomes a bigger romantic thing or not. They work well together.

JB: It's so funny that you say that, Jim, because when I first started introducing that storyline, viewers were so mad - and understandably so - but then when we explained the rationale for it as Stacy broke up with him, now people are Tweeting me and upset that we broke them up. So I think it's interesting and next season we will be playing with that relationship as Stacy gets further along in her pregnancy.

The Drop Dead Diva Season 5 finale airs tonight at 9 p.m. on Lifetime. 

Jim Halterman is the West Coast Editor of TV Fanatic and the owner of JimHalterman.com. Follow him on Twitter.

Tags: Drop Dead Diva, Spoilers, Interviews