At the onset of How I Met Your Mother Season 9 Episode 8, Robin sparkled, showing up to breakfast wearing Loretta Stinson's cherished blouse.
As the subject of scrambled eggs came up, Robin hilariously soiled the blouse with ketchup and syrup, but the moment she referenced her rarely mentioned mother, you could tell she was struggling to find a leg to stand on.
Lily was right, a happy wife makes for a happy life, but could you really fault Barney for loving his mother's cooking? Especially after the way he described the way her eggs made him feel?
Oh my god. I'm eight years old again and life is perfect and I haven't peed my shorts in front of 350 Webelos at the Pine Wood Derby Regionals in Wheeling, West Virginia.

Barney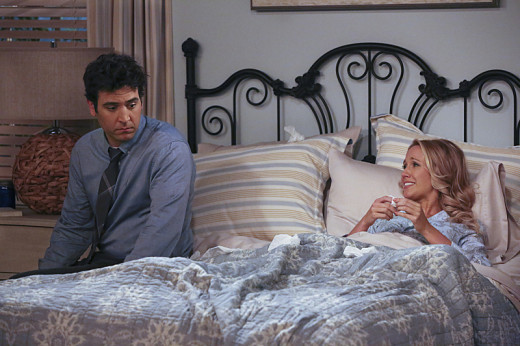 Robin eventually admitted she was no top chef, but it was Loretta who ended up with egg on her face when she made a gibe about the prospects of Robin cooking for her children some day.  
The flashback to the night Robin told Barney she couldn't have children was a great scene. Was it weird his first impulse was to hug her? No way. It was a touching moment in their relationship, we had not seen before. It also made for nice closure later when Loretta hugged Robin and told her to call her Mom after Barney expressed his reasons for marrying Robin. 
As for the other mother at breakfast, Lily sat down at the table drink in hand, signaling that Linus was back on call. 
Yes I'm in a rotten mood. No I don't want to talk about it. Yes this has booze in it. No it's not my first.

Lily
As Lily decimated the hotel's supply of glasses, she thankfully didn't spill a drop on that grey dress, in which she looked amazing. If Marshall could have seen her, he might have said the hell with being a judge just to appease her. Marshall, of course, was not there, but instead spent the night at Ted's mom's house while waiting out a storm.

Finally we heard Marvin cry! It's not that I liked hearing his screams, but all ride long, Marshall and Daphne have been yelling without any regard for or the slightest reaction from the back seat.  

However, Clint snapping his guitar to pieces - inches from the little guy's rear facing car seat - was a bit much for me. Marshall should have gone nuclear right then and dragged the self help stowaway out of the truck.

Back in Farhamton, Ted was fed some bad advice by a good and buzzed Lily. I can't imagine many men would complain about having to carry Anna Camp up a set of stairs, but it was clear she was not right for Ted. Luckily for us, Ted decided he hadn't run out of lighthouses and we were treated to the moment he proposed to the mother.

I have been complaining about the lack of any scenes featuring her in recent weeks, but tonight's final moment made the wait worth it. 

The pace at which we are progressing toward the wedding is still irksome, but there is plenty to look forward to aside from the big ceremony. Top of my list is how Lily will receive Marshall when he finally arrives.

Tags: How I Met Your Mother, Reviews