J.J. Abrams Talks Almost Human, Comparisons with Fringe and More
by Jim Halterman at . Updated at .
Is Almost Human a replacement of sorts for the gone-but-not-forgotten Fringe?
Sure, both series came from the J. J. Abrams production house, Bad Robot, and both have Joel Wyman steering the ship.
But during a recent visit to the Bad Robot offices in Santa Monica, Abrams talked to the press about all this and more in creating the Karl Urban-Michael Ealy series. Here are some of the highlights: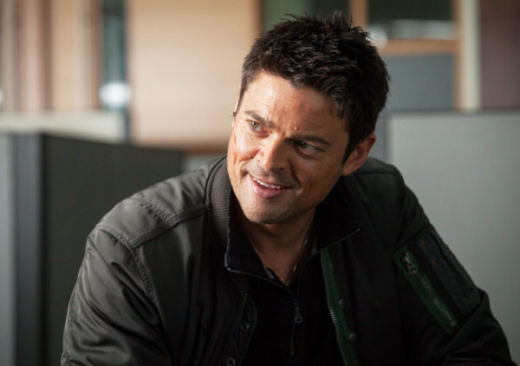 On how the busy Abrams is able to juggle so many projects in both TV and film…

J.J. Abrams: The ones that we are working on now are things that obviously don't all happen at the same time and my role in them varies depending on what is needed or what is desired. In terms of this project, all of us have worked with Joel for a number of years on Fringe and so when Joel called and pitched this idea for a show the idea of working together was a no-brainer and we were very excited about the prospects for this.

And so while I was very involved at the very beginning with working with Joel on the story and casting, and the editing and everything, the truth is that Joel doesn't need a babysitter and is a great showrunner and has been working on this series as he did on Fringe, and so we have been of course giving notes and responding to cuts and scripts and things like that.

Almost Human is NOT Fringe...

J.J. Abrams: I think that they're incredibly different shows. I think that the overlap, the Venn diagram of these two, might be that they're sort of pushing the edge of technology and what might be possible in that regard but I think the series themselves are completely different types of shows.

I think what they're dealing with in this show it's much more of a kind of cop show that you might feel is familiar with a huge wrench thrown into that and a huge adjustment being that the cases themselves are things that are not quite what you've seen before and the reasons for and the trues of the differences between these characters are atypical because of the world in which it takes place.

Some of my favorite shows and movies and books ever have been taking things that are very familiar and then throwing something into it that is completely unfamiliar and then sort of playing that out. And that's the thing that I love about this show but it feels very distinct and different from the world of Fringe which was I think at its core a much more serialized show about this dysfunctional father/son, this sort of romance that went over not just years but different worlds and I think that this is a show that doesn't quite get into that level of serialized storytelling.

The procedural element in his television series…

J.J. Abrams: I think that shows that we've done that have worked and have procedural elements like Person Of Interest…what I love about that is while, of course, there are some serialized elements that are being told along where you'll learn more about Reese, you'll learn more about Finch as you go, but the show week to week is 'here's your number, here's your case, go and figure it out.' And to me the beauty of that show is balancing a kind of 'I'm curious about that and when I'm going to learn more? Oh, good. I got a little bit more of a taste of understanding why he is the way he is, what that behavior meant or what happened to that relationship.'

But at its core the show was procedural and I think that [Almost Human] is going to take that model much more so than certainly Undercovers [Abrams' 2010 NBC series starring Boris Kodjoe and Gugu Mbatha-Raw] did, which was an attempt to do a very fluffy, kind of Hart To Hart-type show and just, sadly due to my absolute inept skills, despite all the great work that was done by many of the cast and my colleague, Josh Reims, failed.

Can procedural and sci-fi audiences both find a home in Almost Human…?

J.J. Abrams: I will say that to me this show is something that we are making for an audience that wants to watch a fun police show that has I think a lot of drama, a lot of comedy, action and I think some wonderful surprises, but at the core of the show by default I think what interests people who are sci-fi fans because it takes place in the future.

But sci-fi is just sort of bandied about term and used in ways sometimes that I think is not quite appropriate. In a sense, everything is fiction that's on TV and there's a lot of stuff that has some science in it but I wouldn't say that this is a, you know, in the mold of a '50s sci-fi romp. I don't think it sort of feels like that. I don't think it's exactly anything else that I've seen before but I've never been involved in a series, whether it was Felicity or Alias, or Lost or certainly Fringe…every show has been compared to other things that people know.

So I'm sure that there'll be these comparisons being made but I think that it is a show that if you are a fan of sci-fi, if you're a fan of Blade Runner, if you're a fan of Asimov or Bradbury, whatever, I think that you'll see this you'll go, 'Oh, this feels like something that is in that universe.' But the truth is the show is being made for people who go, 'I want to see a great procedural. I want to see great crime drama. I want to see great characters in very unique situations,' and that really is the thrust of what we're trying to do here. If that makes sense.

On bringing Karl Urban to television…

J.J. Abrams: Karl had said no to TV quite a bit and when Joel was talking about this show he was obviously someone who felt like he'd be a terrific fit. And so when we were filming the last Star Trek film we asked him if he was interested at all in doing a series and I could see there was a sort of a moment where he was like, 'Maybe.' And thought 'oh my God, we've got to do it.'

And we just kept pushing and then Karl read Joel's script and committed to it but he is one of the sweetest guys, insanely funny. One of the great joys of doing the Star Trek films has been working with him and getting to know him and his family and I just adore him. So the idea that he gets to be that sort of intense and tough but, at turns, completely wry and sardonic and sarcastic and biting kind of guy and he's such a great looking guy and such a sort of perfect action hero, and he really does play this part beautifully. So I'm thrilled to get to work with him on a new project.

Bad Robot as a brand…

J.J. Abrams: There is a sense of looking at some of the shows that we've done that we're feeling there's a kind of strategy or it's being curated or something but the truth is it's just sort of project to project, what gets us excited. We don't look at things and go, 'That's clearly not a Bad Robot show.' It's if we like it we like it and if it happens to be something that we like because there's an element that feels like, oh, that's weird, it's partly because we're weird and we sort of embrace things that feel like they take reality as we know it and tweak it somehow, and I can't help but love that kind of stuff.

Having also written shows like Felicity or movies like Regarding Henry, I'm also a fan of things that are just more character-based or family oriented and so there are things that we are working on that don't have genre elements. There are things we're working on that do, and hopefully if they end up working and working well if there is any brand for Bad Robot that the sense of what a Bad Robot show is or isn't might expand.

Almost Human Season 1 airs Mondays at 8 p.m. on Fox. If you need to catch-up, you can watch Almost Human online now.

Jim Halterman is the West Coast Editor of TV Fanatic and the owner of JimHalterman.com. Follow him on Twitter.

Tags: Almost Human, Interviews
From Around the Web