A train car, hazardous materials and a bomb.
Those three things together created a dangerous threat to hundreds of thousands of people in the Los Angeles area on NCIS: Los Angeles Season 5 Episode 7.
A diligent security guard at the train yard lost his life when trespassers not only attacked him, but knocked him out and threw him on the tracks in front of an oncoming train. With his radio still active, the killers spoke one phrase in Arabic and NCIS was called in to investigate.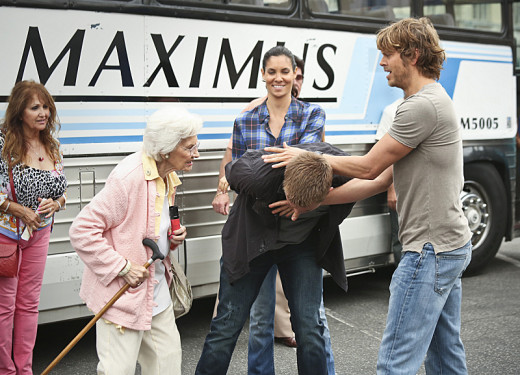 "The Livelong Day" was an investigation heavy episode which focused on identifying and then tracking down the people involved. Nothing ended up as it initially appeared and the team was led astray at times. They ultimately uncovered a conflicting and co-opted plan to cause major destruction and loss of life.

I prefer the episodes that provide insight into one of the NCIS team members and reveals something about them. This hour didn't do that, but I was engrossed in the mystery. As the team was working the investigation, I had no idea where it was headed just like them.

Both Bellamy and Trager set up an elaborate plan that should have worked. If Rome hadn't left the tool with his name on it behind, the plot probably wouldn't have been uncovered in time. And, Rome would have taken the been the scapegoat for a horrible domestic terrorist act.

Rome's decision to commandeer the train with the chemicals was illegal, but he was coming from a genuinely good place. After being fired for whistle-blowing about dangerous shipments, he thought this was the best way to make the situation public.

Trager and Bellamy co-opted his plan for nefarious purposes. They set up a bomb at Bellamy's hotel room, sent a fake bomb to Rome's mother to derail the investigation, planted a IED on Rome's train route, and sabotaged the engine's brakes. It was elaborate, meticulous, and almost successful plan.

Sam defused the bomb without even a second to spare. Until the train stopped, it wasn't clear if we were watching a disaster or a successful rescue unfold.

The humorous moments added to the engaging case made the episode an enjoyable one to watch. Deeks and Kensi were hilarious from the start to the finish of their FRA undercover gig. Deeks' over-the-top, detail-oriented personality was odd to see. It was the opposite of his normal personality, but he pulled it off brilliantly.

His annoying tics were integral to their ability to complete the mission. Though, it's a tough call on the best undercover moment.The two most surprising were the side trip to the bathroom and the dry ice bomb distraction. Between those two situations, it's lucky that the employee didn't notice something was astray. 

They did have several incredible takedowns as well. Kensi's initial jump and tackle of the private investigator, Trager, was well-played. And, his arrest was perfectly timed and served him right. Though, the top moment has to be when Bellamy took the old ladies cane to use as a weapon and even though he was under the agent's control, she Maced him. Ha!

Mercury may have been in retrograde, but they got the job done. The criminals were put away and the residents had no idea how close they came to being blown to smithereens.

As Sam said, "Piece of cake."

Carla Day is a staff writer for TV Fanatic. Follow her on Twitter and on Google+.

Tags: NCIS: Los Angeles, Reviews
Want more NCIS: Los Angeles?
Sign up for our daily newsletter and receive the latest tv news delivered to your inbox for free!
More From TV Fanatic
It's select ensemble vs. elite in a dance rematch this week on Dance Moms. Who came home with the victory? Read on to find out!
On tonight's Tyrant, Jamal and the Sheik meet for negotiations. Will they come to an agreement?
It's time to reunite on The Real Housewives of New York City. Read all about this special episode now.
Who can be trusted? On tonight's Covert Affairs, it's clear that it's important to trust others, but also a huge gamble.
---