Nick Jonas Previews Action-Packed Hawaii Five-0 Role: "It's a Lot Of Fun"
by Jim Halterman at . Updated at . Comments
Hawaii is about to get rocked by a Jonas Brother…well, sort of.
While Nick Jonas and brothers Kevin and Joe were in Hawaii to perform (pre-breakup) for the beachside premiere in September, Nick is definitely not playing a rock star in Hawaii Five 0 Season 4 Episode 8.
He portrays a seemingly regular guy who proves that he's much more than that when McGarrett and Grover happen along.
TV Fanatic was the only online outlet on location during the episode shoot and I grabbed some time with Jonas while gunfire was still happening nearby for the show. The artist told me about how this was a different role for him and how he sees his music and acting careers working together... or slightly apart.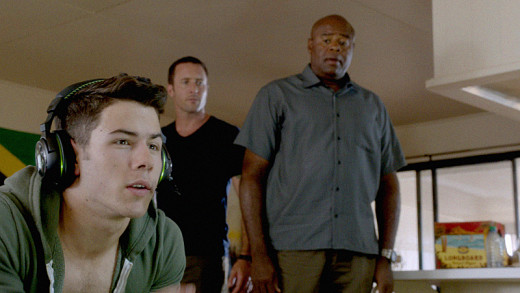 TV Fanatic: Tell me about the character you're playing on the episode.

Nick Jonas: I play a guy named Ian Wright. When you first meet him, he's kind of a 21-year old kid in his house playing video games with a bunch of outstanding parking tickets and then the guys from Five-0 come to grab him things really go south quickly and we learn a lot more about him. I can't give too much away because people have to watch the episode. He's very, very smart… smarter than people give him credit for.

TVF: Now this is a very action oriented show. Are you going to get in on the action, some stunts, that sort of thing?

NJ: Yeah, I am right in the middle of it, actually. So close that the…(guns shooting)…that was right next to my head before so you can imagine it was pretty loud. It's a lot of fun and great to see it all happen.

TVF: Acting is not new for you but is something like this new for you where it's this kind of intensity?

NJ: This level of intensity is a little bit new. The film I did back in spring, Careful What You Wish For, had some pretty intense stuff as well. No gunfire, but some explosions, some other things that required a bit of intensity for me, but this is another level of excitement.

TVF: Who are most of your scenes with? I know this one was with Chi?

NJ: Yeah, Chi and Alex. It's great. It's a really fun role and one that I can show a couple of different sides within just the hour that it's on TV.

TVF: Is that what you look for when you look for a role? Like something just to do something different that you haven't already done?

NJ: Yeah, I think what I've been trying to do now is really take roles in the acting world that challenge me and show people a different light and me in a different light. It's been a lot of fun. I'm looking for more roles like this.

TVF: Is there a different head space you have to get into when you do something like this as opposed to just singing on stage with your brothers?

NJ: Oh yeah, it's a way different head space. I take a few minutes to get prepped and get the right mind frame before every scene because I like to be really focused and intense on set and this requires a lot of that as well. [Today on set] has all just been the stunts and other things, but it's just been really fun.

TVF: How has it been working with Chi? Have you guys gotten to kind of know each other a little bit in between scenes?

NJ: Yeah, Chi's awesome, really nice guy, very funny, the center of attention, keeps us all laughing on set, but immediately made me feel comfortable, which is great. You never know once you step onto a set where people have already been working together for a little while what it's going to be like, but he's amazing and a brilliant actor and so is Alex so it's just been really fun.

Here's what Chi McBride told me on set about having Jonas on the show: "He's a really special young man," he said. "When somebody is really young and experiences fame on an international stage, often times there are many horror stories out there about young people who become way to famous too early in their lives, but he's here [in Hawaii] with his father."

TVF: I know you did Smash the first season. Do you want to do roles that have singing in them or do you want to stay away from them, kind of keep those worlds separate?

NJ: I think I'm in a place now where I'd love to keep them separate for a little while. If a role comes along that has some singing in it, I'm not opposed to it. But I feel like it's been great to take it completely away from anything I've done before and sort of strip it down and just have a completely different take on what people are used to seeing me in.

Hawaii Five-0 Season 4 airs Fridays at 9/8c on CBS.

Jim Halterman is the West Coast Editor of TV Fanatic and the owner of JimHalterman.com. Follow him on Twitter.

Tags: Hawaii Five-0, Exclusives, Set Visits, Interviews