Nikita Q&A: Craig Silverstein Teases Final 6 Episodes, Happily Ever Afters
by Jim Halterman at . Updated at . Comments
Say it ain't so, Nikita!
The action-packed thriller - which has kept our hearts racing for the past three seasons - kicks its final six episodes tonight.
Will Nikita and Michael finally be together for good? Can we count on Amanda getting her comeuppance... finally? And is one big happily ever after in the cards for our team?
To get the answers, I grilled series creator Craig Silverstein - already at work on his next series, AMC's Turn - on what we can expect when Nikita Season 4 Episode 1 kicks off its concluding run this evening..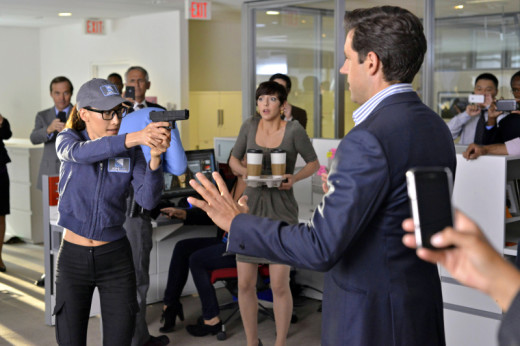 TV Fanatic: As usual, I have to start off complimenting you guys on how cinematic the show looks.
Craig Silverstein: We're very proud of that this year especially because with each six episodes you have less money to spread around. Having the full 22 helps you if you do go over budget on one, you need to rein it back on this day to help make it up. We were just trying to keep up with what we had established before.
TVF: But also lots of great stories in these last six episodes. Is having six episodes a luxury? Is it a challenge? You get to wrap up the story but it is only six episodes.
CS: Well, the luxury is knowing that it's six and no more. Six without a chance of it becoming 13 or anything like that. So the luxury is the finite nature of it, which you rarely get. Of course, the downside of it is that you've got to cram in all the story you want to tell in six episodes. And there are certain parts that, in the way that they're introduced and kind of marinating and then to ripen, takes longer to do.
For example, we had toyed around with the idea early on when knew that we were going to be dealing with the group and doppelgangers. And stuff that wouldn't it be great to have this whole "Michael might be a doppelganger" plot line. And to follow up on that, there was no way that we could have made that.
TVF: When we open, Nikita's been on the run for 100 days. Is there a particular reason why it was 100 days? I'm always curious how you and the writers come up with those numbers.
CS: A lot of debate. There was a huge divide in the writer's room. Half of the staff wanted six months. Others wanted three months. I wanted three months and that's why it's three months. There was a lot of debate about that, but we landed on 100 day or three months…it was the right amount of time to be away from the team and yet to understand what everybody's been doing in the meantime and that they haven't changed so completely that we don't recognize them anymore when they come back to the story.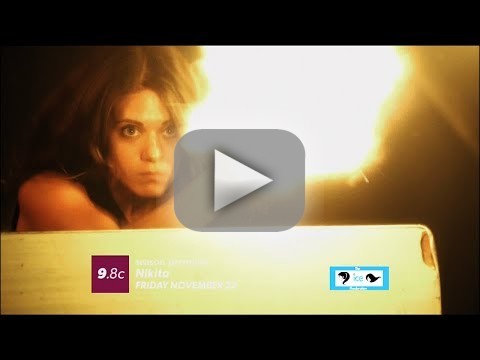 TVF: With Nikita herself, in some ways she's taken herself away from her "family," and they try and pull her back in. Is that part of the goal of these six, is to basically make sure this family stays intact as things try and break it apart?

CS: Yeah. Well, her goal, of course, is to make them stay safe while she tries to clear her name and absorb the danger since all the guns are pointed at her. And it's really them saying, "We're all in this together whether the guns are pointed at you or not."

TVF: The fans always freak out - as do I a little bit - whenever Michael and Nikita are not together, either emotionally or physically. What is your goal for these six episodes as far as their relationship?

CS: It was to, first and foremost, not repeat ourselves. So if it was going to be they were broken apart from each other, that it wasn't something they did for a reason that we had explored before. It's happened one too many times for Michael. And then Michael has had to emotionally protect himself and move on in terms of having a relationship. He still loves her and still will wait right to the end for her, but can't risk yet another 'is she going off without telling him?' But that felt different. And that felt that it strengthened Michael and have them work through something that was earned and was specific to them and their history together.

TVF: Alex is separated from everybody else in the first episodes back. Can you just talk about where she's heading?

CS: She's still working with the team, but she's been separated. I think that, clearly, the show started with Nikita and Alex as partners, and we haven't forgotten that.  And we work our way back to that in a kind of grand fashion that I think will be real satisfying.

TVF: Let's talk Owen/Sam, I like the fact that his identity is still a part of the story, especially since Alex still wants to call him Owen.

CS: He is Sam, but the thing that's unique about it is he still remembers Owen. He remembers everything. It's not like those memories were wiped out. It's not like a personality switch. It's kind of like he was hit by a bad-guy ray. He was a bad guy. And then, Amanda essentially blacked out his past and turned him into a less cunning and more obedient killing machine, which allowed him, ironically, to become a better man with falling in love with Emily and his encounter with Nikita.

And when Sam regains his memories, besides being kind of a rotten apple to begin with, he is understandably angry at having Amanda at Division take 10 years of his life away. And replace him with this obedient chump. The problem is I think he liked forming real friendships as Owen. And it's a guy who has to try to figure out how to reconcile those two things.

TVF: Of course, all roads lead to Amanda, as they should. Is our series climax, basically, a Nikita-Amanda showdown? It feels like that's kind of what needs to happen.

CS: Yes. Yes. Definitely. And I think this is interesting. It's a showdown on several different levels. It's a showdown, really, as it should be, between the two characters in what makes Amanda and what makes Nikita. And a lot of what made Nikita is Amanda, for better or for worse.

And one thing Amanda comes to realize is a lot of what made her great, and not just a number two. As she's been somebody's number two, we've seen her in that role a lot. Actually, her battle with Nikita has, in a way, inspired her in a way that's good for her and not so good for the world, of course, to take over but from her own woman. So it's the battle between these two women ends up creating value and pitfalls in both of their lives. And the question at the end is: Who is able to choose better?

TVF: How do you feel about 'happily ever afters' when you wrap up something?

CS: I like them. I like 'happily ever afters.' I've always thought of Nikita as a kind of fairytale. And I'm not opposed to them. I oppose them across the board maybe.

Nikita Season 4 airs Fridays at 9/8c on The CW.

Jim Halterman is the West Coast Editor of TV Fanatic and the owner of JimHalterman.com. Follow him on Twitter.

Tags: Nikita, Interviews, Spoilers, Exclusives