The Carrie Diaries Review: A Series of Firsts
by Nick McHatton at . Updated at .
Carrie lost her virginity to Weaver on The Carrie Diaries Season 2 Episode 5. I'll give you a moment to let that sink in...
Now, is there still more to Weaver that Carrie isn't really looking for?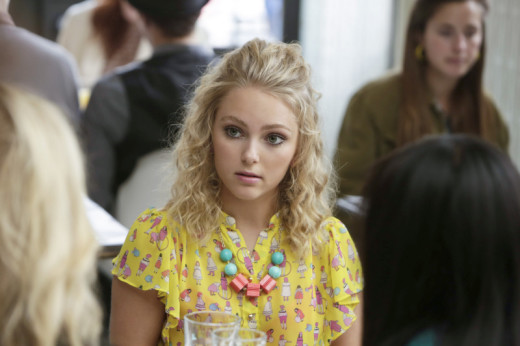 I actually enjoy Carrie and Weaver together. They have more chemistry than Carrie and Sebastian, yet Weaver reading Carrie's journal is a big red flag for me. She's willing to let him keep his own personal space – Carrie has the chance to read the Katia play while he's sleeping but doesn't – yet he's not willing to do the same for her.

Perhaps Weaver is really that into Carrie, so he made that dumb decision to get to know her better. I'm willing to give him the benefit of the doubt for now, but any more suspicious behavior from him and he's going to quickly squander any goodwill he has with Carrie. Hopefully Carrie isn't too blinded by post de-virginizing glow not to see Weaver's potential faults.

But Carrie having sex with Weaver wasn't the whole story and Weaver alluded to this himself with a conversation with Carrie when he said there's no way to move on when you're still entangled with your ex.

I have no doubt in my mind that Carrie wants to have sex with Weaver. She wouldn't be that happy afterwards if she didn't enjoy or she didn't think she would be ready. But part of her decision to take that leap is to move on from Sebastian. She couldn't find a way to move on and so she ended up literally tangling herself up with Weaver.

On some level, it might be the only way for Carrie to really get over Sebastian.

Sebastian's predicament with his Mom running to marry the local tennis pro isn't very interesting. It's just a lot of ways to continue tangling him and Carrie together, and it's good that The Carrie Diaries Season 2 decided to begin closing this chapter of their relationship because the awkwardness and general indecisiveness over where their relationship is going got old quickly.

Dorrit and Donna continue to be fantastic together. Donna has plenty of one-liners in the form of relationship advice for Dorrit and it's surprisingly good and descriptive of Dorrit's situation with Miller.

Dorrit's relationship with Miller quickly curdled as the summer came to a close. It happens a lot in relationships of that age, but I just wish Tom got a little more time with Miller. Those two had a good thing going on with their jam sessions and overall bromance.

Finally, there's Mouse; she can talk a big game about not following in the typical high school stereotypes, but it's something else to follow that advice when you're in high school.

Mouse's self esteem, as much as doesn't want to admit it, is just as reliant on her social circle and how she perceives it, as everyone else in high school. But it's great to watch her grow up over the course of The Carrie Diaries and begin to find her own unique spot in the world.

Nick McHatton is a TV Fanatic Staff Writer. Follow him on Twitter.

Tags: The Carrie Diaries, Reviews
From Around the Web