Chelsea Kane Dishes on The Baby Daddy Christmas Episode, Season 3 & More
by Jim Halterman at . Updated at . Comments
Tis the season for our regular favorite sitcoms to dive into the holidays with themed episodes to celebrate the most wonderful time of the year…and hopefully make us laugh in the meantime.
Along with holiday installments airing tonight of ABC's The Middle and Modern Family, sister site ABC Family has hit sitcom Baby Daddy in the holiday spirit with an episode that has everyone working tirelessly to make baby Emma's first Christmas the best ever.
I jumped on the phone with Chelsea Kane, who plays Riley, to see if Riley and Tucker (Tahj Mowry) are able to help the demanding Bonnie Wheeler (Melissa Peterman) with decorating the Christmas tree as well as when we'll see more of the budding romance between Riley and Ben.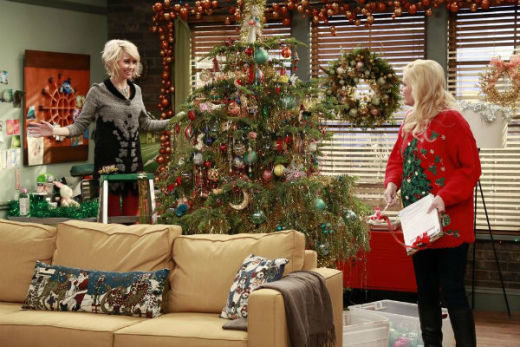 TV Fanatic: Chelsea, are you into the holidays?

Chelsea Kane: I love it. Granted, I'm always that person that waits and does all of my shopping and everything until the last minute so there is some sort of panic that always goes with the holidays, but I love it. I have a fire in the fireplace all the time and just getting to see friends and getting cozy. I'm all about the holidays. I usually go home to Arizona and spend it with my family. So, it always feels special to leave town and stay with mom and dad and eat. It's my favorite time of year.

TVF: Now the Baby Daddy Christmas, it's a little tense. There's a lot of pressure on everybody, it seems. Can you talk about the episode a little bit?

CK: It is a little tense, which the holidays can be sometimes. Ben is trying to get Emma the big, hot toy of the season which is the GigGorilla. And of course, it's impossible to get. So he and Danny think they might have a better shot at finding this toy if they work at the mall. So they have to dress up as elves. And Leslie Jordan guest stars as our head elf and he is just hysterical. We loved having him. So it was pretty funny to see Derek and JL in these elf costumes and there's a little dance number. So we quite enjoyed that day on set.

And then Bonnie Wheeler is just kind of the queen of Christmas. She does everything right. She actually kind of reminds me a lot of my mom at the holidays. A couple lists of, 'here's what we gotta do.'  She enlists my help and Tucker's help to kind of create the perfect first Christmas for Emma.

And I do love this episode because there is a little magic in it. And that's, like you said, kind of what everyone or at least what I love around the holidays, just that little extra bit of pixie dust kind of sprinkled across the episode. I think it's nice. It's your typical Baby Daddy kind of funny, crazy episode, but at the very end, just a little holiday magic, which I love.

TVF: Now Bonnie is a little tough when it comes to enlisting your help. Are Riley and Tucker up to the task of helping Bonnie because she has expectations?

CK: Yes. At first, we think we are and then there are several different times where we try to speak out or quit. But we don't want to let her down and most of it, too, is it's Emma's first Christmas. I'm the godmother so that's why I'm even choosing to spend Christmas with the Wheelers as opposed to my own family. We want Emma to have the perfect first Christmas.

TVF: I love it. Now we do get to see the guys do a little dance with Leslie. Were you around when the guys shot that? Did you give them any tips?

CK: Yes. I was definitely there watching when they shot it but not to help. (laughs). It was pretty funny to watch them learn that in rehearsals all week.

TVF: Okay. Now there wasn't any kind of romantic story in this episode but is that something we'll see in season three?

CK: Absolutely. Yes. Season three picks up right after the day of season two left off. So Riley and Ben are finally together and the first couple of episodes they're definitely a couple and trying to figure it out but of course, there's a huge monkey wrench in the whole scenario because the baby momma shows up, Angela. As happy as Riley is to finally have the guy that she's been dreaming about all these years, she feels like there could still be something between him and Angela and she just doesn't want to be, you know, 'the other woman.'

She loves Emma too much. She loves Ben too much and feels like Ben owes it to himself and to Emma to make sure that there's not a chance that they could all be a family with Angela. There's definitely a lot of romance and a lot of heartbreak and the first couple episodes are great. And yeah, the love triangle is still definitely a big part of season three and we're about to wrap up. We only have five episodes left to shoot. It's definitely getting complicated again.

TVF: Is everybody on board with you guys dating? Does Bonnie have an issue or anybody else in the cast have an issue?

CK: It's so funny because for a cast that talks so much, there's very little communication. Tucker and Bonnie know that Danny has feelings for me and they know I've always loved Ben so I think the whole cast is kind of torn. There is a really awesome scene in the first episode between Bonnie and Danny when he can't believe that Riley is leaving his brother, which is one of my favorite scenes. It's so cool to kind of see that mother-son relationship. But I think everybody's cool with it. The only times we hear talk about anyone feeling bad is just they all hurt so much for Danny.

TVF: Do you have a favorite holiday special or movie that you just have to watch every year?

CK: Yeah. Well, it's so great because ABC Family is my go to Christmas channel so it's really cool to suddenly be a part of it. But I think my go-to is Home Alone. I love Home Alone. That's one just never gets old for me.

Baby Daddy's Christmas episode airs tonight at 8:30 p.m. on ABC Family. 

Jim Halterman is the West Coast Editor of TV Fanatic and the owner of JimHalterman.com. Follow him on Twitter.

Tags: Interviews, Exclusives