Mob City Q&A: Neal McDonough Talks Playing The LAPD "Golden Boy" & More
by Jim Halterman at . Updated at . Comments
We've been hearing about the new Frank Darabont series, Mob City, for awhile now and tonight it finally premieres with guns a-blazing on TNT.
The series, which will air in three two-hour installments, is based on the real life LAPD and the gangsters in the 1940s as written in the John Buntin book, "LA Noir: The Struggle For The Soul Of America's Most Seductive City."
Darabont, best known for films like The Shawshank Redemption and developing The Walking Dead for television, is reunited in Mob City with star Jon Bernthal, who played Shane on the first two seasons of the AMC blockbuster series. The series also stars Milo Ventimiglia (Heroes), Jeffrey DeMunn (Dale from The Walking Dead), Alexa Davalos (Angel) and Robert Knepper (Prison Break).
Also in the cast playing real-life character William H. Parker is Neal McDonough, who sat down with me at a recent Mob City press day to talk the complexities of the character, working in a series set in the 1940s and which of his many roles he'd love to revisit if he was able.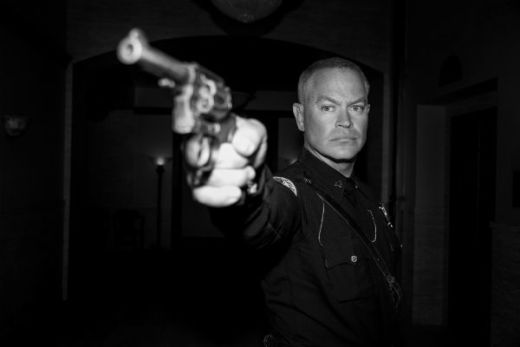 TVFanatic: Playing a real life character, somebody who was alive, did you dive into all the research or did you just go by the script?

Neal McDonough: Buck Compton, the guy I played in Band of Brothers was great friends with Parker. They went to Normandy together and the police academy together and everything else. To hear about Parker over these years was pretty interesting. He's such a polarizing figure that some people really didn't like Parker at all. Most people really adored Parker but he was hell bent on making sure that Los Angeles was the best police department in the world because this is the city that he loved. He would do anything to get it done.

To play a guy with such vision that was inalterable was pretty amazing. Then later on we'll get into the pain and the pressure and everything, the alcoholism that he fought that no one knew about. He wouldn't drink in front of his boys but as soon as he got home at night he'd just get completely drunk, or in his office. As the years went by, Gates, who later became the chief, was his personal driver. He would literally take him out of his office, pour him into the car and drop him off at home on the couch.

TVF: Do we see that in this first season?

NM: We see hints of it by the end of the first season. Then we'll really get into it. The drinking really became a major problem, which will start next year when he becomes the Chief of Police. Right now he's the Captain, Chief-in-the-making by the end of the first year. So, it's pretty terrific.

TVF: So much of this show is about corruption and things that are going on sometimes inside the police department. How does a character like yours not get sucked into that?

NM: He's not corruptible. He's just not. That's why the Mayor chose him to be the new golden boy. They called him Bill the Boy Scout for a reason. He was going to stick to the plan. Gene Rodenberry, who was on the Force, based the character of Spock on Bill Parker because he was so adroit. He was so 'I'm going to figure out how to make this work and you can't change my course.'

So, he was, at times, a rowboat going into a gale storm off the coast of Cape Cod with no oars. He was just going to stay his course and that's what he did. I'm very happy to be playing him, that's for sure.

TVF: How was just doing a period piece as opposed to a modern day project?

NM: Oh, it's great. I mean, just to jump into the old outfits, for all of us, and the way that Frank [Darabont] wrote it, you just can't help but be back in 1947. It's pretty amazing. I always wonder, 'what's my voice going to be? How am I going to sound?' As soon as I put on my uniform and just started talking, it just came out of me, like 'who's this guy?' That was interesting. The speed, the clip at which I have to speak in front of my men to keep things going, it's a pretty fun year.

TVF: What do you gravitate naturally towards as far as your career and your acting choices? I've seen you do a little bit of both, usually drama but you do some lighter stuff too.

NM: Yeah. I first came out here really to do comedy. I did a few comedies, Angels in the Outfield and a few other things. But then I just became the dramatic guy, thanks to Tom Hanks and Steven Spielberg and Band of Brothers. Then it was Minority Report and then I did my first bad guy in Walking Tall.

Boomtown was my favorite character I think I've ever played because [David McNorris] was so gray. He was so good and so flawed. I think that we're really kind of touching a lot of the same bases here with Parker. Obviously, not as flawed as my character was in Boomtown but still feeling the pressures of trying to get a very corrupt police force on the straight and narrow. I'm really looking forward to playing him.

TVF: I was going to ask, of all the roles you've played, which one would you like to revisit?

NM: Yeah. I think David McNorris. Justified, I had a blast playing Quarles. I'm not sure if I need to revisit him. He was so much fun. But I think that David McNorris or Wyatt Cain from Tin Man. Those are my two favorite guys, just really good guys with big problems.

Mob City premieres tonight with the first of three two-hour episodes airing Wednesdays at 9pm on TNT.

Jim Halterman is the West Coast Editor of TV Fanatic and the owner of JimHalterman.com. Follow him on Twitter.

Tags: Mob City, Interviews, Spoilers, Jon Bernthal, Robert Knepper