And so we've arrived at the Season 1 finale with Orange is the New Black Season 1 Episode 13, one day after the big Christmas pageant and beat down in the prison yard.
It was probably my least favorite episode of the series, but only because there was so much time spent on Christmas and the Secret Santa stuff that would have been better utilized elsewhere. 
As far as propelling things forward for the second season, it did a pretty fine job.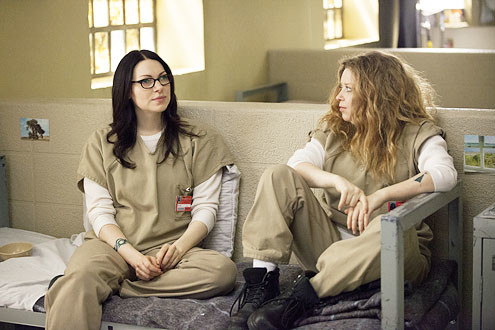 Piper finally lost the upper hand in her relationships with Larry and Piper, and it was about time, really. She kept flip flopping between them as it felt convenient for her, and that's not love. Alex called her out on it first, after Piper decided to marry Larry as quickly as possible.

Larry was still having qualms about things because he wanted to meet with Alex, and she didn't feed him the bull he wanted to hear -- she told him the truth. Piper had pursued her and if he didn't already have questions about their relationship, he wouldn't be there meeting with her. 

I thought Piper should have cut the ties with both Larry and Alex, but she kept them around because of her fear of being alone. Well, they cut the ties for her. Now she's really alone. She's lucky she still has family who will fill her commissary and pay her visits, because now she's going to find out what it's like to be in prison without lovers on the inside and outside.

Meanwhile Red thought she would just walk right back into her kitchen after what happened in Orange is the New Black Season 1 Episode 12 and when she discovered that wasn't the case, she just fell apart. She ultimately tried to sabotage the kitchen so Gloria and her gang would look like they couldn't handle it, but instead Murphy caught on fire. 

When Red finally went to the cafeteria to eat after fortifying with ramen for days, she was starved out much like she did to Piper when she first arrived. It was a nice call back to show that what comes around goes around. I'm sure she won't be down for long, but I kind of like the Latinas in the kitchen. They're enjoying it without all of the drug drama. They're just cooking. imagine.

Pornstache seems to think he's in love with Daya -- that she might be the one -- and Bennett can't deal with it. He can't stand to think that Daya did such a convincing job, or what will happen to the baby when he thinks it's his. They really have gotten everything quite twisted up, and not in a way that it seems likely to unravel, but more like those Christmas lights Piper and Nicky were trying to untangle.

After everything Piper had been through she was simmering just below the boiling point. When she and Pennsatucky started squabbling, you knew it wasn't going to end well for Pennsatucky. She couldn't have picked a worse time to tell Piper she was all alone and not deserving of love. Healy was standing out there, but after Figueroa just handed him his balls on a platter, he wasn't really too concerned with Piper's well being and turned a blind eye.

The reality is Piper called for Healy and asked for his help. She said her life was threatened. The likelihood is there were cameras there and she won't get sent to SHU so long we won't ever see her again, but there have to be repercussions for wailing on Pennsatucky like she did. It looked really cathartic.

I kept thinking Piper wondered what one thing Pennsatucky would want for Christmas and everyone's instant answer -- new teeth! After the pounding her face got, Pennsatucky just might show up in Orange is the New Black Season 2 with a new set of choppers. 

Piper has been doing thinking about herself. Has she finally seen her true self? Has being locked up left her nowhere else to run and hide? It didn't change who she was, but it allowed her to recognize things in herself that she might not have otherwise seen. It's probably not a pleasant reality and not much of a Christmas gift.

There's something I've come to notice about Piper. As soon as I think she has made progress, she takes two steps back. It's entirely possible she could be in an even worse place by the time we tune in again. She may not learn anything about herself because it might be too early to learn those lessons. It's hard to remember how little time has passed. She seems to want to wear the blinders. The again, maybe pounding Pennsatucky was her way of saying she wanted them off.

The growth of other characters has been easier to follow. Let's see if that continues to play out when we get the Netflix dump of episodes in 2014!

Carissa Pavlica is the managing editor and staff writer for TV Fanatic. Follow her on Twitter and on Google+.

Tags: Orange is the New Black, Reviews