Scandal: Katie Lowes & Guillermo Diaz Talk Torture Scene, Future of Huckleberry Quinn
by Miranda Wicker at . Updated at . Comments
They might not be Olitz steaming up the Oval Office, but Huckleberry Quinn is certainly in the running for Scandal's most awesome platonic pair.  
What was it like to film that torture scene in Quinn's apartment? What will Huck and Quinn's relationship look like moving forward? And what will be revealed on Scandal Season 3 Episode 10?
TV Fanatic got the chance to sit down with Katie Lowes and Guillermo Diaz to find out the answers to these questions and more! Read on to find out what Huckleberry Quinn had to say about ABC's Scandal.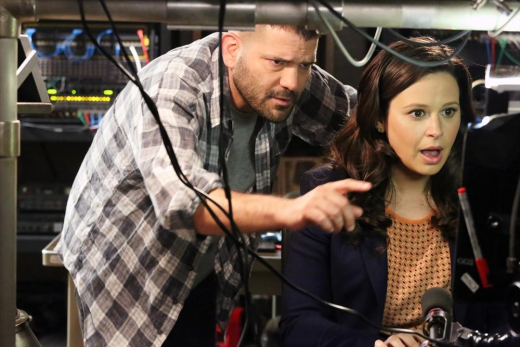 TV Fanatic: What has it been like to play this odd couple made up of two people who seem to be so different on the surface but who, because they both walked away from lives, have so much more in common than people realize?
Guillermo Diaz: It's a dream come true to get to play these characters. For actors, it's so rare that you get such amazingly written material. For Shonda Rhimes, she's the best in my eyes, so I feel just so fortunate and so lucky and it just makes me want to work harder and harder with each episode. Because you want to be as good as the script, for me at least, I go "okay, I've got to be as good as this freaking ridiculously good script" so it just makes me work harder and it pushes me more. It's amazing. 
TVF: What's it been like to evolve Quinn from her sort of timid beginnings to this character she is now?
Katie Lowes: It has been amazing. Shonda Rhimes and the Scandal writers are freaking geniuses, and I feel blessed. You know, a lot of people book a job on a TV show and their character stays the same, you know, for years and years and years and Quinn has gone through so much growth and evolution and change and she's had so many thing happen to her and I've gotten to do repeatedly so many things that I've never done before and I feel like she's such a three-dimensional and interesting character and I just feel lucky.
TVF: What can you guys tease about "A Door Marked Exit"?
GD: You're going to see Quinn and Huck interact after the whole torture thing happened and that scene is going to be really intense. You're going to find out a lot more about what the blinking light on Huck's computer screen means. That's all going to be revealed.
KL: And you're also going to get more into the Maya Pope thing and why Olivia Pope in her phone call said "He's not the monster. She is."
TVF: What was it like filming that torture scene given how close everyone is off the set?
KL: It was crazy. We shot all the torture scenes in one day, on Halloween, and it was a bunch of hours, a 14.5 hour day, and a mixture of many emotions. It was intense, challenging, and also exhilarating and exciting because I think Guillermo and I we both feel so lucky as actors to get material like this--
GD: Absolutely.
KL: and the opportunity to do such hard and challenging things as an actor is not always what you get to do as your job and it's so awesome. We trust each other implicitly and it was just really wonderful to have Guillermo throughout that day. That day was probably the hardest of my professional life. I've never been asked to do that kind of work, just be naked and taped up for like 14.5 hours on a floor and screaming and trying to save my voice and have it seem real and just live in a state of fear for that long. It was really scary but it was so, so worth it.
TVF: Guillermo, anything you want to add?
GD: Everything Katie said! It was a very strange day. It was very odd shooting these scenes. We have so much love for each other outside of the show and for us to be in these situations but we feel really comfortable with each other so when Huck is up close to her face with my hand touching her face, it felt really free as an actor to work with somebody that you feel really comfortable with and I think that made the scenes even more believable and more real. So yeah, it was fun. I've never felt so excited shooting a scene before on Scandal.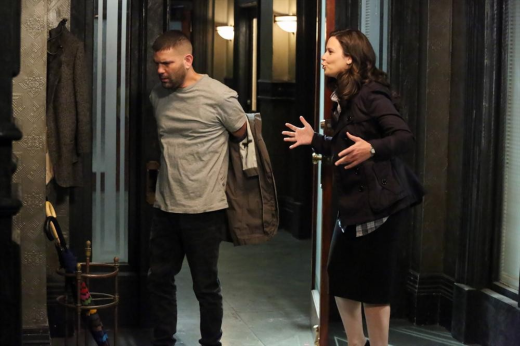 TVF: Is there hope for HuckleberryQuinn? Will they be able to move past the torture and find their footing as friends again?

GD: No, never! [laughs]

KL: [laughs] We don't know! We're only one [episode] ahead of you, so we don't really know. I definitely hold out hope because I am such a fan of Huckleberry Quinn and selfishly I just love working with Guillermo, so a world in which I don't get to act with Guillermo just sucks. But I have no idea and realistically I don't know how they come back from this. You'll see another teaser, but Quinn has changed again, and you'll see what she looks like post-torture, so I just don't know what Huckleberry Quinn would look like.

TVF: Does Huck regret leaving Charlie alive? 

GD: I think part of him probably does, yeah. I'm a little surprised that Huck didn't kill him that first time. But George Newbern who plays Charlie is wonderful and me and Katie, we love working with him, so I don't really want to see him go anywhere, but yeah I think Huck definitely regrets not killing him.

TVF: I really am enjoying Charlie as a foil to Huck because Huck is so damaged and broken from everything he's done and Charlie sort of revels in it and it's fun to watch.

GD: Absolutely.

TVF: Is Quinn working with Huck or Charlie or with Quinn?

KL: Yeah! You don't know, girl! You don't know! You're going to have to tune in and see where her loyalty is lying at the moment, but all I can say is that I'd love for the answer to be very simple like that but it never is.

Scandal Season 3 Episode 10 airs Thursday night at 10/9c on ABC. If you missed last week's shocker you can watch Scandal Season 3 Episode 9 online now!

Miranda Wicker is a Staff Writer for TV Fanatic. Follow her on Twitter.

Tags: Scandal, Exclusives, Interviews, Katie Lowes, Guillermo Diaz