Second chances can be a saving grace. There's no time like the holidays to spread a little cheer and get into the spirit of giving things another shot.
The Carrie Diaries Season 2 Episode 8 showed us just how much Carrie's life could change with some of her own second chances!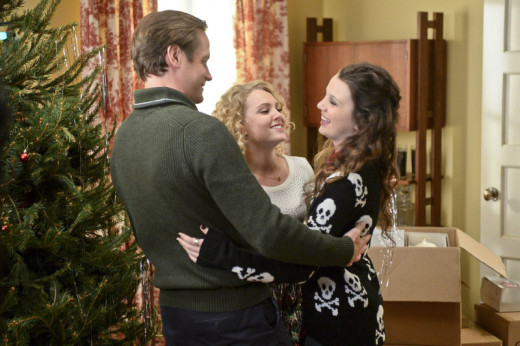 We left off The Carrie Diaries Season 2 Episode 7 with a Carrie and Sebastian reconciliation. It seemed like things were off to a great start and the two were on a second honeymoon! Aside from their ear to ear grins, the two were determined not to screw things up and for Sebastian that meant helping Carrie achieve her dreams.
When Larissa offered Carrie a second chance to write a piece for Interview, it was also a last chance. After she dropped the ball on the Weaver piece, she had one shot to make this happen. It was tense there for a minute when the CEO refused to talk to a kid, but Sebastian boosted Carrie up with a great speech.
Going after what you want is scary and possibly heartbreaking, but if you don't go for it you'll have nothing but regrets.

Sebastian
It also probably didn't hurt Carter's mood that Samantha had just bango'd him at the Bongo party. Gotta love Sam, even if she doesn't always make the best choices. However, she's the one who was getting Carrie into that party before Sebastian was so you have to admire Samantha's loyalty. The interview was a success and Carrie's Christmas present came in the form of her first by-line.
Also going on at the Bradshaw house was Walt hiding out from the public. After his mother saw the picture of him and Bennet in the newspaper, she told his father, and their snooty asses packed his bags. Hands down my favorite scene of the night was when Walt and Tom were talking in the living room.
Maybe Tom wasn't super comfortable at first, but after a few episodes of The Golden Girls and an AMAZING meta reference, the two were old pals. Walt was able to open up to Tom about how scared he was and how he felt like he disappointed his parents. He was avoiding Bennet and his life because he felt like if he wasn't gay, he could fix things. That scene brought tears to my eyes and I wished I could reach through the screen and give Brendan Dooling a hug.
Tom gave him the acceptance, comfort, and support that his own parents weren't able to give him. He even gave him his own Christmas stocking! But in the end he helped Walt find a little strength and gave him the push not to run away from his life just because some people were ignorant. This was an important conversation to be had and to me it felt authentic for once. It should be noted that not every show has been able to achieve that.
By the way, Tom I think you might have been wrong about one thing:
Uh 4 women who sit around talking about their lives, that's a TV show? I don't see it lasting.

Tom
Even when Walt was describing the four personalities of Golden Girls, I was having such a Sex and the City moment!

Sadly Maggie and Mouse dealt with two jackasses this week, but both stories came with a silver lining. Mouse got into Harvard (yay!) but West told her that she only got in because he didn't apply. He "let her have Harvard." Dude, not cool.

Maggie finally told her dad the truth and he fired Simon. She was afraid he'd be angry with her but he was angry his employee who was taking advantage of his underage daughter. Simon went after Maggie at school, and subsequently Carrie, and Sebastian gave him a beat down. I honestly thought Simon was going to hit one of the girls as he got dangerously close to them.

On what planet would a kid get expelled for standing up for 2 girls about to get attacked by a guy who should be in jail for statutory rape? I have no idea what the age of consent was in Connecticut in the 1980s, but bottom line is that Sebastian shouldn't have been expelled. Maybe suspended for violent behavior, but Simon probably should've been arrested.

It was an intense episode with a lot of payoff. Maggie wasn't shunned by her father anymore. Mouse gets to go to Harvard and fulfill her lifelong dream. Carrie got her first piece published in Interview. Last but not least, Walt found people who supported and loved him not matter what. There's the small issue of Sebastian moving to Laguna, but we will deal with that after break. Happy Holidays!

Leigh Raines is a TV Fanatic Staff Writer. Follow her on Twitter.

Tags: The Carrie Diaries, Reviews