The Good Wife Interview: Mike Colter Talks Alicia's Ethical Dilemma Over Lemond Bishop's Return
by Christine Orlando at . Updated at . Comments
The Good Wife's resident drug lord and one of Lockhart Gardner's most lucrative clients, Lemond Bishop returns tonight…but will his checks be going to the newly titled LG or to Florrick Agos?
We got to chat with Mike Colter about his savvy alter ego and how the decision about taking on his business will mold the direction of Alicia's new firm. 
-------------------------------------------
Lemond Bishop is coming back to The Good Wife but is he coming back to Lockhart Gardner or Florrick Agos?
That's part of the crux of the episode. I can't really say because this has been going on for a while now. What has been going on with Florrick Agos? Can the define themselves as a law firm that is ethical and can still pay the bills? So, the whole thing was that I think for a long time it was a necessary evil because Diane and Will said that this was good for the firm. Money is good and that's basically how we were going to operate. Now they're on their own and it's like they're fighting with themselves. What are we going to do? Are we going to change ourselves or are we going to do the same old things that we were doing before we left? So this episode is going to basically kind of put that question out there again in a real tangible way. It will be interesting to see what happens. I can't really say for sure which way they're going to go but it will be interesting to see where he factors in.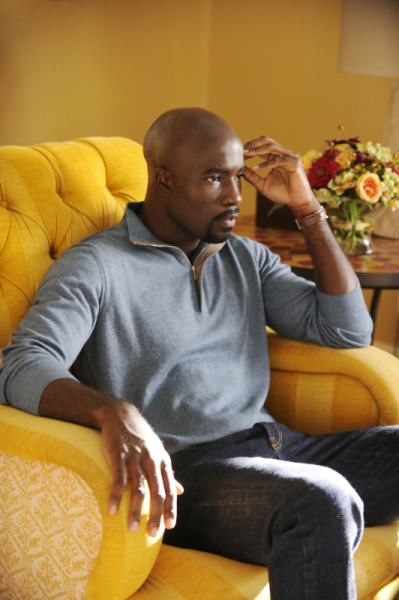 Has Alicia starting her own firm altered Lemond's perception of her at all?

I think that Alicia is very savvy and I think that Alicia has benefited from her relationship with her husband. I think people know that having the wife of the Governor or the State's Attorney is a good thing. Also, her being a woman scorned that also benefited her in a lot of ways. It drew business to her firm because people identified with her and could relate to her and they thought that she would fight hard for them. That being said, Lemond Bishop is very savvy. So I think as long as she is an asset to him and she can actually get things done, I think he'll always gravitate towards her. But at the same time who was steering the ship before was Diane and Will. They were the ones that said money solves all problems and that's where we're going to go. I mean, Alicia had problems representing Lemond. She had issues with dealing with him because of his background but at the same time we saw in prior episodes that she relates to him through the father / son thing and I think she kind of opened up and became vulnerable to his situation. She did things that she would have never done before. I think in one episode when she was at his house, she basically compromised herself by trying to not tell when the FBI was coming and trying to work with Kalinda to help him to try to get his child from his sister. So she did things that was not typical of Alicia. So, we don't know exactly how she feels about him at this point. This is a chance for her to have a clean slate and we're going to see what she's going to do with that.

Are you slated to be back on The Good Wife later in the season?

Yeah, there are plans for a return. We'll see how that pans out. We should hear something tangible in the next couple of days but we're definitely planning on having Lemond return so hopefully not too long from now. 

You're very good at playing the charming bad guy. Is there a role or a type of character you haven't played yet that you'd like to?

I haven't gotten a chance to play the every man kind of character. The kind of guy that's relatable to a lot of people. I mean the bad guys are always fun because people always like them for the same reason actors like them. They get to do things that people don't do in real life without consequences. When you get to do them, you can relish in that. The freedom to do whatever you want to do and not worry about the consequences and that never happens in life. So that's what's so appealing about bad guys. I think for to get the chance to play an everyman character where it's just every day problems, issues that everyone can relate to. Something as fundamental as paying your bills. How are you going to get to the next point in your life, like trying to take care of your family. These are the things that most Americans deal with and I think those kind of characters are the characters I want to play, eventually. This (Lemond Bishop) is a nice character, an interesting character but I want to play characters that are more relatable to every day people. 

Do you have any new projects on the horizon?

I do but I can't talk about it because the deals are not finalized. I'm not one to speak before things are in cement. It's one of those things, a superstition of mine. Most people don't have them but that's me. I'm one of those guys who is superstitious. Hopefully they'll some news very soon and then we can talk about it afterwards. 

What more can you tease us about tonight's episode of The Good Wife?

This is the 100th episode so it's sort of a celebration episode as a season hiatus break. There's the holidays coming and Florrick Agos is having a big holiday bash and I think for me and for the actors involved and for the audience it's basically a reunion of sorts. Lemond will basically be in the room with people he has never met before and that have never met him before. For the most part I think we're going to be seeing some interesting and awkward situations and moments in the episode. 

C. Orlando is a TV Fanatic Staff Writer. Follow her on Twitter.

Tags: The Good Wife, Interviews, Exclusives, Mike Colter