The Michael J. Fox Show Cast Previews Christmas Episode, A Very Special Guest Star
by Jim Halterman at . Updated at . Comments
Some TV holiday episodes focus on Christmas trees, shopping and/or loved ones returning home.
For The Michael J. Fox Show, producers went for a taste of Synchronicity... as in Sting.
The legendary performer appears on tonight's holiday-themed installment and I was recently on the New York set of the series to talk to Michael J. Fox, Betsy Brandt and Katie Finneran about working with the man with one name.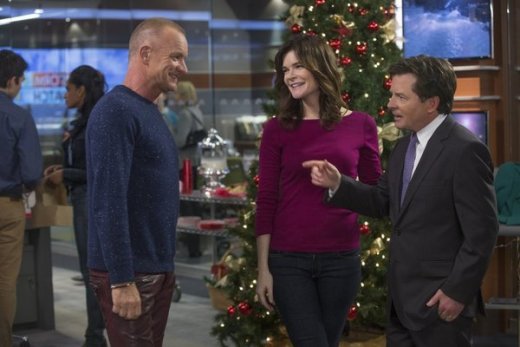 Sting plays himself in the episode but how exactly does he enter the life of the Henrys?
"Annie and I have a running, friendly war about who can get each other the best Christmas present," teased Fox from the newsroom set on the show. "And I'm a big Sting and Police fan – Mike Henry is and I am too – and she, through connections, gets Sting to come over to the house but I'm at work."
And what complicates things for Mike? You guessed it... a snowstorm! "I'm stuck in the middle of the newsroom in this snowstorm and I can't get back," Fox said.  
That leaves Brandt's Annie (Mike's wife) and Finneran's Leigh (Mike's sister) to 'handle' the international megastar. First, though, each of them had to gush to me just a tad about working with Sting. "He was awesome. He was great," Brandt told me. "I had a bunch of scenes with him in the morning and he was wonderful. He was just…and I was so nervous. I've never been that nervous!"
Finneran may have been elated than nervous.
"It was the most extraordinary day. First of all, he's such a great guy," she said but she also was able to get a bit, um, closer to the singer in the course of his shooting his scenes. "I had to, like, flirt with him," the Tony winner told me. "I actually had my hand on his tuckus. Sting's bottom. I have to say bottom now because I have a one-year-old and a two-year-old. Seems disrespectful to say Sting's ass. But I want to say that it's a beautiful, beautiful, beautiful piece of his body."
To be clear, though, it wasn't Finneran's idea to touch Sting's backside. "He actually planted my hand there," she said. "I asked if it was okay with Trudy. He said it was just fine. She would understand. We had a great time."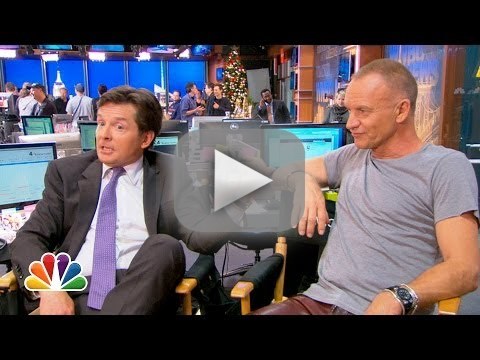 Back to the actual episode: a simple trip to a doctor makes the whole situation possible, according to Brandt. "Mike Henry is a musician. He plays guitar, he's really into music," the actress, who went from Breaking Bad to The Michael J Fox Show this year, explained. "Annie is into music but not like he is. And it turns out I met Sting at the Ear, Nose, and Throat doctor's office. And I talked to him and I sweet-talked him into meeting my husband as a gift."

And while Annie knows who Sting is, there is another problem that comes up. "The joke is," Brandt explained, "is that Annie doesn't know any of his songs. Not a single one. And I know all of his songs, personally. I told Mike, "I have memories to all his albums!"

The Michael J. Fox show airs Thursdays at 9:30 p.m. on NBC.

Jim Halterman is the West Coast Editor of TV Fanatic and the owner of JimHalterman.com. Follow him on Twitter.

Tags: The Michael J. Fox Show, Interviews, Exclusives, Set Visits