It's Christmas time in the city and to celebrate the season, Mindy bought and lugged a tree up to the office.
When she found her friends already huddled around a beautifully adorned tree she scoffed with disbelief.
Mindy: What the hell is that?
Peter: How Hindu are you? It's a Christmas tree.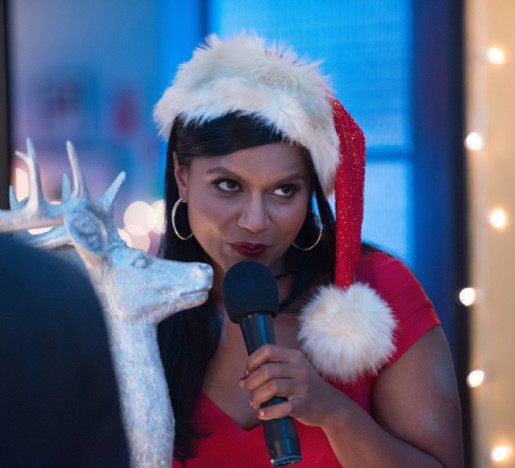 The remainder of The Mindy Project Season 2 Episode 11 centered around Mindy's building wide party, which Danny pointed out, was really just a Christmas sex party trap, set by her to get Cliff.
Of course, there was still the issue of Heather, who Cliff was still dating. Mindy's optimism remained strong even after she ran into Brendan and his new girlfriend Maria Menounos.
The party may have been gluten and alcohol free, but it was not short on laughs, as a newly thin Jeremy - fresh from fat camp - and a sober Peter pledged to keep each other from falling off the wagon.
What am I supposed to do with my hands if I'm not holding beers?

Peter
Jeremy relapsed in a big way when he ate what looked like half of Danny's gingerbread replica of Monticello. As funny as it was to see Jeremy burst into Mindy's office with the evidence of his indiscretion in hand, you had to feel for Danny who spent so much time on his creation whilst wearing his red reading glasses.

Mindy, meanwhile, looked to have sucked enough liquid courage out of her wine bra to actually kiss Danny after he danced to Aaliyah's "Try Again" for her. Alas, it was not meant to be, as they were interrupted by Peter. 

Kudos to Peter for finding the courage to go and talk to Maria while sober.

It wasn't the smoothest of approaches, but the result was perfection. He also deserves mention for his great Weird Science reference when he described how she was his ideal woman.

So in the end Mindy got what she wanted? She'll probably blame the near kiss with Danny on her bra wine and the two will go back to the way things were. Long term pulling for Danny, but I am happy she ended up with Cliff for the moment.

At first, like Mindy, I was put off by his comment about her being crazy. The more I thought about it, though, it makes me like him even more. He sees Mindy for who she really is: A smart, beautiful woman who loves gluten and maybe talks to pigeons on occasion.

Tags: The Mindy Project, Reviews