I expected a lot more of Rick and Kate throughout Castle Season 6 Episode 13.
And maybe that's why the hour was a bit disappointing.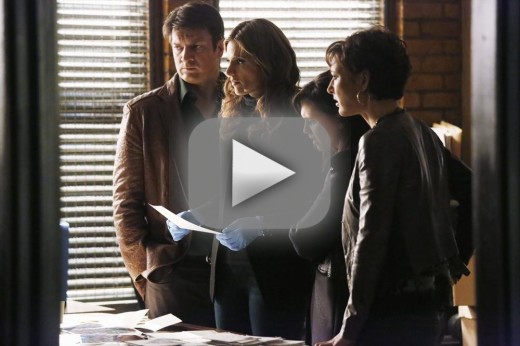 Because the murder of the week story was actually quite good. There were plenty of people surrounding Mandy who could have killed her or her look-a-like Claire.
I truly felt for Mandy Sutton, the young pop star who'd grown up in front of the cameras. What does it say when your own mother is willing to trash your relationships and push you off the wagon just to make sure the gravy train doesn't stop? Obviously the money Mandy made was more important than her well being or her happiness. How incredibly sad.
Perhaps it made Alexis realize how lucky she was to have a father who would do anything to make her happy, including write a fake recommendation letter for her boyfriend. 
I couldn't help but groan when Pi showed up on Castle's doorstep. And even though I was a bit intrigued when Alexis lamented to Mandy that she wanted to disappear from her own life, it wasn't enough to overcome my Alexis/Pi fatigue from earlier in Castle Season 6. I'm just not quite ready for more Alexis angst. 
Alexis confessed in this Castle quote…
Have you ever looked back on something you've done and it's like someone else is doing it?

Alexis
And it felt as though the writers were trying to back track and explain away her previous behavior. Perhaps the girl has come to her senses. It's obvious that the thrill is gone where Pi is concerned.

Should we just write it off as some sort of a bad dream or are we suppose to see her moving in with Pi as nothing more than growing pains? 

For most of the series, I'd had warm, fuzzy feelings for Alexis. Whatever the intentions of her latest story arc, the unfortunate side effect is that I'm having trouble getting those back.

When Mandy got the phone call from the bartender, Alexis tried to stop her from calling back and from going to the bar. But I couldn't understand why Alexis just didn't pick up her phone and call Beckett or her father. Instead she followed Mandy as though her mere presence could stop a killer. What happened to the smart, resourceful girl that we knew Alexis to be?

OK, enough with my Alexis Castle rant.

I expected more fun to come from the article in the paper linking Castle to ex-wife Gina…and speaking of the article. If you paused the screen to read it, you'd notice that they printed the same couple of paragraphs twice to make it look longer. I know it may seem inconsequential but in the age of HDTV and DVRs, fans are able to stop and read most anything that comes on the screen. Printing the same paragraphs twice just looked lazy.

But back to our story…

I liked that Kate didn't believe the tale for a minute but joked that she could use it to torture Rick. And one of my favorite moments was hearing that Kate's aunt posted the article on her Facebook page proving that gossip has a life of its own. 

But I was hoping for more of an emotional punch when she finally told Rick that she was willing to make their engagement public. The saving grace was Esposito and Ryan who were darn cute as they smiled ear to ear at seeing their friends so happy. 

It felt as though there should have been a kiss at the end but to be honest I'm not even sure that would have saved it. I just wasn't feeling the usual chemistry between my favorite couple. 

In the end, although the murder of the week proved entertaining, the rest of this episode felt lacking in both the humor and emotion I've come to expect from Castle.

Now it's your turn, TV Fanatics. Has Alexis been redeemed in your eyes?

C. Orlando is a TV Fanatic Staff Writer. Follow her on Twitter.

Tags: Castle, Reviews