Nick walked back into Salem and announced he's here to stay on Days or Our Lives today.
And, to be honest, I'm torn between being thrilled and wishing someone would toss him back in the river. 
Yeah, I called it in our Days of Our LIves Round Table…sort of. Because even though I suspected that Nick would return with memory issues, even I'm not believing his story.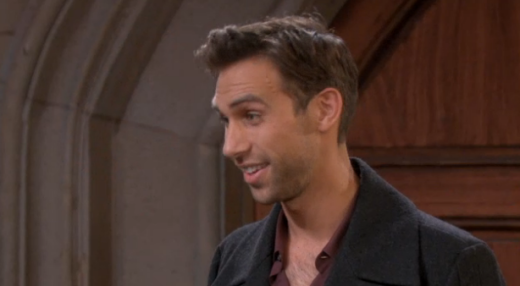 I almost laughed when he explained that, "Some stuff kind of went down, Aunt Julie." I suppose attempting to rape his ex-wife, then getting smashed in the head with a rock and shoved into a freezing river qualifies as stuff.

Can anyone explain why Julie kept yelling? Nick was standing right in front of her.  

And I found it interesting that even Hope questioned whether Nick was lying. Perhaps her cop instincts are picking up on something…like her cousin is a psycho. 

Watching Kate, Sami, and Gabi celebrate back at the Dimera mansion was fun. As Sami said, "He's a disgusting worm. He really is…but at least we didn't murder him." So true. But would they have been better off if they had?

I'm not really concerned about his going to the police. As Kate pointed out, "He's an ex-con with a crush on crazy. Come on, they're going to take his word against ours?" Plus EJ's clean up crew took care of any evidence so she might be right but I think that's the least of their problems.

Because I think Nick remembers a lot more than he's letting on and it's only a matter of time before he gets his revenge. And who is the mystery man who supposedly nursed him back to health? Maybe the birdwatcher/Santa guy?

On other fronts, Sami once again told EJ to do whatever he had to do to shut Abby up. I think he's taking that a bit too literally. 

Abby admits that she's embarrassed and ashamed…and desperate to have him again. Then she taunts EJ by telling him that she thinks she'll talk to Hope anyway…just to make sure he'll come running after her. I think the side of Abby that was obsessed with Austin has definitely returned with a vengeance. 

I can't wait until Abby's inner bad girl meets with Sami Brady. I hope the sex is really that good because it may be the last Abby ever has. 

Finally there was Jordan and Sheryl. Salem's most boring twosome. The only upside is that they give Rafe and Lucas more screen time. These guys may be my favorite new Days bromance.

So what do you think, TV Fanatics? Has Nick really lost his memory or is he lying through his teeth?

C. Orlando is a TV Fanatic Staff Writer. Follow her on Twitter.

Tags: Days of Our Lives, Soap Operas
Want more Days of Our Lives?
Sign up for our daily newsletter and receive the latest tv news delivered to your inbox for free!
More From TV Fanatic
A familiar face returns to Salem. Check out these photo from Days of Our Lives starting the week of 7/28/2014.
Our Days of Our Lives round table teams up with MyHourglass to debate if Will took his tirade against Sami too far and whether Abigail has suffered enough after this week's Days of Our Lives.
Will turned on his mother as EJ's hopes of reconcilation crumbled. Theresa faced Victor's wrath and Danile, Hope, and Eric planned trips out of Salem. Check out our recap of this week's Days of Our Lives.
Shemar Moore is headed back to The Young and and the Restless. He'll reprise his former role for two episodes.
---