After a rocky sophomore season, Girls picked back up with two episodes full of outrageousness mixed in with modern day reality.
Girls Season 3 Episode 1 brought us up to speed with all the ladies. When we left Hannah in Girls Season 2 episode 10, she was having a complete mental break and Adam ended up saving the day.
So where are they now?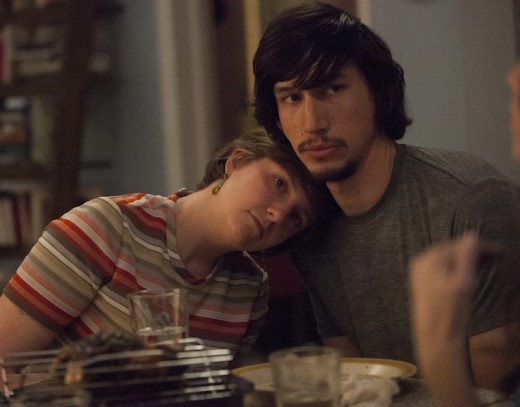 Adam and Hannah are actually in a great, if not slightly co-dependent, place. But hey, if it works for them...
Hannah is on medication to treat her OCD and is back on track with her editor, who she was too embarrassed to tell about her mental issues, but fine with discussing the time she jerked a kidney stone out of a Puerto Rican Jew. And... the girl we know and love is back.
Marnie is mourning her break-up with Charlie, although in reality the actor who played Charlie decided to leave the show due to creative differences with Lena Dunham. Marnie is now living on her mother's couch with Rainbow Brite sheets, listening to lectures from the fantastic Rita Wilson.
I have to say, the guest stars in the season premiere really brought their A-game. To say Shiri Appleby and her friend's confrontation of Adam at Grumpy's was amazing would quite frankly be an understatement. I was equal parts hysterical and horrified.
You should just enjoy your urine soaked life, fucking like the two feral animals that you both are. You're gonna end up with a baby that you don't know how to care for.

Natalia
Shoshanna is off living the life that most college students live: balancing partying, hooking up and academics. She's definitely in an experimental stage and despite her hungover trips to the library, she seems like a lighter, happier Shoshanna.
Jessa, oh Jessa, we haven't seen her since Girls Season 2 Episode 7 when she abandoned Hannah at her father's house upstate and took off for parts unknown. While part of me expected us to find Jessa on some exotic vacation being spontaneous and marrying someone new, I wasn't all that surprised to find her slummed out in rehab. The last thing I expected, however, was to find her between that girl's legs.
The premiere episode flowed perfectly into Girls Season 3 Episode 2 as Hannah, Shoshanna and a pissed off Adam, road-tripped to bail Jessa out of rehab. Shoshanna has probably never been as funny as she is this season.
My friend Rachel is fully addicted to blueberry redbull and she always tells me she hasn't had one and she tells like with a blue tongue.

Shoshanna
I love the straight up honesty that is flowing between the characters this year. I'm glad Hannah told Jessa she's a liar and a bad friend. I'm glad Marnie could admit she had no interest in going to pick up Jessa, but just didn't want to be left out. Shoshanna has no filter to her thoughts and it has fleshed out her character from an uptight jappy student who occasionally contributed funny moments.

Adam has peaked from weirdo that Hannah kind of begs for sex to full out supportive boyfriend. He is feeding Hannah her damn meds everyday. He hosts a dinner party with people he never wants to see, but somehow manages to be the one person who gives Marnie meaningful advice during her time of heartbreak.

As Shoshanna puts it, he is dementedly helpful.

So what do you think of Girls Season 3 so far? Is it redeeming some of the lackluster drama from Girls season 2?

Leigh Raines is a TV Fanatic Staff Writer. Follow her on Twitter.

Tags: Girls, Reviews