Revolution Review: What is God?
by Nick McHatton at . Updated at .
While things have been mostly uneven and sometimes boring for most of the year, Revolution Season 2 Episode 13 was a surprisingly fun and philosophical installment for the series.
There are a lot of plot elements in play with everyone once again setting out on their own adventure, but let's start with Tom.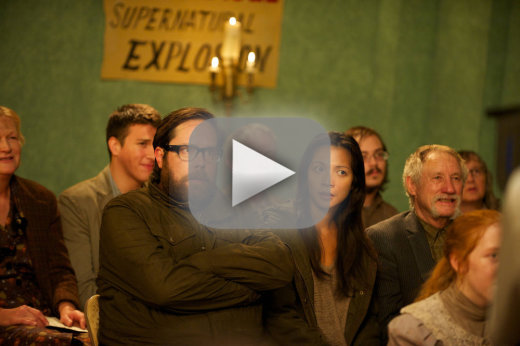 We finally get to meet the President, a hard man who hides behind his southern charm and immediately uses Tom to his advantage. He wants him to execute Monroe or Julia pays the price. It's the only threat that would really work against Tom: going after his family.

One has to hand it to Tom, he never misses an opportunity to gain something. He's been in solitary confinement, he's dirty, thirsty, and hungry... yet he's willing to make a play to the President to get Jason out too. He's a survivalist through and through.

The big question is whether Rachel and Miles will go along with Tom's lie. They're no dummies, especially not with him, but with the promise of going after a common enemy - and a complete lack of manpower to do so - they might just take Tom up on his little deal.

Rachel and Miles were cute together. Watching them have some normalcy, fleeting as it is, gave them a chance to explore what their relationship is. They've always loved each other, but the timing was never right. With the kids out of the house, they were free to go on a date and act on the years of foreplay they shared.

Aaron and Priscilla made it to Bullock and ran into another friend: Peter is using the nanites to heal and play God.

He's unwilling to allow his pals to tell the truth about the nanites and even touches upon what it means to be god. Peter has a decent argument: if they listen to the tech and embrace it, there's not much difference. Their faith is not shattered, and it continues giving them hope in a dire world. However, Priscilla's argument is better: maybe Peter just enjoys having those people worship him.

Finally, Charlie was off on another adventure with Monroe, but this time Connor came along too. With their sights set on New Vegas for some mercenaries to hire to fight the Patriots, Monroe's vision of his republic is beginning to take shape again. It's just a shame that New Vegas continues to grind him beneath its heel. The man has some good plans, but Duncan's men knew better.

Charlie and Connor hooking up already was a little surprising, considering they've known each other for all of an hour, but with Charlie thinking she's close to death anyway and war they're fighting, it's not shocking that she would sleep with him.

What was your favorite moment from tonight's Revolution?

Nick McHatton is a TV Fanatic Staff Writer. Follow him on Twitter.

Tags: Revolution, Reviews
From Around the Web