There was nothing but "Sour Grapes, Sour Peaches" on The Real Housewives of Atlanta Season 6 Episode 12, as everyone took pot shots at their friends' relationships.
We recap all the shade that got thrown about in our TVF +/- review...
Yes, Cynthia Bailey. Maybe you should have kept your mouth shut because once you start sharing nasty gossip about a friend's man, it can come back and bite you. Minus 23.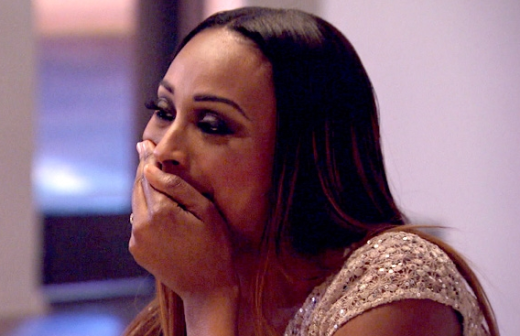 That's exactly what happened as Cynthia heard from Natalie that over a decade ago, Todd supposedly cheated on his girlfriend. According to Natalie, Todd was an opportunist always looking for leg up, but that was years ago. 

So then why would Cynthia share that info with all of the ladies…except Kandi. That was just plain wrong. She knew it wouldn't stop there, not with this crew.  

And it didn't. Leave it to Kenya Moore to stir things up as she made sure everyone knew that Natalie was only her husband's common law wife. 

Minus 32. What is Kenya, the marriage police? Why does she even care? 

And if there's shade to be thrown anywhere, how about Kenya's mystery boyfriend / oil tycoon / African prince. The more she talks about him, the more ridiculous it sounds. 

If he's so wonderful, then why do we see Kenya headed to a sperm bank next week? 

But when Kenya throws Natalie's pseudo marriage in her face, Nat fights back by throwing shade Kandi's way. What did Kandi do to get dragged into this? Minus 15

Have do say, I love the way Kandi handled it. First off, she doesn't care about what Todd did a decade ago with some other woman. 

Then she says that if Todd's always looking for a step up, he finally made it to the top with her so there's no where else for him to go. Plus 41.

But it's kind of sad that Kandi won't have the big wedding she really wants for fear of Mama Joyce ruining it for her. If anything, she and Todd should take off and get married on some island somewhere and enjoy themselves. 

In yet another surprise twist, instead of letting the entire subject drop, Kandi turns on Cynthia by saying that she's heard all kinds of things about Peter's past but she doesn't bring them up.

Maybe she heard everyone making fun of her and Phaedra's weight issues behind their backs?

Minus 18. Damn. These women are just the worst friends. They can't throw one another under the bus fast enough.

Episode total = -47! Season total = -756!

Now it's your turn, TV Fanatics. Do you think Todd is a good guy or an opportunist whose hitched himself to Kandi's star?

C. Orlando is a TV Fanatic Staff Writer. Follow her on Twitter.

Tags: The Real Housewives of Atlanta, Reviews, Reality TV