Just when you thought everything would be okay - that Neal would be free, that Peter and El would move to DC and Mozzie would live to be 200 - THAT HAPPENS.
Which is why this last-second kidnapping will go down in history as the most unexpected twist in the shows history - and what made White Collar Season 5 Episode 13 a breath of fresh air.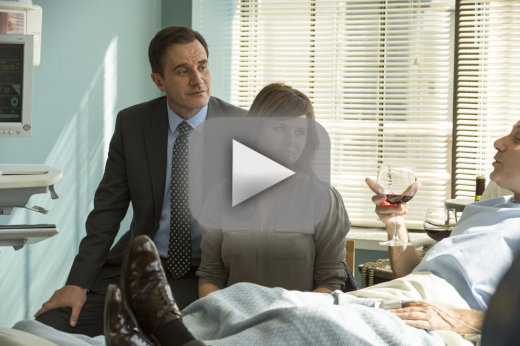 Overall the season was a solid, capped of by a solid finale.
Some highlights:
Everyone's dedication to making sure Mozzie pulled through.
Rebecca not getting away with her evil plot.
Finally finding the diamond!
The fact we thought for even a second that Neal was finally going to be free.
The bro hug shared between Peter and Neal.
As a matter of expectations, I clearly anticipated that the storyline that involved Rebecca to tie up with this episode. But that doesn't mean I wasn't completely floored at the fact she went rather quietly, for lack of a better term. It appears Rebecca really did have a heart and Neal convinced her that she can't keep running.

It also appeared that Neal was completely committed to keeping put and keeping out of trouble, much to Mozzie's horror. Honestly it's about time Neal got to be on his own.

Unfortunately, the higher-ups at the bureau had other plans, and Neal will have to stick around NYC a little bit longer, a move disguised as further punishment for his foray out of the country during White Collar Season 4 Episode 1.

What a complete joke! I guess that's the price of being so good at what you do.

The again, Neal might not even be in New York anymore, thanks to his last-second kidnapping by a rando we've never seen nor met prior to his not-so-covert stalking throughout the installment.

That wasn't half as surprising as Peter's decision to stay behind and oversee Neal in lieu of going with El to DC. I fear a bit for the Burke's marriage, as it has become increasingly clear that El resents how far out on a limb Peter goes for him sometimes.

Then again, this could also be a situation where they need a reason to let Tiffani Thiesson out of the show for a bit to have another child as they've done in the past.

This assumes, however, that White Collar gets the official go ahead for season 6. Do you think we'll find out what happens to Neal?

C. Charles is a TV Fanatic Staff Writer. Follow her on Twitter.

Tags: White Collar, Reviews