A full two weeks earlier than in previous seasons, the American Idol Top 13 are taking the stage tonight in the first round of competition. 
Keith Urban, Jennifer Lopez, and Harry Connick, Jr. are ready for this talented group of musicians to take the stage and show the world what they've got. And the world is ready to see them.
Tonight they'll be singing songs that fit the theme of #ThisIsMe. (Because everything these days needs a hashtag, right?) This will be their opportunity to show the world who they are, both by song and by sharing 5 details about themselves in 20 seconds.
Who will shine in the spotlight and who will find him or herself at risk of heading home? Let's get started and find out...
Well done, Caleb Johnson! He's advanced to the final 13 on American Idol.
Alabama boy Dexter Roberts is up first. So we can get to know them better, tonight everyone will be asked to give 5 facts in 20 seconds. Dexter is scared of spiders and broke his finger playing football. He also rocks a ridiculous jean vest. He would also like the world to know he's very, very fun, so he chooses Chris Young's "Aw Naw" and plays the electric guitar. It's tough to be first up but Dexter performs like he's a seasoned pro country artist. This is clearly his wheelhouse and yeah, he's definitely fun to watch. It's an absolutely solid start to the night.
Keith compliments his likability and says he has to figure out how to go from cover artist to original artist. Jennifer wants him to figure out how to take it to the next level. Harry gives him the technical note that sometimes he's out of tune and thinks it might be the ear monitors. Simply because he chose an upbeat number and kicked the show off with some energy--and he was good--he gets a 4/5 from me.
Malaya Watson is afraid of dogs and plays a lot of instruments. She also loves everybody. Her message to America: "Nothing is the same." She's choosing Bruno Mars "Runaway Baby" and Randy Jackson's comment is that she needs to over-enunciate. It might be the mix between the theater and home, but she's not with the band for the verse. It gets better when she hits the chorus, but she's still not there. The song doesn't really let her sing and feels constricting. 
Jennifer loves Malaya's energy and calls her an A+ performer with her stage presence, but says that this wasn't her best vocal performance. Harry tells her that she seemed nervous and wasn't in tune. He also confuses the trombone and the tuba. Keith calls her energy contagious and tells her she has to get on top of the song instead of floating around it. 2.5/5
The final Wild Card to make it into the competition, Kristen O'Connor is singing "Beautiful Disaster" by Kelly Clarkson. This is my personal favorite Kelly song so Kristen has some giant shoes to fill for me. Her performance doesn't match the lyrics and it's a little too theatrical, like she's auditioning for a role in musical theater. Vocally it's the strongest of the three so far. 
Harry thinks she's a really strong pop singer but didn't think her performance matched the song (Fist bumps, Harry!) Keith does think it was a good song choice because it allowed her to showcase her range. Jennifer tells her to stop thinking so much. 3/5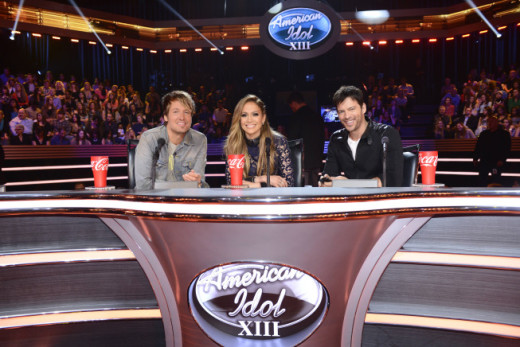 After almost not making it this far, Ben Briley tells the world he's good at throwing rocks at poles. He kicks off his American Idol career with Johnny Cash's "Folsom Prison Blues," which he says he uses to start every single gig he plays. Ben Briley believes that this competition will change his life and is taking this seriously without taking himself too seriously. His rendition of "Folsom Prison Blues" is fun and energetic and really does show who he is and wants to be. 

Keith thought the tempo was maybe too fast and tells him not to sacrifice his voice for artistry. Jennifer liked that he picked up the tempo but says maybe it's the dancer in her. She likes that he did make the song his own. Harry called it "unquestionably the best performance of the night." 5/5

C.J. Harris doesn't like heights and icy roads. He doesn't deer hunt and hates bad attitudes. And he's very religious. He's chosen "Radio" by Darius Rucker. He's pushing a little too much and isn't in tune or with the band. He's enjoying himself, so that counts for something, but it's definitely not a good follow-up to Ben Briley.

Jennifer called it a lot of fun and loved that he gave a performance with energy. I do have to agree with Jennifer there. The upbeat performances are a nice change from ballad after ballad. Harry thought it was just an okay song choice and would have preferred something that showed more of C.J.'s voice. Keith thought this was a side of C.J. that we haven't seen before. 3.5/5

Up next, MK Nobilette is a soccer player and amateur snowboarder. She loves "Single Ladies" and dogs. She chose "Satisfaction" by Alan Stone to show the world who she is, a song she introduces as not a ballad. I have to fight back the urge to clap in my living room when she's done. That's how fun and good it was. She showed us all a completely different side of herself. 

Harry gave her a note about phrasing and performance and really enjoyed the performance. Keith loves the growth we've already seen in her since her first audition but says that no matter what, her voice has never failed her. Jennifer didn't know the song but loved how MK delivered it. 5/5

Majesty Rose is a leftie who likes having big hair. (It's National Leftie Day today!) She chose "Tightrope" because she feels she's always trying to find the balance between humility and confidence. She ditches the guitar to stand behind the mic stand but she drops consonants on her opening verse which knocks the performance down in my book. She breaks away from the mic stand and has some fun by the end, dancing around and working the stage.

Keith calls it a killer song choice and says she has to gain more confidence. Jennifer loves her individuality and thought the song was perfect for her. Harry says his favorite thing about her is her "mystery" and calls it terrific. 4/5

Another Wild Card contestant, Jena Irene is singing "The Scientist" by Coldplay. This was the first song she learned to play on the piano, but she doesn't sit behind the piano for the performance. She looks amazing, first of all, and second, it's a really great performance. She definitely makes the song her own. Her voice is incredibly unique and she deserves to be here.

Jennifer says she was worried for Jena in the first few seconds, but loved it. Harry said that Jena makes "interesting" choices on "pre-existing" melodies which makes it so that he can really feel the message. Keith says she leaned into the song which made all the difference.

Alex Preston loves extreme sports, writes poetry, is a romantic, drinks a lot of coffee, and isn't good with time limits. He's chosen Jason Mraz' "A Beautiful Mess" for tonight's #ThisIsMe performances. Jason Mraz is a perfect song choice for Alex. Any Jason Mraz song ever. He's able to display range, musicality, and artistry in one number. Not that he hasn't been doing that all along. It's another performance that leaves me applauding in my living room.

Harry called his song choice brave and cautioned him about singing in tune. He also said that he couldn't feel what Alex was singing because the performance was introspective. Keith says that the song did the opposite and pulled him into the moment. Jennifer agreed with Keith and said she was caught up in the mood of his performance. 5/5

Jessica Meuse likes ponies and ghosts. She's rocking the hair extensions and chooses "The Crow and the Butterfly." There's a fog machine going behind her as she steps on the stage without her guitar. This might be my favorite performance of hers so far and I finally understand why she's here.  There's an interesting vibrato in her voice and she seems seasoned when she sings.

Keith says that this reminded him of her very first audition and what drew them to her in the first place. Jennifer got goosies and called it her favorite vocal performance of the night. She wants to see Jessica's body relax a little bit. Harry thought it was a strong song choice. 5/5

Emily Piriz went to cooking school. And she whistles. She's singing P!nk's "Glitter In The Air." She looks beautiful. Just stunning. Her voice is pretty amazing, too, but there's something off between the performance and the lyrics. She's too smiley so it feels odd. But vocally it's spot-on. It's probably the best vocal of the night.

Jennifer calls it a difficult song to take on but says she does it beautifully. Harry called it really great and thougth she conveyed the emotions well. Keith called it a beautiful vocal performance and song but wants her to focus on finding the edge. He actually put his finger on my problem with the performance. 5/5

In 20 seconds, we learn that Sam Woolf is scared of spiders and once broke his foot falling down the stairs. He chose "Unwell" by Matchbox 20, which will probably prove to be a good choice for the 17-year-old. He starts on a bum note, probably from the nerves, but then settles into the song a little bit. There's enough tempo to make it interesting and he's really been working hard on eye contact. He's come a long way in that regard. 

Harry wished the vocal had been a little more messed up to match the song and called it "nice." Keith thought the tempo was too slow but called him captivating. Jennifer thinks Sam is a quiet storm and says that sometimes he's a deer in headlights. 4/5

Rocker Caleb Johnson is closing the night. He's chosen "Pressure In Time" by the Rival Sons, a modern song from a modern band. He reminds me of James Durbin just a little, with a dash of Meatloaf. It's a little screamy for my tastes, but it's certainly a signature Caleb performance. Personally, I don't feel like the song had much melody, but the crowd loved it.

Keith says he has serious pipes and calls it a great song. He does want Caleb to put a twist on his performances. Jennifer tells him he's ready for the rockstar life. Harry loves that there's rock and roll on Idol. 4/5

With that, the first performance night of American Idol season 13 is in the books. Overall, this is a talented group of people, certainly more so than last year's crop. (That's not meant to detract from Candice Glover or Kree Harrison, but let's be real, the deck was oddly stacked last year on purpose.)

It's hard to pick the top performances tonight because quite a few of them were really great. As for the bottom of the pack, Malaya Watson, Kristen O'Connor, and C.J. Harris are probably in danger of being in the bottom 3. Dexter Roberts could find himself there only because he went first and not because he's not good enough. Going first when there are so many people in the competition is always sort of a tough place to be.

What did you think of tonight's American Idol? Who did you think had the best performance of the night?

Miranda Wicker is a Staff Writer for TV Fanatic. Follow her on Twitter.

Tags: American Idol, Reality TV, Reviews