Archer: Vice continued this week with the gang trying to deal with Pam's cocaine addiction, Cheryl's stage fright and a visit from our new favorite FBI agent, Special Agent Hawley. 
Despite learning more about porn than I EVER wanted to know in life, I really enjoyed Archer Season 5 Episode 4 and think it was a significant improvement from last week's venture.
I apologize for the length of this review, but this week's episode was so dense! There were obscure references, great one-liners, fun running jokes (pounds Sterling - brilliant), interesting character development, and last but not least, a whole lot of Krieger!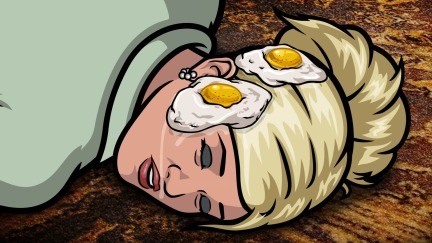 I was concerned about you - blow me!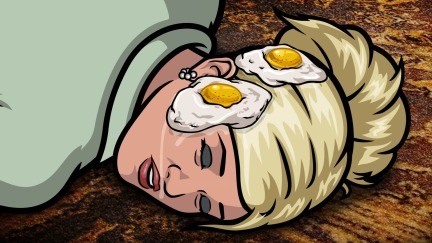 Lana: Cheryl?
Cheryl: Nah, Cheryl's gone. I'm Cherlene now. And if somebody don't fry me 6 goddamn eggs and some Carolina fries I would personally be shocked, SHOCKED I tell ya, if by morning this place ain't burned to the ground.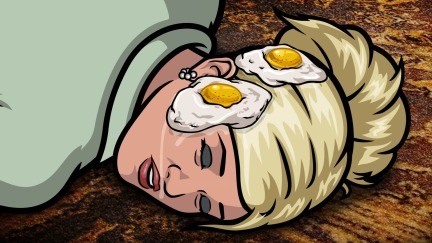 I'll be watching you like a hawk. That's been bred with an eagle...to produce some kind of eagle-eyed superhawk...with a badge.

Hawley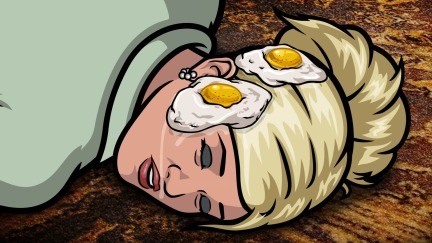 Hawley: What do you people think the letters FBI stands for?
Archer: I bought a T-Shirt once that said "Female Body Inspector.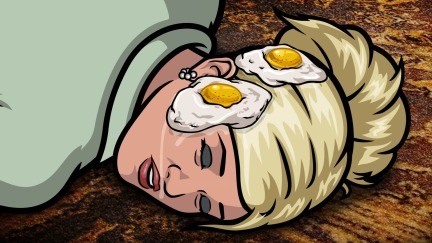 You wouldn't know the truth if it bit you on the ass and held on, would ya!

Ron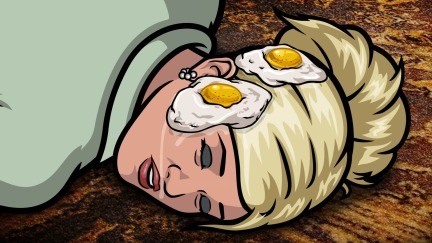 So if I were you, I'd run out that door while I still had a chance. I'd also waste 5 precious minutes of my head start in the race to freedom, giving that swell guy Archer a combination thank-you-goodbye blow job.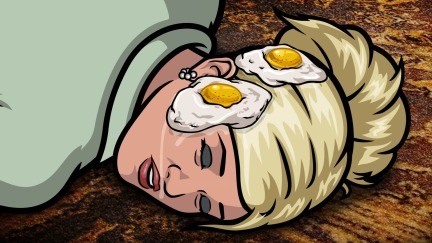 Hawley: Awww screw me!
Archer: ...said Ripley to the android Bishop.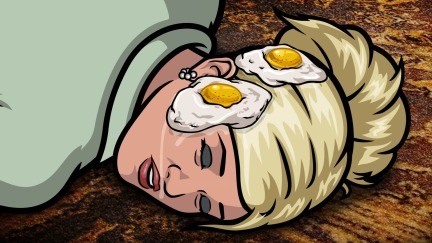 I am totally digging this whole Queen Kong vibe.

Cheryl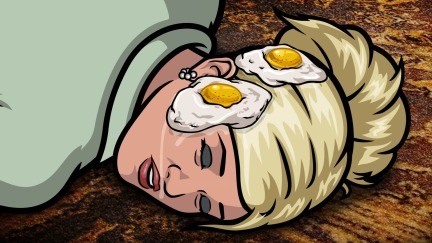 Cyril: How do you not know the different kinds of porn?
Archer: Because I have sex with actual women, Cyril! My girlfriend's not equal parts the internet, a tube of Kentucky jelly, self-loathing and a sock!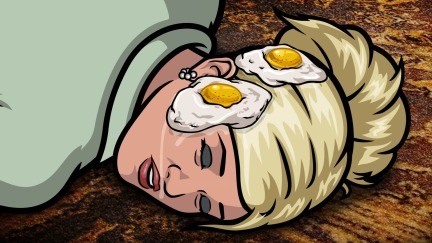 Cyril: You could pose him with Woodhouse
Krieger: God knows he's a little GILF.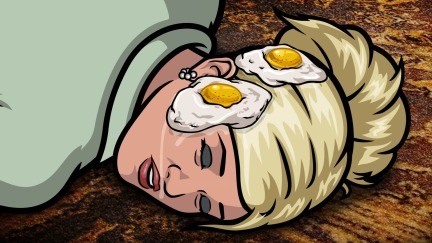 Cyril: He can't come in without a warrant - well, unless you invite him in.
Archer: He's not a vampire, idiot. Plus it's daytim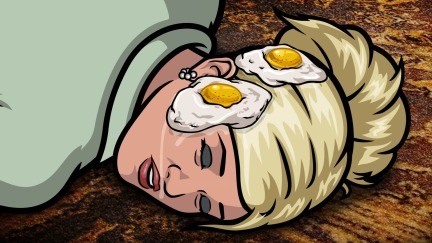 The last thing you need right now is a big, shit-eating "I told you so."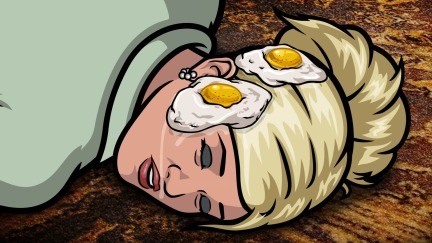 This is only somewhat like that old gypsy woman said!!

Cheryl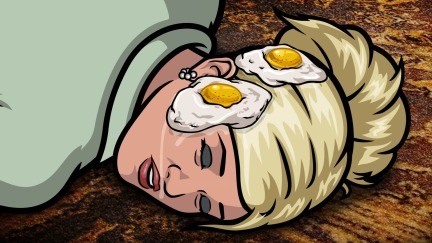 Malory: Well, she won't go to rehab and you won't let her die with dignity...
Lana: From an overdose of cocaine cake?!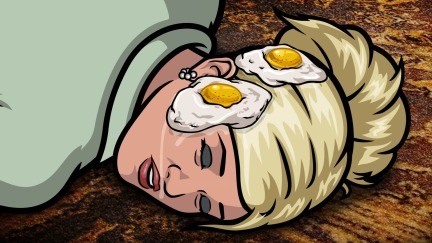 Malory: It's good because it's cocaine!
Archer: Oh my God, and little kids eat it!?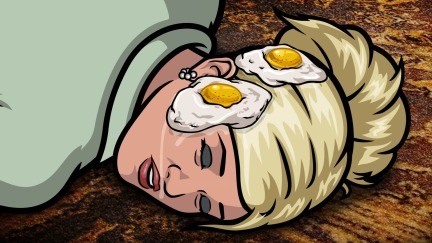 Ron: Next time remind me to get shot in the head!
Archer: Ron, next time get shot in the head.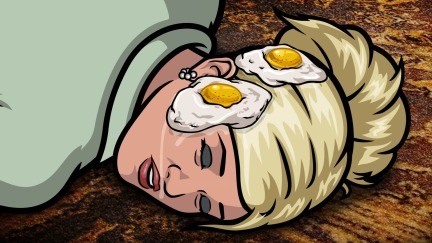 Malory: Who uses Metric?
Lana: Every single country on the planet except for us, Liberia and Burma!
Archer: Really - cause you never think of those two as having their shit together.
The gang finally formally addressed Pam's addiction, partly out of concern for her (well, only Lana was concerned), and partly out of the realization that she's literally eating away their profits. Although, Kreiger and Cyril don't seem to have a big problem with it, since Pam got all big-busted and coke-skinny now.
Unfortunately for them, Pam is also all coke-strong and escaped the "intervention," grabbing Cheryl as a hostage. If that wasn't bad enough, they needed to find her while dealing with an FBI agent in the house.
I think what elevated this week's episode from "good" to  "great" were the character interactions and developments. Ron's contempt for the ISIS crew was quite funny and I'm not surprised at all that he walked out on Malory. 
We also found out that poor Ray has been wallowing in depression needlessly; all Krieger's had to do is reboot the chip in his spine. On that note - I can't recall if we've ever seen Cyril and Krieger work together before, but they are absolutely hilarious!
My favorit interaction, though, (as if you had to ask) would be between Lana and Archer.
I said last week that I think Archer is maturing (well, as much as Archer can mature), and my guess was that this was because of his love for Lana and his concern for her child's wellbeing. 
Here we saw even more of that.  His concern for Lana led him to read up and memorize every pregnancy complication there is. He knew what she was thinking and how she would act when he opened the door. Even more telling was the fact that he was willing to let Lana escape and never see her again just so that she and her child would be safe.
What I didn't see coming - or not this quickly, anyway - was Lana's reciprocation of Archer's feelings.  For a split second, before Archer got all annoying again, she actually admitted that she couldn't leave him. I'm looking forward to seeing how this is going to be dealt with throughout the season. 
On another note, it's not often we get to see Archer give Lana the evil eye - I was laughing so hard when she was baby-talking to him!
The tunnels and hidden passageways make for fun times in the Tunt mansion, and Archer's pop culture knowledge (has NO ONE watched Scooby-Doo?) allowed them to hide the cocaine behind a revolving wall before Agent Hawley got to it.
Hawley brought up an interesting point: their international contacts through ISIS would make it easier to get into the drug trade.   I'm hoping this is the gateway to getting out of the Tunt mansion. As fun as the hidden passages have been, we've had two episodes in the mansion now, and I'm itching to see these guys back out in the field.
RUNNING JOKES:
- The whole metric/imperial gag was hilarious.  Even more so to me because I'm Canadian. Trust me, folks, metric's better.
- Mispronunciations: Malory said "grand old opera" instead of opry, and Archer said "Braxton-Hicks contraptions" instead of contractions.
- "Said Ripley to the android Bishop"....gotta agree with Krieger; that's crap. Bring back "phrasing!"
- So. very. many. different kinds of porn...
CALLBACKS:
- Len Trexler and Krieger's mind control from Archer Season 1 and Archer Season 2.
SHOUT-OUTS:
- Obscure reference alert: Thomas Corwin Mendelhall was an advocate for US adoption of the metric system.
- Sweat it out like "Popeye" Doyle - The French Connection
- Scooby-Doo (God speed, you meddling kids.)
Not to mention Krieger's mind control chip has turned Cheryl into Cherlene!  Gotta see this new country singer on the road!
TV Fanatics Love Prime Instant Video
Tags: Archer, Reviews