It was hard to top Girls Season 3 Episode 7 (aka "Beach House)" but this week's installment fared pretty well.
After all, Girls Season 3 Episode 8 landed Adam his first gig on Broadway!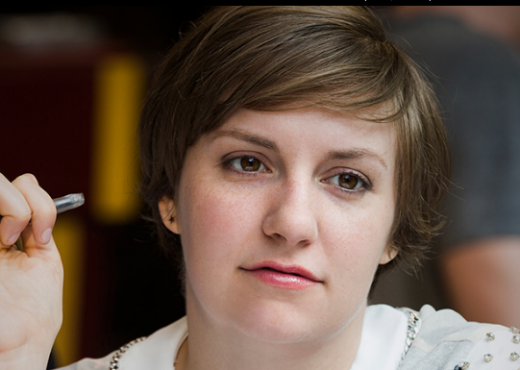 Remember in Girls Season 1 when Adam was just this weirdo Hannah was obsessed with who made his own random furniture?
Now he's this full-fledged character who I feel like we peel another layer off of every week. He's a deep guy and what's more is that he and Hannah are a happy and functional couple.
Hannah with a steady boyfriend and steady paycheck? What show am I watching?!? Alas, it's true and not only that, but this gig at GQ is pretty cushy. She's interviewing Broadway legends and checking into awesome hotels with her friends for research. Where do I sign up?
This is how much money I make a week? This is a lot more than my rent. This is insane, I'm just gonna like walk into a store in the Meatpacking district and make it rain!

Hannah
I like that the show has created more opportunities lately for the four girls to be together. People forget that this group is really not a cohesive unit at all. Just another reason why all the comparisons to Sex and the City are so misguided; the friendship on Girls is lacking the closeness the SATC gals had.

I was a little surprised that Marnie didn't tell Hannah about Ray. I guess I'm really waiting for Marnie to lose it even more so than she already has. Also, I don't think Ray was breaking up with her. I totally think Ray would've dated Marnie.

He was just saying he wanted more. Marnie didn't realize that he meant maybe more with her. At least that's how I saw it.

LOVED that Jessa's rehab friend thought Shoshanna was on cocaine. Was cracking up when she said she totally wasn't but got that all the time. I wish I had the quote but Shoshanna doesn't really speak coherent English so...yeah.

What was the point of seeing Jessa slip up? Was it to show us how bored and unstable she is? We already know. I want to see something more interesting out of Jessa because I really like her. 

Also I am obsessed with the show One Tree Hill and unlike Elijah have no problem admitting it. Truly cannot recall ever seeing that guy before so I'm pretty sure that was just a joke. I do really love having Elijah back, though. He brings more humor to the scenes.

So what do you think of all the advice Hannah was getting? Is Adam going to be mean to her and leave her behind now that he got a role on Broadway?

I doubt it but cast your vote below and sound off in the comments!

Leigh Raines is a TV Fanatic Staff Writer. Follow her on Twitter.

Tags: Girls, Reviews