One word: wow.
I don't want to say that Shameless Season 4 has been a little lackluster thus far, but it has been lacking. Maybe it's Fiona in corporate America, less Lip and a missing Ian, but whatever it was something felt askew.
However, that all changed on Shameless Season 4 Episode 5, leaving my jaw on the floor by the end of the installment.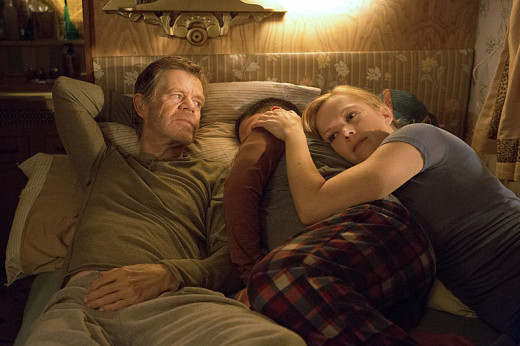 It needs to be said that this show is continuously overlooked by all of the award shows. Some of the crap that is winning out there is incomparable to the incredible acting that is displayed on Shameless. All of the characters are putting in nothing less than 110% and I for one am sick of that not being acknowledged!
We started out another week on the Southside with Frank looking for a cure for his liver failure. Now that Sammi knows she's his daughter and they've hammered out some issues, she's on his side and wants to help. Frank can get over 100K in insurance money but it won't be for over a year. By then he'll be dead. Or possibly not because it's Frank and he can basically withstand anything at this point!
Sheila's storyline this season has felt out of place and pointless, but it nicely tied in with Frank's when her boyfriend Running Tree (I think?) suggested Frank do a sweat lodge to help clear some toxins out. The most interesting part of that whole scenario though was when Carl ran off on Frank after hearing him say that Sammi was his last chance at family.
Carl ran home to the family that has been raising him and the family that he loves. Even though he and Debbie bicker and he's a total devil child, he's still part of the Gallagher family and he wasn't about to let Frank make it seem like that's nothing.
Carl knows he has people who love him. Unfortunately, Carl pretty much came home to a nightmare.
I'm expressing myself creatively. You're counting for underarm hair with a mirror.

Debbie [to Carl]
Fiona has been playing with fire since she first slept with Robbie in Shameless Season 4 Episode 3. Even though she cut it off, Robbie is unstable and there was always a risk he'd tell Mike.
Well, he finally did and Fiona feared she'd lose her job. Though she acted depressed about losing Mike, I'm with V on this one. Fiona was never that into him. Mike was a tater tot. 
It made me sad when Mike was saying that he's sorry he couldn't be more exciting, he was just trying his best to be the best guy possible. And Mike is a great guy, but that doesn't mean he is compatible with Fiona. It made me even sadder when Fiona went on her rant about not deserving him. 
I think I was trying to prove something, not to you but to myself. Prove that I didn't deserve you. Or this job. Your parents, your friends, all these nice normal functional people. I really didn't think I deserved any of it. And in the end I was right.

Fiona
Fiona does so much to try and keep it all together. Sometimes we forget how young she is and that mistakes are normal. She takes on a lot. But sometimes all of the bad stuff in your life can build up and come crashing down around you to an unthinkable consequence...like your baby brother overdosing on your cocaine.

Fiona is going to carry that guilt with her for a really long time. 

I wonder if this incident will be the catalyst to bring Ian home. Not gonna lie, Ian seemed a little coked out himself. While I'm glad that Lip let Debbie come along to find Ian because Debbie needs to be treated like more of an adult, there are definitely things that Lip will need to handle alone. Reasoning with Ian will be one of them. 

It was a fantastic episode that ended up with an unconscious Frank, Liam in the hospital, Fiona arrested, Ian on the lam from the military and Lip just taking it all in that no matter how hard he tries, and no matter what advantages he himself has, he will always come from this crazy messed up world.

Can Lip ever escape the Gallagher life? Vote below and then sound off in the comments!

Leigh Raines is a TV Fanatic Staff Writer. Follow her on Twitter.

Tags: Shameless, Reviews