Switched at Birth Review: Love Makes Your Head Spin
by Carissa Pavlica at . Updated at .
Each of the ladies was facing very different issues on Switched at Birth Season 3 Episode 4, and it seems that what happened will have ripple effects going forward.
Bay had to face her feelings about Ty and Emmett, Daphne was faced with two boys in one location finding her irresistible, Regina learned about Angelo's financial difficulties and set about ensuring her own future was solid - and Kathryn discovered she wasn't the only person in her marriage facing a crisis of self.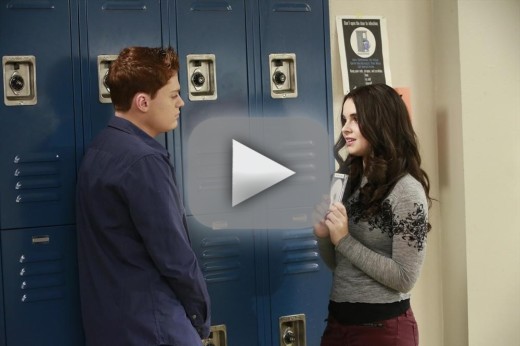 Emmett finally had some airtime thanks to his request of Bay to help him with an astronomy project and Bay's sudden willingness because she had received an email from Ty that she didn't want to open. All of a sudden, the prospect of spending time with Emmett was pretty enticing.

Learning he was involved with a girl he met in on online chat room and with whom he shared a lot of interests put Bay into Nancy Drew mode, and it wasn't long before she leaked enough information during conversation that Emmett figured it out. Bay did try to ask his flat out, but he didn't want to talk about it. That just drove her inquisition even further.

The more Bay knew, the more she wanted to test a theory she had brewing in her head -- so she kissed Emmett. When he pushed her away it was like a dagger through her heart. It just proved that he would only cheat on her and nobody else. That's how I'd take it, too. In the moment, it really hurts to think that he could have pushed Simone away, too, but he didn't. 

They got it all figured out and once she realized that holding that over his head would keep them apart forever, she agreed to drop it. I still wonder whether they have what it takes to make it as a couple. Their flame has fizzled.

What I imagine will come back to bite Bay in the ass will be deleting Ty's email without reading it. Does anybody else thing he's going to die now? That was the perfect set up to be haunted for the rest of her life for not having the balls to read what he had to say.

Daphne's past came back to haunt her when she attended a party at a coworker's house only to have his sister point her out as the felon who blackmailed the only hope the Latinos had to get a representative in as governor. It was pretty embarrassing, but Jorge is a real catch. He apologized, complimented her on what she wrote about the Senator and said he should have had her back. 

Of course, Daphne wasn't reading the signals from Campbell wrong at all. He does have the hots for her, but he's afraid to leave his long-time girlfriend because of how she stuck by him through the accident. But for Daphne, hell yeah he'll drop her. Daphne is once again the belle of the ball with two suitors. 

Personally, I think she needs to step back and just get to know herself a bit more. She's still very lost and tying herself to a relationship won't give her the space she needs to figure out what went wrong last year. 

Regina finally learned about Angelo's financial problems when he came after her for spending $50k to buy K&D. When you think there is $5 million in the account, that wouldn't seem like a big deal. Angelo finally explained where the money went and said they had to choose either her business or his restaurant, and he chose the restaurant. 

Being the wise woman she is, Regina just asked Wes to take a chance on her and float her $50k in billings. He did, but wants her exclusively. I'm still seeing this causing a major rift between Regina and Angelo, even after they argued already. Not only is the restaurant risky, the women he partnered with seem like scam artists. The schedule on which they want money is very tight, and he now has none left to give.

Regina, meanwhile, is having second thoughts about developing her old hood because of what it might mean to the mom and pop shop owners. She needs to think like a businesswoman. Granted, the show airs on ABC Family, but she isn't in a Lifetime movie! You can't always have your cake and eat it, too. 

Which brings me to Kathryn and John. The final straw broke for John when he learned Kathryn was heading to New York with Renzo to jump start her writing career and wouldn't be able to go on a jaunt with him to Nashville. In retaliation, he went out and bought a sweet motorcycle that came with a goofy (but not stupid) leather jacket and he thought he was livin' the dream.

Until he wrecked the bike. How he came away without a scratch is beyond me because that thing was flattened in the road. He did come clean with Kathryn about how he's been feeling lately. He made a huge mistake running for office and feels like a mid-life crisis cliche. Finally! All they needed to do was be honest with each other and maybe they could have done some of their silly stuff together. 

Communication is key people!! Talk it out. And if you ever miss an episode, you can watch Switched at Birth online right here at TV Fanatic.

Who should Daphne date?

Carissa Pavlica is a staff writer for TV Fanatic. Follow her on Twitter and on Google+.

Tags: Switched at Birth, Reviews
From Around the Web