The Originals Spoilers: Is Sophie Dead? Is Jackson Gone? Is Mikael Returning?
by Laura Prudom at . Updated at .
The twists just keep coming on The Originals, as last night's shocking installment left our favorite dysfunctional family in a pretty precarious position:
Klaus and Rebekah are the clutches of the witches, and Sophie was killed by her resurrected niece Monique's hand.
Elsewhere in the hour, Hayley met hunky Crescent werewolf Jackson, who revealed that their families intended them to someday marry and unite their bloodlines, while Elijah chose to save the mom-to-be (and her intended fiancé) from the witches instead of coming to the aid of his siblings after a vicious encounter with his lost (and vengeful) love, the resurrected witch Celeste.
So where do we go from here?
TV Fanatic was among a group of reporters who sat down with Executive Producer Julie Plec to discuss the fallout from The Originals Season 1 Episode 13 and what's next for our troubled Original family.
Give Father Kieran some credit on The Originals. He is not afraid to confront Klaus.
View As List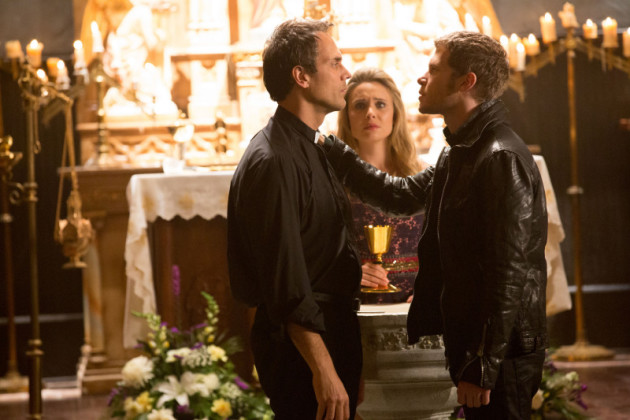 1.
Kieran vs. Klaus
Give Father Kieran some credit on The Originals. He is not afraid to confront Klaus.
---
2.
Todd Stashwick as Kieran
Todd Stashwick stars on The Originals as Father Kieran. He gives a sermon in this scene.
---
3.
Seeking Salvation?
Klaus and Marcel are in church for this scene from The Originals. But they aren't seeking salvation.
---
4.
Elyse Levesque as Genevieve
Elyse Levesque will debut on "Crescent City." She plays the character of Genevieve.
---
5.
Shannon Eubanks as Bastianna
Who is Bastianna? Viewers of The Originals will find out on the episode "Crescent City."
---
6.
Ummm... Forgive Me?
Can Cami ever forgive Klaus? Based on this photo, the odds aren't in his favor.
---
7.
Klaus and Cami in Church
Klaus stares down Cami in this still shot. It's from the episode "Crescent City."
---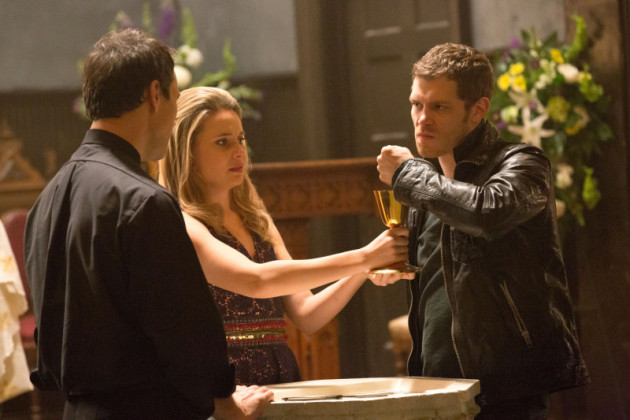 8.
Take My Blood!
Fine, take my blood! Klaus gives it up in this scene from The Originals, but doesn't look thrilled about it.
---
9.
Oliver and Rebekah
Who is Oliver? Someone lucky enough to spend time with Rebekah in this Originals scene.
---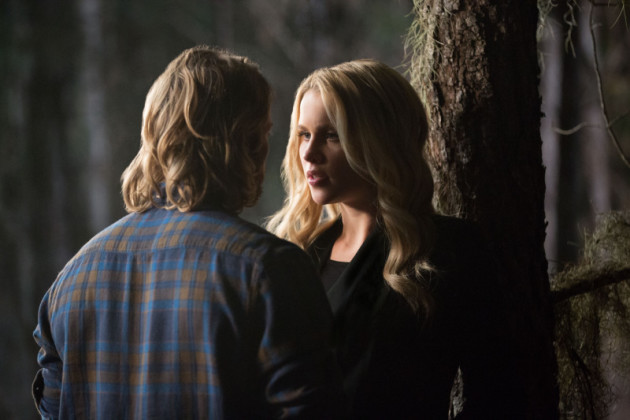 10.
Backing Rebekah Up
Rebekah has her back against a tree in this photo from The Originals. It is courtesy of the episode "Crescent City."
---
Is Sophie really dead? Yes. After failing to have faith in her cause, Plec said that Sophie's sudden lack of oxygen seems pretty permanent:
"I think that in this particular case, the witches having taken their vengeance against a non-believer, I don't think there's much of a hope for her to recover - given that more often than not you need witch intervention to have a second chance at life. This may be the end of Miss Sophie."
We haven't seen the last of Jackson... While Hayley was initially a little dubious about her supposed destiny with the beefcake werewolf, we can expect to learn more about him and the Crescent wolves as the season progresses.
"It's a full moon in this particular episode - there won't be another full moon for a few more episodes, but this is our first taste of the Crescent wolves, and with luck and schedules in our favor, we'll be able to have a nice good story with them," Plec teased. "The final chapter of the season, which begins right around episode 17, definitely brings the werewolves much closer to the front of the line. As the other supernatural factions are trying to figure out their way with each other in the Quarter, suddenly there's werewolves to be reckoned with as well."
 …And Elijah won't be too happy about it: "We've got another few episodes before we return to the werewolf world, but just this idea of [Hayley's] attention falling towards these people - and her sense of family unity and family bond drawing her towards them and away from the Originals - is a lot for Elijah to handle," Plec admitted. "Ultimately, if he's ever able to stand face-to-face with Jackson, he might be like, 'hey, wait a second, who's this guy? Not so sure I like [him].'"
On the war path: While Plec admitted that there would be a certain amount of "guilt" and "shame" attached to Elijah's decision to save Hayley instead of Klaus and Rebekah this week, she previewed that it also "drives him very hard to rescue his siblings in the next episode and to try and pull the family back together as it's under assault." 

Hayley on a mission: Romance isn't Hayley's first priority right now either, and Plec promised that her quest to revoke the curse on her family will be "driving her forward a lot, in that she made this promise to this person, and she has this connection to these people that she barely knows, because ultimately it's the bloodline that she comes from and the pack that she comes from through birth.

"So she's going to be very determined to free them, and ultimately in success of freeing them, then there's that whole, 'well, who's my real family? Who do I belong with and where do I belong the most?' And of course, her draw towards Elijah is both alluring and also very forbidden, and so we'll see whether she decides to stick around the Quarter or head out to the bayou."

Consequences ahead! Plec described the back nine episodes as dealing with "the consequences of having f----d with the Harvest in the first place; the revenge as enacted by these witches; the disintegration of the Original family as a result; and the rebuilding of both the family and the city in the fallout, once the [dust settles from the] domino effect of the witches' actions. And of course, there's a baby coming." Yikes!

Will Caroline head south? Plec wryly admitted that she was afraid someone would scream at her no matter what she said on the subject of Klaus and Caroline's relationship, but said that both characters have other priorities than reuniting at the moment.

"Klaus made a promise that he wouldn't return, Caroline was very clear that she's got other plans," she pointed out. "She's got some stuff she's got to deal with, he's got some stuff he's got to deal with, so the plans to cross paths with them don't seem very realistic, but that doesn't mean, in life, that there aren't opportunities. But the point of that [crossover] was to deliver on the storyline that had been left dangling and to get those characters to a new place with each other."

Priestly problems: After being hexed this week, things are looking a little grim for poor Kieran. "We saw what happened to Sean [his nephew] in the past," Plec noted. "It's definitely not gonna be an easy thing to overcome. [With] hexes and dark objects and all that witchy business, sometimes you wonder what's reversible and what isn't, so we'll have to wait and see on that."

Still, she promised that his storyline won't be neatly wrapped up in one episode: "The Kieran and Cami chapter plays out for quite a long while into our next chapter, mostly because right now we've got two missing Originals and a bunch of crazy, pissed off witches. It's a long term disintegration of his psyche."

Cami's got a part to play: As one of the few humans on the show (one might call her the Matt Donovan of The Originals) Plec said that Cami is being set up to have her own "place at the table" in terms of the ongoing mythology.

"Whether she chooses to take it or not will be up to her. Those human characters are so fun to play with because on one hand, 'just run! Go live in Topeka - Kansas is lovely this time of year,' but on the other hand, she's bright and she's smart and she understands the psychology of the brain and she's very protective of human nature in general. So it'll be fun to explore that option for her when we get down the road to it, to see what she will do."

And now for something completely different: Plec teased that the next episode (airing Feb. 25 after the conclusion of the Winter Olympics) is "really crazy" and "something we've never done before."

The episode will take the show outside the French Quarter and will see Rebekah and Klaus trapped in "a creepy, horrible, messed-up sanatorium from back in the day. Genevieve, basically working between the two of them, enacts her revenge and we'll learn why Genevieve's revenge is so specifically targeted towards Rebekah and what exactly she's going to do to make Rebekah suffer as much as possible."

Flashbacks galore: The Originals Season 1 Episode 12 revealed that Rebekah and Marcel conspired to bring Mikael to town with the help of Papa Tunde, and Plec promised that "there's a lot more story to be told about what happened in 1919," adding:

"Next episode, once the Olympics are over, we definitely get a little flavor of New Orleans at the end of the influenza epidemic of 1919. The episode after that, we really dig into what happened during that period. We'll see if Mikael 'got the message' about somebody looking for him in the French Quarter."

Marcel's next move: Plec noted that "the big Achilles heel for Marcel has been his love for Rebekah over the centuries, and the secret that they carry together. So as we get into the next couple of episodes where that secret is at risk of getting exposed, ultimately, Marcel's next move will be dictated by that secret."

She also confirmed that it was always the plan to have Rebekah and Marcel complicit in the plot to bring Mikael back, and that the fallout from that alliance will be immense:

"We knew ultimately that we wanted to show that Marcel had committed quite possibly the greatest betrayal you could commit against Klaus, and then to find out that ultimately it wasn't just Marcel's betrayal, but Rebekah's as well. Because in the history of their relationship together, Klaus and Rebekah specifically, they've gone back and forth and had so much love and hate and argued and yet stuck together for all these centuries, I wanted to see 'how will he react to this?' because there's family feud and then there's family destruction. It's gonna be pretty hardcore."

Never underestimate the witches: Marcel and Rebekah's choice isn't the only plot that could rock the Original family to its foundations. The witches' vendetta against The Originals is also a serious and lasting threat, and Plec promised that "they get as close to succeeding in tearing apart this family as possibly we've ever seen. The outcome of what the witches do to our Original family will have eternal repercussions for their dynamic."

The Originals Season 1 airs Tuesdays at 8/7c on The CW. It is on hiatus until February 25.

Tags: The Originals, Spoilers
From Around the Web