Agents of S.H.I.E.L.D. Review: Lady Sif to the Rescue!
by Carla Day at . Updated at . Comments
Finally! Agents of  S.H.I.E.L.D. finally had an hour that lived up to all the hype. 
Agents of S.H.I.E.L.D. Season 1 Episode 15 was the first time that the series had a character crossover from the movies in any meaningful way. Sure, Director Fury showed up once for a minute, but that was a cameo without real purpose.
After the events of Thor: The Dark World,  Agents of S.H.I.E.L.D. Season 1 Episode 8 began with the team on clean up duty and then they dealt with an Asgardian artifact. The hour was only connected to the movie series in a peripheral way.
While the writers tried to make connection between the television series and the larger Marvel world, Agent Coulson and his team never really felt as part of the same universe until now.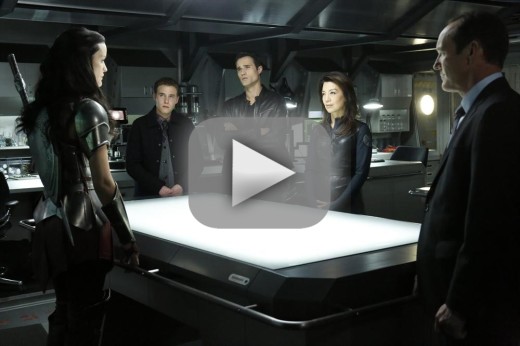 Instead of dealing with alien artifacts, the team came face-to-face with an Asgardian villain and worked along side an Asgardian ally to captrue her. The introduction of Lorelei and Lady Sif set up the best Agents of S.H.I.E.L.D episode so far. It felt fresh and unexpected with real consequences.

Lorelei's ability to influence men provided a unique ability that was destructive out in the world and to the S.H.I.E.L.D team. When Agent Ward was taken under her control that changed everything. The seemingly unbreakable, strong agent was corrupted. He followed her lead, slept with her, and then turned against his own team.

Wow. His "casual" relationship with May was broken by the event too. It wasn't that he was controlled and not even that he pulled the trigger of a gun pointed at May's head. It was that Lorelei revealed his true feelings for another. Ouch!

Of course, May played it off like she didn't care and they weren't "together" anyway, but she was clearly hurt. Her romance with Ward opened her heart just a little. The truth didn't break her, but it did cause her a little pain. I'm not so concerned about how Ward and May work together going forward. They are professionals and it will be fine, but will it change how Ward mentors Skye?

Coulson allowed Ward and May to explore a personal relationship. I doubt he would be comfortable with Ward and Skye if he knew the truth. It will come down to whether or not May clues Coulson in or not. She's likely keep watch of the situation for now and keep quiet. She has other things to worry about.

In particular, Coulson knows the truth about  the alien nature of the cure and he shared that with Skye. People died to protect that secret. Is Fury willing to kill to protect it? There's a huge difference between the two, especially since he used the alien cure to bring Coulson back.

Though, it's always possible that it wasn't about saving Coulson, but that they needed a candidate in his condition. It's further complicated now that Skye has been healed using the cure as well. The mystery of Tahiti and Coulson's recovery took too long to be revealed, but it's a great story point now that it's out.

This episode was by far the best in story, reveals, manipulations, and fight scenes. I loved the fight between Lady Sif and Lorelei. The close quarters and the sword made for an entertaining battle. And I wasn't sure how it would end which added to the enjoyment. 

Sif was victorious in the verbal battle too when she muzzled Lorelei with the Asgardian artifact. It was the perfect ending to Lorelei's story. The two Asgardians were the best guest characters so far this season. 

I'd love to see other Marvel universe characters make their way to the show. It will allow for a better developed world, cases, and mystery. There's a key area where Arrow has succeeded and S.H.I.E.L.D hasn't.

How would you grade the episode?

Carla Day is a staff writer for TV Fanatic. Follow her on Twitter and on Google+.

Tags: Agents of S.H.I.E.L.D., Reviews