After last night's "I'm With The Band" performances, American Idol is preparing to send another contestant home tonight, bringing the remaining contestant number down to the Top 8.
That is, unless the judges use the save, which is still in play for three more weeks.
Let's find out who's at risk of leaving now!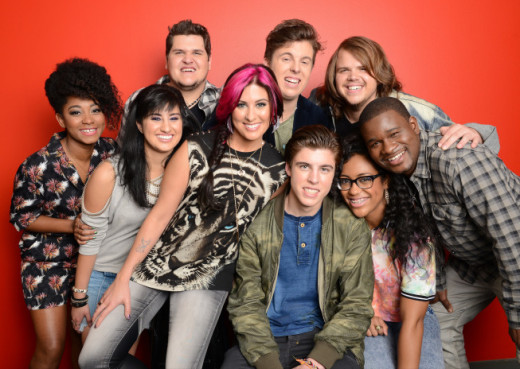 Ha. Haha. Hahahaha. Not very funny shoe joke you used there, Ryan.

Idol has changed up the format of the results show tonight, shortening the format down to half an hour. Instead of grouping contestants to tell us who's safe and who's in the Bottom 3, they're just showing us contestants on the big screen.

First up, Jena Irene and Malaya Watson get the news that they're safe.

Janelle Monae sings "What Is Love" from the movie Rio 2. There are no less than 25 dancers on the stage with her so this definitely feels like we're at a Brazilian street performance. It's fun, and I think she might actually be singing. Good work. 

Chris Meloni in the house!! And Rachael Harris. Surviving Jack is premiering after this.

Alex Preston and Jessica Meuse are safe and head into the lounge for another week. Caleb Johnson is safe. 

Majesty, Sam, C.J., and Dexter remain on the stools. My guess is Sam is safe leaving the others in the bottom 3.

Am I right? 

No! I'm wrong! 

Dexter Roberts is safe meaning Sam Woolf is in the Bottom 3 with C.J. Harris and Majesty Rose.

After a nationwide vote, Ryan tells Majesty she's singing for the save. Sam and C.J. are safe. 

(I'd like to take this opportunity to say that America got this one wrong. There's ZERO way Majesty was worse than C.J. last night.)

She decides to reprieve "Happy," which is an amazing choice if only because this is the kind of song to go out on if you're going. She's behind the music the whole time, but that might be because she's moving around and trying to enjoy what will likely be her swan song.

She goes sharp, but it sounds like she's trying to hold it together emotionally. After singing she spins in about a dozen circles and keeps holding back the tears.

The audience chants "save her! save her!" and Keith says this has been the hardest deliberation and by a "narrow, narrow margin" they aren't using their save. 

It's the end of the line for Majesty Rose.

What do you think, TV Fanatics? Should the judges have used their save on Majesty Rose?

Here's a look at the remaining finalists:

Well done, Caleb Johnson! He's advanced to the final 13 on American Idol.

Miranda Wicker is a Staff Writer for TV Fanatic. Follow her on Twitter.

Tags: American Idol, Reality TV, Reviews