American Idol culls the contestants by one this week, as the Top 10 become the Top 9.
After a night of performances featuring songs which have made it onto the Top 10 pop charts since 2010, the divide between the strongest and weakest contestants grew wider.
Here, we'll see another contestant go home unless the judges use their save. We'll also see J.Lo perform her new single "I Luh Ya PaPi."
Let's get to it...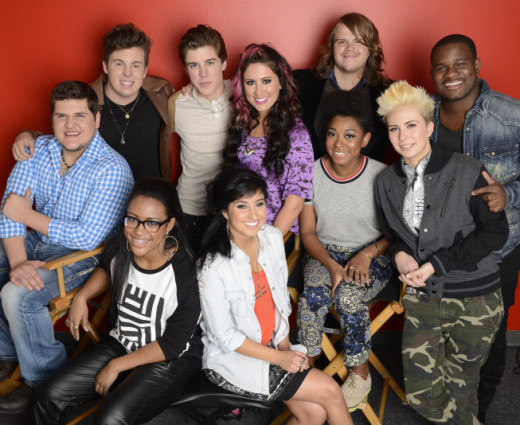 Malaya Watson, Dexter Roberts, and Jessica Meuse are up first. Malaya had a standout night last night while Dexter and Jessica gave performances which were more of the same. 

Jessica and Malaya are safe. Dexter, after getting a personal message from Florida Georgia Line, heads to the stools.

The best part of Jennifer's performance might have been the camera panning to Harry in the balcony dancing along. I have no doubt that this song will grow on me as the radio blasts it a thousand times a day, but for now, this isn't my favorite J.Lo song ever. Coupled with the fact that I don't think she was actually singing and it was likely pre-recorded, and yeah. Meh.

Why they pretended that she performed live is sort of weird and annoying.

Caleb Johnson, Majesty Rose, and Alex Preston are up next. Caleb's Lady Gaga song choice was odd. It could have worked, but it didn't. Majesty and Alex, however, gave fantastic performances of "Wake Me Up" and "Story of My Life" respectively.

Apparently Caleb made a peanut allergy joke last night? He just apologized for one. Then Ryan made a cheesy, CHEEEEESY One Direction joke and sent Alex back to the lounge. Majesty Rose is joining Dexter Roberts on the stools. Caleb is safe.

Harry Connick Jr. chose the band Royal Teeth, from New Orleans, to perform their song "Wild." I'm only saying anything at all about it because part of my job is to tell you that it happened. So. It happened.

Sam Woolf, C.J. Harris, Jena Irene, and MK Nobilette are grouped together to learn their fates. Sam and Jena both had excellent performances last night. C.J. and MK? Not so much.

C.J. did enough to stay for another week. He's safe. Jena is also safe. MK is in the Bottom 3 again. Sam is safe.

Majesty Rose gets the word that she's actually safe. Ryan sends her back to the lounge. MK Nobilette is singing for the judges' save.

She sings John Legend's "All of You," from her first week of live performances. J.Lo looks like she wants to puke while the judges deliberate over whether or not to save her.

It's a beautiful performance and if it's the one she goes out on at least she can rest on that.

The crowd chants "MK! MK! MK!" while the judges continue to deliberate. Jennifer is being quite emphatic about something in her discussions with the guys. 

"It has to be unanimous," Harry says, "and it is not unanimous. It breaks my heart, but we have to say goodbye tonight."

MK Nobilette is going home.

What do you think? Should the judges have used the save on MK Nobilette?

Here's a look at those now vying for the crown:

Well done, Caleb Johnson! He's advanced to the final 13 on American Idol.

Miranda Wicker is a Staff Writer for TV Fanatic. Follow her on Twitter.

Tags: American Idol, Reality TV, Reviews