Arrow Interview: Manu Bennett on Slade's Plan for Revenge, Conflicts to Come
by Jim Halterman at . Updated at . Comments
Nothing like coming home and finding your enemy sitting with your mother, right?
We all knew that eventually Slade was going to come face to face with Oliver Queen in the present day - and at the end of Arrow Season 2 Episode 14 he did just that, having already gotten himself in the living room of the Queen mansion with Ollie's Mother for company.
In Arrow Season 2 Episode 15, Ollie has his hands full dealing with Slade's presence, but there are also big happenings in the island flashbacks as Slade, Oliver and Sara try to take over Ivo's ship and kill Ivo in the process before Ivo tells Slade that Oliver had a hand in the death of Shado.
Manu Bennett spoke with TV Fanatic earlier this week to give us a preview of the episode and to tease what's going to happen next now that Ollie's former island mate is out in the open...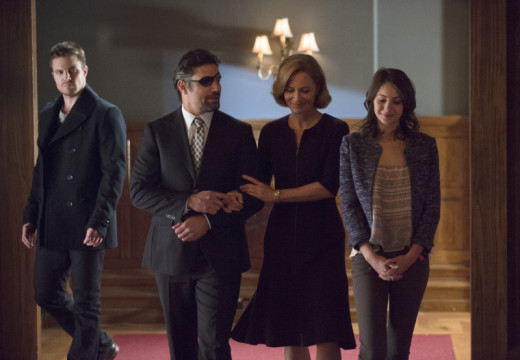 TV Fanatic: I'm so excited that Slade is finally face to face with Oliver in Starling City. Can you say that revenge is the only thing on his mind or will we find that there's more than that?
Manu Bennett: I think the way the cards are stacked right now, you've got a Slade that was very remorseful over the death of Shado. When he died [on the island] and then was brought back to life because of the Mirakuru and then went to try to find her…she was dead, shot by Ivo. He set his sights on getting Ivo and then exacting revenge on Ivo for the death of Shado.
Oliver protected Sara over Shado and that's created a delicate spot that has yet unfolded in terms of the revelation of that. Slade is unstable because of the Mirakuru and they're about to embark on this mission to take this freighter and use it as a vessel to get away and escape. But on that vessel are a lot of answers to some of these issues.
Ivo is out there and if things play out a certain way…I'll liken it to Othello. If Iago happens to whisper in his ear something about the nature of Desdemona or, in this case, Shado, then we've got a huge problem and I think that's the way the cards are stacking. The revelation of Shado's death is going to be key in setting up future conflicts between Oliver and Slade. It's a tragedy.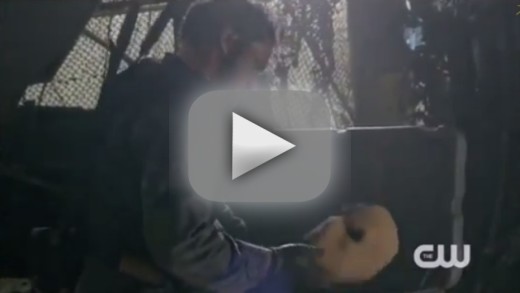 TVF: Now that we'll see Slade and Oliver interacting in this episode, will Slade be using a lot of Oliver's vulnerabilities like his mother? Can we expect that coming up?

MB: Absolutely. What we don't know is we don't know what's at stakes. This episode is called "The Promise" so somewhere in that term you'll realize that something is about to be promised. I think Slade has arrived in Starling City to deliver. Everybody knows the nature of Deathstroke in the DC comic world. Deathstroke became the character that he became because of the death of his son…he thought it was his responsibility as a father to avenge his son's death and that's how he entered that whole Universe.

In this circumstance, instead of his son, it's the character of Shado so that's what is bringing Slade Wilson, the military guy, to become Deathstroke and then get involved in a world where Mirakuru is stewing his mind.

You can leave it up to the audience as to just how valid Oliver Queen's choice between Sara and Shado was. At the end of the day, he chose Sara to get on the boat with him instead of Laurel. That's something that the audience has to keep in mind…

TVF: Slade has been watching over Oliver for several episodes but does he know that Sara is alive in the present day? Can you talk to that?

MB: I don't think it's pertinent to talk about that but I think it matters at this stage. I don't even know how to give you a spoiler alert on that! Just watch the next couple of episodes…it will make sense. It's actually a little bit of a surprise anyway and I think it will be a surprise to you and the audience whenever that moment happens.

TVF: We know that Slade has been pulling the strings with Sebastian Blood but is there any kind of relationship or closeness between the two of them or is Blood just a puppet?

MB: I think Sebastian Blood has been instrumental. I have a job to do, ya know? I mean, look at Slade Wilson. He's got a Hugo Boss suit on, he's adapting himself way beyond the military guy we've seen on the island. He obviously got money and he obviously has had to work his way through channels to make it believable to Moira Queen…he's played a game to get to where he's at.

TVF: As an actor, do you have a preference for the island clothes or the fancy suit and eye patch? Or do they both help you in the scenes?

MB: I think that they create a great contrast. Rags to riches or whatever you want to say, these transitions are what makes the character interesting. Being the long-haired Slade…or the incredible four year journey to becoming the general of Spartacus's army on that series. Starting off on the island in military clothing and then becoming Deathstroke, the ultimate DC comic supervillain, is an evolution, as well. All of it is just one part of one big montage. It's the responsibility to the character, you know? One doesn't really exist without the other for me. For me, it's part of the tapestry.

I try to really stay consistently on top of the game all of the time otherwise you get to the end of the chapter and you'll see that there's a hole somewhere and I don't like leaving holes anywhere. For me, it's about stitching all the pieces together, staying really, really in tune with the character and not losing focus. It's a whole journey, ya know? Hopefully that pays off.

TVF: Do you miss Crixus on Spartacus or have you put him behind you?

MB: No, that was a full process. When I look back at that process, I see it from the beginning to the end and I see the product and I really enjoyed it. We're half way through the process right now [with Slade] and I feel the energy and I feel all the things coming to life. I think Deathstroke is going to be a lot darker, I think he's going to be a lot more archetypal in a way…with Crixus I had to go dark, as well. I like to think that empathy always plays a part in any character's creation. If you play him as a static bad guy, I think that it starts to eliminate believability and eventually with that sort of a character you just want him to be killed off.

I know that a lot of s**t is going to hit the fan. Like I said to you, I'm basing it on this piece of information that is going to make it compelling that Slade Wilson see his promise through the course. You're going to find out in this episode what that promise is. Like anybody who has integrity and creates a promise, there's a reason behind it and then he sees it through and it's integral in making him believable as a man and a character.

Arrow Season 2 airs Wednesdays at 8 p.m. on The CW. 

Jim Halterman is the West Coast Editor of TV Fanatic and the owner of JimHalterman.com. Follow him on Twitter.

Tags: Arrow, Manu Bennett, Interviews, Exclusives