On the eve of Will and Sonny's wedding, leave it to the in-laws to keep things interesting but kudos to them.
I loved all of their scenes today, whether on or off screen.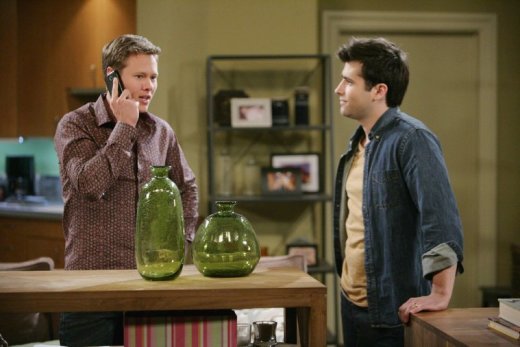 It made perfect sense for Lucas and Justin to get together for a drink over their sons' marriage. It's a momentous occasion and I especially loved Justin's toast in this Days of Our Lives quote…
To the parents of out, proud, gay sons everywhere.

Justin
Here, here!  But as the father's of the grooms looked like they were going to try and one up one another during their speeches, the mothers might be even more trouble. Sami and Adrienne were only on the phone but it still sounded so real.
This is what happens when you plan a wedding. You can never please everyone and someone always gets their feelings hurt.
Take Kate, as Marlena broke the news that she was asked to officiate. I didn't quite know whether to laugh or cringe when she told Kate of their shared grandson,
He's always loved me more. We both know that.

Marlena
I know it was meant to be a joke but it had an edge to it that made it sting. Of course Kate had even more surprises coming her way as Sami let it slip that she likes her and doesn't want to see her get hurt.

Wow! Did you ever think you'd see the day when that would be true? I must say, I really enjoy these two as reluctant friends. They're so much alike. Both driven, a little crazy, and willing to do absolutely anything for their children. 

Nick continued to circle around Gabi and if I have to listen to her expound on how much he's changed one more time I just might be ill. I found it very interesting when EJ asked her if she was sacrificing herself to keep Nick from coming after everyone else.  I think he's definitely giving Gabi more credit than she deserves.

Even though Will and Sonny stuck to their guns and didn't invite Nick to the wedding, it wouldn't surprise me at all if he shows up, maybe even as Gabi's date. 

Elsewhere in Salem, John offered Theresa her dream job in Europe. The fact that she wouldn't take it makes no sense to me. She doesn't actually love Brady and she despises most of her family. The hospital is the last place she wants to work. If her ultimate goal is money, then why not take John up on his offer? Unless there are legal reasons why she can't leave the country, otherwise I just don't get it. 

Although pairing her with creepy Liam to make Jennifer and Daniel's lives miserable is nothing short of evil genius. Liam even makes Theresa's skin crawl but once Daniel made her angry, all bets were off. 

Going back to earlier in the week I have to mention one scene. It was Abby going off on EJ about him being a bad guy and not showing any restraint. Restraint!?! Is she serious? The girl launched herself at the man in that cabin and later snuck into his shower. I guess it's easier to blame EJ for their tryst than look in the mirror.

Finally, we get to Aidan…and Kayla. It's a pairing I wouldn't have come up with but I just might like. With Kayla and Steve long divorced, she's a free agent and she and Aidan had some nice chemistry during their one scene together. I wouldn't mind seeing where that went.

Up to this point we'd only seen Aidan with Hope but there's a huge obstacle there. Hope and Bo are still married and until someone files those divorce papers, any new relationship will be considered cheating and I'd hate for Hope to go down that road. 

OK, TV Fanatics. You tell us, who would you prefer to see Aidan with? Kayla or Hope?

C. Orlando is a TV Fanatic Staff Writer. Follow her on Twitter.

Tags: Days of Our Lives, Soap Operas