Sami was so thrilled on today's Days of Our Lives.
She and EJ were having a date night. It was almost like they were celebrating something. Little did she know her fiance was celebrating not knocking up the girl he had a fling with. Yeah, that might have put a damper on the evening.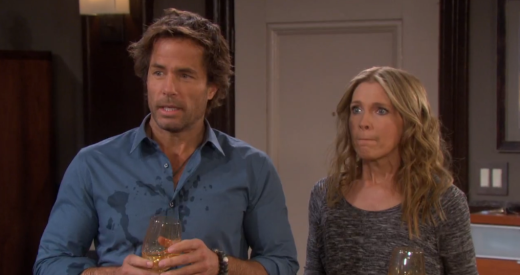 Of course running into Gabi and Nick certainly didn't make for a cheery evening. Gabi's completely bought in to his line of bull, mostly because he's telling her everything she wants to hear. She's beautiful, she's loyal, she's a good person, and slamming him in the head with a rock and then dumping his body in the freezing river was someone else's fault. Certainly not hers. 
Just when I thought Nick's arrogance couldn't get any worse, he reached a new level in this Days of Our Lives quote…
Nick: So maybe you should think about the fact that you're dealing with someone who is very likely smarter than you.
EJ: Not smart enough to know when you've met your match.
Oh please let EJ be right. I'm actually hoping that Sonny and Victor take the smarmy little bastard down, but I'm not picky. As long as someone either kicks him out of Salem or puts him back in that river, I'll be happy.
Brady and Teresa had an interesting week as Maggie walked in on them having sex on her sofa, and then gave her attitude about it.  It was nice to hear Maggie tell Brady the truth…
Oh honey, that girl is judging the size of your wallet and waiting for her chance.

Maggie
Unfortunately, Brady's self esteem is a mess after Kristen and he was in no place to hear it. I especially liked Maggie calling Teresa a lower companion. That description works on so many levels. 
Jennifer and Daniel's dinner turned out to be the worst party ever but one of my favorite interactions took place as Jennifer tried to save the event…
Jenn: I think we should all play a game.
Nicole: Oh please, dear God, no. What? I don't like games.
Eric: Strange, I thought that was your specialty.
I'm with Nicole on this one. Planned party games make me cringe. More wine was definitely needed. 

Speaking of Nicole and Eric, I know it's all a part of the story arc concerning Nicole shredding those documents but does Eric have to keep reminding her that he's with her because he can't go back to the church. Even if that evidence never existed, his words continually remind her that she's his second choice. 

Finally there was Liam. Creepy Liam who has gone from anonymous online comments and sophomoric Photoshopped pictures to pawing through Jennifer's lingerie drawer. Eww…

Now it's your turn, TV Fanatics….Who is your favorite couple on Days of Our Lives this week?

C. Orlando is a TV Fanatic Staff Writer. Follow her on Twitter.

Tags: Days of Our Lives, Soap Operas
Want more Days of Our Lives?
Sign up for our daily newsletter and receive the latest tv news delivered to your inbox for free!
More From TV Fanatic
A familiar face returns to Salem. Check out these photo from Days of Our Lives starting the week of 7/28/2014.
Our Days of Our Lives round table teams up with MyHourglass to debate if Will took his tirade against Sami too far and whether Abigail has suffered enough after this week's Days of Our Lives.
Will turned on his mother as EJ's hopes of reconcilation crumbled. Theresa faced Victor's wrath and Danile, Hope, and Eric planned trips out of Salem. Check out our recap of this week's Days of Our Lives.
Shemar Moore is headed back to The Young and and the Restless. He'll reprise his former role for two episodes.
---