Jep showed off a toilet seat trailer hitch accessory embroidered with his own name on Duck Dynasty Season 5 Episode 8.
But we digress. That just seemed worth mentioning.
Wrestling, to rednecks, is a soap opera.
The crux of this installment centered on Jep only having one day to build his kids a playhouse, yet outsourcing that project to the warehouse workers due to his injured wrist.
Simple enough, right? Wrong.
With Jep asleep, Jase, Godwin and Martin built… well… something. It looked sort of like a fort, sort of like a duck blind. Actually, Phil got it right when he said it looks "like something you throw the prisoners in when you want to punish them for about a month."
And Jess was displeased with this solitary confinement-like structure.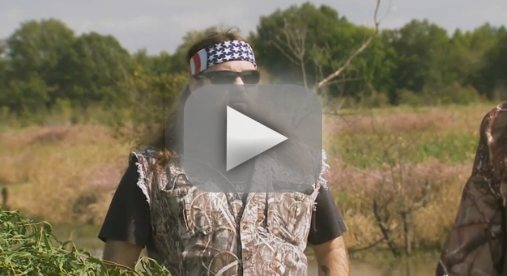 Elsewhere, Willie, Phil and Si were brushing a ton of duck blinds (64, to be exact) as a penance for oversleeping on the first day of duck season last year.

That would be akin to Derek Jeter oversleeping for baseball's opening day, wouldn't it? Yes, that's the first-ever comparison of Willie Robertson and Derek Jeter.

Si didn't do much as quality control, sitting around while giving Willie a hard time and making him feel like a child.

In the end, Jep reverted back to Plan A, hiring a crew to build a fantastic playhouse/swing set ("yuppie move," according to Phil.), while Phil got Willie to haul Jase's original contraption away to the river bank.

Yup, there's duck blind number-65!

Matt Richenthal is the Editor in Chief of TV Fanatic. Follow him on Twitter and on Google+.

Tags: Duck Dynasty, Reality TV, Reviews