Wow!  
Of all the things I didn't see coming, Once Upon a Time in Wonderland Season 1 Episode 11's final scene made the top of the list. It was beautiful and heartbreaking and added yet another twist to this unique and unpredictable story.
But let's start at the beginning...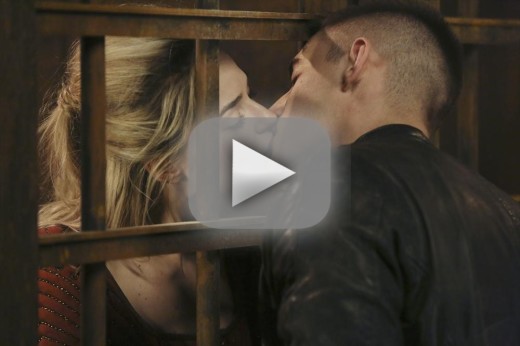 Was anyone else worried that someone might squish tiny Alice as she tried to steal back the compass? I kept thinking that Cyrus really needed to be a little more careful about where he stepped. 
Their trip to Storybrooke was a highlight. Despite being used to magic, talking caterpillars and holes that lead to other realms, electricity was still quite a shocker. The lights, the ice machine... it was all completely new to Alice and Cyrus. 
Now Cyrus has a mystery to ponder. How can he change a serpent staff back into his mother?
It was the Red Queen who had most of my favorite moments, starting with how she thanked Alice for coming back to the castle, even though she knew it wasn't for her. She just looked so damn grateful it was heartbreaking.
Heartbreak would turn out to be the theme of the episode as we ventured into the past to watch Will beg Anastasia to leave the castle and the king to be with him. Little did he know that his love had actually convinced her. 
Leave it to Cora to stand in the way of true love. That woman has left a trail of tragically unhappy people in her wake throughtout multiple realms. And yet she did offer one of the most insightful Once Upon a Time in Wonderland quotes of the series…
We all come into each others lives for a reason, sometimes it's just a different one than we thought.

Cora
I only wish that Will knew that Anastasia was coming back to him. Instead, he'd given up his heart to never have to feel pain that would have been alleviated if only Cora hadn't meddled in their lives. 

Once again, we were left hanging about Anastasia's true identity. She mentioned that she and Will has left Sherwood and Cora expounded on how she'd been made to feel unworthy. Is she actually one of Cinderella's step-sisters?

Jafar may have lost his serpent staff but he'd found Will's heart and gave it back to him just to watch him have a moment of pure joy... before figuratively ripping it out once more.

I never truly thought he'd drive that dagger through the Red Queen, but the moment she died in his arms with Will watching I knew what the new plan would become.

Now Will has to fight Alice and Cyrus in the hopes that Jafar's plan to change the rules of magic will allow him to bring Anastasia back. But will there be unforeseen consequences if they do? As we all know, magic comes at a price. That's one rule I doubt will change. 

Now it's your turn, TV Fanatics. Should Will work with Jafar to change the rules of magic?

C. Orlando is a TV Fanatic Staff Writer. Follow her on Twitter.

Tags: Once Upon a Time in Wonderland, Reviews