Reign Fashion Scoop: An Exclusive Chat with Designer Meredith Markworth-Pollack
by Gabrielle Moss at . Updated at . Comments
On Reign, the lush, creative costuming - which evokes everything from historical portraiture to Alexander McQueen's couture to Stevie Nicks's witchy wardrobe - is almost as engrossing as the show's courtly drama.
An unmistakable combination of historical dress and contemporary high fashion, Reign's outfits (especially the outfits worn by Mary, Queen of Scots, and her ladies-in-waiting) help mark the show as one of the most distinct period dramas out there.
I asked Reign wardrobe designer Meredith Markworth-Pollack how she developed the series' unique take on Renaissance style, what elements make a dress fit for a (TV) queen - and whether any of the show's looks will be showing up in a mall near you any time soon.
Mary isn't, overall, a fan of sleeves. This gown proves she can pull them off without worrying whether they will age her, as they still show off some skin with the mesh inlay. The rose and gold brocade fabric is perfect for a picnic, as it sets her out like a flower against the foliage.
TV Fanatic: How did you develop Reign's unique, specific fashion look? What were the inspirations?
Meredith Markworth-Pollack: From the beginning, the show's creators and producers wanted a unique approach to the historical dress of the period, in the sense that they wanted a fresh take on the costumes. Something their younger, female-oriented audience could relate to and even achieve on their own. They were not concerned with the proper historical accuracies of the times - which actually made the look harder to create.
There were no rules or boundaries. I had to set them. I started with mood boards for each character, with both historical and contemporary images. I wanted the show to look like a painting, with each character complimenting the next. I knew the only way to do this, especially with using contemporary pieces, was to keep a rich yet muted palette. Any synthetic colors or textures would take the viewer out of the world we created.

TVF: Do you feel like designing for a period drama aimed at a younger audience is different than designing for a period drama with an older viewer in mind?
MM-P: In the instance of Reign and a network like the CW, yes, it is a different approach designing for a younger audience than an older audience. If the show was on a different network--a cable one for example, with an older demographic--then I would imagine we would have gone in a more historically accurate direction. But that was never what Reign was; it was always an innovative, soapy, teen drama with a contemporary feel, not only in the costumes but in the dialogue, music, and tone.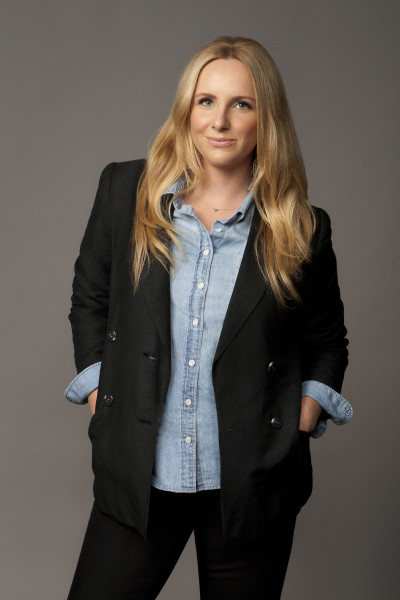 TVF: What parts of designing for a period-specific show are more fun than designing for a show set in the modern day? What parts are more difficult?

MM-P: Well, with a period show, you can't run out to the mall to grab multiple shirts or dresses like you can for a contemporary show. Everything has to be thought out and created in advance. Last-minute changes have to proven to be very difficult. This definitely makes it more complicated and elaborate than a contemporary show, but at the same time more rewarding, because you are able to actually design and build pieces.

TVF: How did you decide exactly how historically accurate to make the show's look? What inspired you to keep some genuine Renaissance fashion elements, and discard others in place of more modern elements?

MM-P: I wanted the characters to have a more relaxed and casual vibe in their clothes than they actually did in the times. We achieved this by getting rid of ruffs for the women, loosening their silhouettes, and only using corsets when needed. I kept similar fabrics and textures to allude to the palette of the time. Brocades, beaded silks, laces and metallics have been hugely successful for this.

TVF: Which (if any) modern-day designers do you take inspiration from when designing--especially when designing the dresses for Mary and the Ladies.

MM-P: The contemporary designers I currently follow for their aesthetic are Valentino, Dolce and Gabbana, Alexander McQueen, Marchesa, Oscar de la Renta, and Temperley. They've all accomplished a "regal" theme within the past couple seasons that I find perfect for Reign. Every now and then I can afford to buy one of their dresses for the show, but for the most part I turn to them for inspiration.

TVF: Any chance you'll do a line of Reign-inspired fashion for the public, a la the Pretty Little Liars collection?

MM-P: I would love to do a line for Reign, ideally something for Prom or a bridal collection. There are many young women asking the same thing! I think some Reign headpieces would be great as well.

Tags: Reign, Exclusives, Interviews