Revenge Return Scoop: Blackout Background, Dangerous Daniel and More!
by Jim Halterman at . Updated at . Comments
The first Mrs. Grayson landed in The Hamptons. Niko found the sword that killed her father. And Emily's new blackouts led her to...the bed of her father-in-law?!?
Yep. Revenge is back!
Already having the pedal to the metal in terms of high-octane, soapy drama, the new episodes that kick off tonight are not letting up one bit as we race towards the remainder of Revenge Season 3.
To get a preview on just about every story on the soap's canvas – and some coming down the pike – showrunner Sunil Nayar gave us a peek into what we can expect on Revenge Season 3 Episode 14 and beyond...
It looks like Victoria bought a new chair on Revenge. "Payback" is the 14th episode of the show's third season.
TV Fanatic:  The big question, of course, is about Emily's blackouts. What can you tell me about that and how she ended up in Conrad's bed!
Sunil Nayar: We're going to start to kind of examine and then kind of explain what the nature of Emily's blackouts are over the next couple of episodes back, and we're going to get a better sense of what makes them happen and she's going to get a better sense of how much she's losing control when they do.
So, yeah, it's a bit of lost time for Emily which is, we think, a great obstacle for her, and then a kind of real palpable consequence of what happened on the boat in episode 10.
TVF: Is this just a natural occurrence or is somebody f**king with her?
SN: I mean, I think that you'll find out that it's rooted in something very surprising…you realize that there is a person that these blackouts are specific to, and I think you'll be pleasantly surprised to find out who it is.
TVF: I assume Niko is still around now that she found the sword. I'm guessing she's going to be on her own revenge path now?
SN: Just a little bit. Yeah. Absolutely. She's definitely going to show herself to be a worthy opponent, and definitely you're going to see that she's undoubtedly Takeda's daughter.
TVF: What is coming for Emily and Daniel? Because they're definitely not together in a sense, but he's really upped his game as far his own vengeance.
SN: They're going to be fabulous sparring partners through these episodes, and what we think is wonderful is that what Emily had unwittingly done is she's created a much stronger Daniel than she ever meant to, because he's kind of understood how she's gone about doing things.
Daniel's a really worthy opponent, and Josh [Bowman] is just bringing it, and the scenes between them are just fantastic and there's a kind of fire to it because the gloves are off, and that's one of the things that we're really excited about for the second half of the season is that a lot of sort of the social decorum, they don't need it anymore.
Emily doesn't need it with Victoria. Victoria doesn't need it with Emily, and they don't need it with Daniel, and we get to a rawer attitude with the show, which really gives us great things to explore with the characters, and the scenes just have the kind of crackle to them that we love.
TVF: Talk to me about Gail O'Grady being thrown in the mix. That's going to be a hoot to watch.
SN: Absolutely. She's great, and again, I think we have some revelations in store for her character that I think are really going to change the game and up the ante for what her presence in the Hampton's means, and she's just wonderful, and she brings such a wonderful energy. Just herself and just a different kind of energy…we've really loved her addition to the show.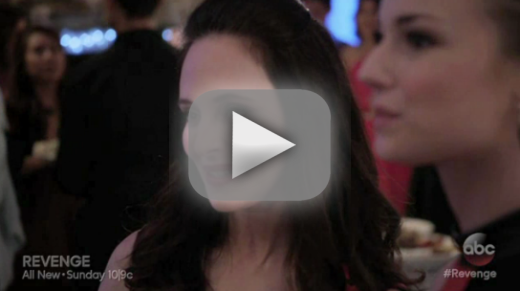 TVF: Patrick and Nolan. I love them together. I love what Justin's brought to the show. Can you talk about where their relationship is going?

SN: What Justin's added to the show has been this great depth of his character and it's also allowed us to really explore what happens to a pretty nice guy when he comes into this world of revenge. With Victoria and Nolan, these are two people who care about him deeply and he is torn between [them].

Obviously, he has a fidelity to his mother but I don't think that the feelings for Nolan will ever go away because those are also legitimate feelings that are within him. So we have this fascinating character who acts in a kind of immediate honesty, and that's a rare thing because most people are more inclined to kind of control their impulses, but this is a man who's in search of the boyhood that he lost, in a sense, because he's getting to know Victoria, and he's finding in Nolan someone that he's never had in his life before.

So he's a little blown away by the immenseness of the circumstance in which he finds himself, and I think that what we're going to see going forward is really this fascinating triangle that we've created. The kind of triangle that I think most shows don't have the ability to do, which is a man's love for his mother and a man's love for his boyfriend, and how he tries to wrestle with the love of both of those things.

TVF: Olivier Martinez is coming in soon as Margaux's father. What can you tell me about him and what he'll add to the show?

SN: Oh yeah. He's great. You've got a couple more weeks to wait for Olivier's entrance, but we're so thrilled to have him on the show. He and Madeleine, obviously, work so well together and their characters have a past that we're going to begin to examine.

In all honestly, it's funny because when we came up with the character of Margaux, Karine [Vanasse] was pretty much the only person that we thought about. Even when we referred to her father in the season premier, we thought, 'we're going to eventually meet this guy. Man, wouldn't it be great if we could get Olivier Martinez?' So by the time it came to cast, we're like, 'it never hurts to ask,' and we got super, super lucky that he really took a shine to the role, and he is amazing. We're really, really lucky to be able to have him.

TVF: I know he has a past with the Grayson's. Is there a romantic past with Victoria?

SN: There's a little bit of a romantic past with Victoria and there are questions that have yet to be answered that he brings with him into the present that Victoria will be kind of thrown by, but their dynamic from the past, and certainly in the present, is amazing.

TVF: We didn't see Charlotte in the mid-season finale but what is her piece coming up?

SN: Especially as we're getting to the end of the season, Charlotte plays a major, major role in everything that's going to happen, and Christa [B. Allen]…it's one of those just sad realities that we put so much in these episodes and somehow they end up too long. And we eventually have to cut a scene or two…she was a victim of episode 13, unfortunately, but I promise you Charlotte has a great story coming up.

TVF: In this last run of episodes, any familiar old faces coming back that might surprise us or be a good part of the story?

SN: That's a good question. Right off the top of my head, in all honesty, no. We're just loving the new characters that we have at this moment like Niko and when Olivier comes in as Pascal…we just thought there's a kind of injection of the new people, but we do have plans for maybe one old person to rear their head. Actually, now that I think about it, we have a plan for a couple of people to rear their heads…we will see some old friends.

TVF: Are you guys feeling pretty good about a season four?

SN: I mean, frankly, I feel great about a season four. I sure hope there's a season four because we're certainly building this season to launch us into a season four that will be really something special. So, in my little bubble, I think we will. I sure hope we do.

Revenge airs Sundays at 10/9c on ABC.

Jim Halterman is the West Coast Editor of TV Fanatic and the owner of JimHalterman.com. Follow him on Twitter.

Tags: Revenge, Interviews, Exclusives, Spoilers