Although The Simpsons Season 25 Episode 12 and 13 wasted the talents of the guest stars, this week's installment used classic Simpson's characters to make a truly enjoyable outing.
The Simpsons Season 25 Episode 14 combined both the young and the old to create a humorous and coherent story...something that's been lacking in recent years on the show.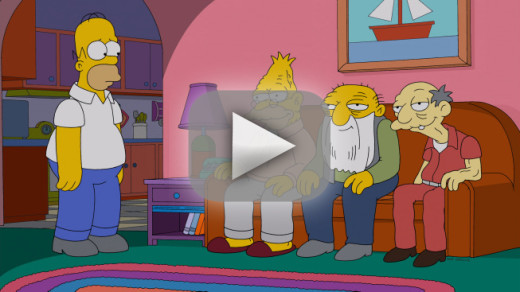 My favorite storyline involved Bart's inclusion in the Springfield bully group. After seeing Nelson get picked on for being so poor that he has to wear his mother's hand-me-down underwear, Bart feels bad and commiserates with the Springfield Elementary bully.

Nelson is touched by Bart's support and the two become unlikely friends.

Bart's friendship with Nelson makes him an honorary bully, which lets him attend a bully summit. The entire summit experience was a wonderful parody of the cult classic film The Warriors. The scenes were so spot on that I couldn't help but giggle at the ridiculousness of it. This storyline was an enjoyable closer look  at the often overlooked Springfield bullies.

The bullies provided some of the best The Simpsons quotes of the night as well.

Equally amusing was Homer's adventures with the old folks. As one would expect, Homer was initially very annoyed by having not one but three refugees from the Springfield Retirement Castle in his home. However, once he learned how the old men live, he realized he wants to be like them.

Unfortunately, Homer's premature aging is not as appealing to Marge. Who would be attracted to someone who uses prosthetics to elongate their ear lobes and soaks their feet in Epsom salts while making out?

Luckily, Homer snaps out of his old man routine just in time to save Bart from another group of bullies. Way to go, Homer. You were a good old man, but not the best in Springfield. 

Who is your favorite Springfield Retirement Castle resident?

Tags: The Simpsons, Reviews
Want more The Simpsons?
Sign up for our daily newsletter and receive the latest tv news delivered to your inbox for free!
More From TV Fanatic
On tonight's Gang Related, Ryan was forced to make a difficult decision. Which side did he chose?
On the latest episode of Satisfaction, Neil learns an important lesson about being honest with himself from Adriana while Grace struggles on her new job. Read on for analysis.
On Rookie Blue, Oliver turns down extending his contract as Acting Staff Sergeant until Duncan's dismissal hearing turns unpredictable. Read on for more.
On tonight's The Bridge, Marco is made an offer that he initially refuses. Will he agree to go after Fausto?
---