This week's 100th installment served as the show's season finale. perfectly coinciding with one of the most transitional moments in Dance Moms history:  
The arrival of Abby's new "select ensemble" team to compete against Abby's "original" junior competition team.
Dance Moms Season 4 Episode 16 started on a somber tone with the passing of Abby's mother, but staying true to the age old adage "the show must go on," Abby wasted little time before moving to the main event of the episode by introducing the original dance team to the new one at Pyramid.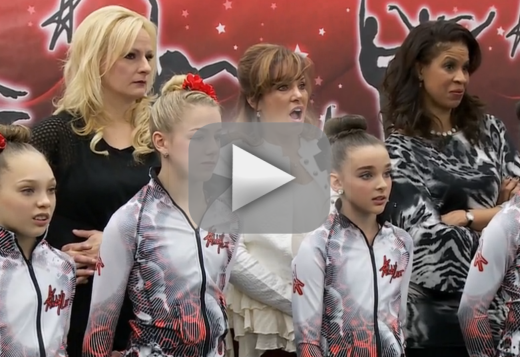 Always one for letting the girls know "everyone is replaceable" and there is "always someone else," Abby immediately positions the originals versus their new respective competition on the select ensemble.

Let's be honest - the new team is really just like the old team, except "better" in Abby's eyes.

The head to head goes as follows: Nia vs. Sarah R. Kendall vs. Ava. Kalani vs. Jade. Chloe vs. Kamryn. Mackenzie vs. Tea and Sarah H.

But wait...who's supposed to go up against Maddie? No one, of course! Abby would NEVER allow it. In fact, Maddie is so much better than everyone on her old team, Abby thinks she is better off being a part of her new select ensemble team. Chalk this up to another calculated Abby move!

Abby has said for weeks how much she wanted to create a new team to compete against her original team, but then doesn't even use her actual original team?  

By putting Maddie on her new select team, Abby is already setting up her original team for failure, which has become one of her favorite past times.

Abby doles out this week's routines, pitting a Kendall & Kalani duet against Sarah R. & Ava one, a lyrical "select ensemble" group routine against a jazz "original" group routine, and a Chloe solo against a Kamryn one.

But it's not just the girls who go head to head this episode. With the new dance moms quickly integrated into the ALDC fold, drama erupts.

Kira quickly goes on the attack versus Sarah R's mom, Tracey, who she and Kalani both know from their former dance studio in Arizona. Krazy Kira, who believes Sarah R is pretty much just an Arizona reject with no talent, thinks Tracey should "drown in hell." I'm guessing in the River Styx?

Kira really did show a new side of her this week, one I dare say solidified her position as a regular on this show. Because let's be real...you can't be a Dance Mom unless you bring the crazy. 

Speaking of which, "Christy with a Y" (from last week) and her daughter, Sarah R, are not shockingly new additions to the select ensemble team. 

Getting into an altercation with Melissa last week definitely helped Christy and her daughter get a producer seal of approval to land on the show. I mean talk about a woman who likes to stir up the drama...LOUDLY. Throughout the entire episode, "Christy with a Y" barked at anyone and everyone, including Abby, alienating herself and ultimately her daughter in the process (more on that later).

With the pressure building and dramatics at an all time high, Abby, who now has to split her time between both teams, seems much more interested in her new select ensemble team over her original girls, going as far as to be totally preoccupied on her phone throughout Chloe's rehearsals and giving the original team less practice time. No surprise there!

Put anything shiny and new with great technique in front of Abby and she's ready to put her professional name on it.

Now it's time for the competition: Energy Dance in Youngstown, Ohio. It wouldn't be the 100th episode without a surprise appearance at the event by Cathy...or Abby pulling a girl from a dance for something her mom did.

This time it was Sarah H, whose big mouth mom "Christy with a Y" calls Abby a liar. Wrong move, Christy. Should've kept your mouth shut. Don't you know what happens to moms who back talk? Dance kid jail. Bye.

Overall, all the girls were exceptional in their routines this week, but I am still always Team "Orig" (maybe I should get a t-shirt made).

It was a tight race to the finish line....Ava and Sarah R's contemporary duet, "Birds of a Feather Flock Together," came in second place while Kendall and Kalani's jazz duet, "Rule the World," came in third. One point to the new team.

Chloe's beautiful lyrical solo, "Lucky Star," came in first, beating out Kamryn's contemporary solo, "Fate," which came in third. One point to the orig team. A thousand points to Chloe. Always.

And finally, the original group jazz routine, "The Royals," came in second to the select ensemble contemporary routine, "The Good Life." Abby may have tried to make a point by dressing the original competition team in maids' uniforms, but those girls were definitely royal this week, regardless of their loss.

They proved they can compete well even without Abby's queen, Maddie, to lead them.

As the episode came to a close, Abby made a point to state that this is only the beginning for her new competition team and the ALDC. I think it's great Abby wants to instill a competitive environment at her dance studio. Competition breeds progress and growth.

But, I'm sorry, I need Maddie back on the original dance team stat. My hope is Maddie and Melissa will stand up to Abby, as they should've already done, and tell her they want back on the original team. If anyone can take a stand against Abby, it's those two. Maddie is Abby's prized pupil, regardless of what team she chooses to be on.

What do you think? Should Maddie go to back to the original dance team?

Tags: Dance Moms, Reviews, Reality TV