If you were disappointed or surprised that Sam and Dean mostly took a backseat to Supernatural Season 9 Episode 20 (especially so close to the finale), that's because the hour was really focused on setting up the world for its potential spin-off series, Bloodlines.
And so the real question of the hour was whether or not this backdoor pilot was enticing enough to want to see more, to want to watch a full season of warring monster families seemingly straight from The Godfather.
David, Freddie Costa (Stephen Martines) and Margo Lassister (Danielle Savre) hang in the hallway in this photo from the backdoor pilot for Supernatural "Bloodlines."
My problem was that aside from Sam and Dean popping up (who I even often forgot were in the episode) and the Supernatural title attached, this wasn't really a Supernatural episode or even felt in the same universe.
The tone felt far more glossy and in the vein of a soap opera with overly dramatic lines and situations, such as a Romeo and Juliet love or a dead father who might not be dead.
Sure, the hour did do what a pilot should in introducing the new main characters: Ennis, David and a bunch of others that seemed to blend together.
It also provided some stories to explore, such as the monster families controlling Chicago, the guy who becomes thrust into the monster world, the monster who doesn't want to be an evil monster and the future war that could tear it all apart.
But it all felt very cliche. That's not to say that it couldn't expand and become interesting down the line, but it wasn't anything that had me chomping at the bit to see a next episode. Not even Dean wanted to stick around to see what would happen next.
As much as I liked the parallel of Ennis losing his girlfriend like Sam lost his girlfriend in the Supernatural pilot, that wasn't even touched upon. It could have been a cool conversation for those two to have, especially with all Sam's been through after the fact.
Yet, I found it really hard to care about Ennis as a character, and it was rather shocking that he so easily killed the guy who dressed up like a mix between Riddick and Freddy Kreuger. Not to mention that Sam and Dean didn't even address it, but simply said don't be a hunter, see ya.
Maybe that darkness might turn into an interesting take on the character, but it felt jarring.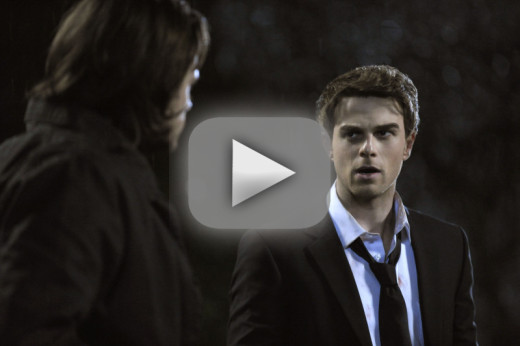 I did find the character of David (played by Nathaniel Buzolic) to be promising. There was something about his charm, eagerness and a bit of a rough around the edges appeal that made me want to know a bit more, even if the whole love tragedy wasn't that compelling. I even liked his quick-witted banter with Dean.

However, I was a bit taken aback by the fact that his shapeshifitng seemed to be rather instantaneous. It made me miss the early days of shapeshifters having to shed their skin to do so.

As for the whole monster families fighting each other, it was an OK idea, but it too fell right in line with a soap opera melodrama. It was as if everything was trying too hard to be serious rather than a tale with the Supernatural grit, humor and drama.

But like I said, this really wasn't Supernatural. And doesn't The CW already have a similar type show in The Originals?

Maybe a Bloodlines series could work out the kinks if it ever gets a chance to go beyond this Supernatural hour, but I just couldn't get into it.

What did you think? Would you watch the Supernatural spin-off, Bloodlines?

Sean McKenna is a TV Fanatic Staff Writer. Follow him on Twitter.

Tags: Supernatural, Reviews
Want more Supernatural?
Sign up for our daily newsletter and receive the latest tv news delivered to your inbox for free!
More From TV Fanatic
On tonight's Gang Related, Ryan was forced to make a difficult decision. Which side did he chose?
On the latest episode of Satisfaction, Neil learns an important lesson about being honest with himself from Adriana while Grace struggles on her new job. Read on for analysis.
On Rookie Blue, Oliver turns down extending his contract as Acting Staff Sergeant until Duncan's dismissal hearing turns unpredictable. Read on for more.
On tonight's The Bridge, Marco is made an offer that he initially refuses. Will he agree to go after Fausto?
---