For as exciting as last week was, The Real Housewives of Atlanta Season 6 Episode 24 was as equally boring. We recap the snore filled hour in our +/- review...
Heck, it was so slow that Andy Cohen took a phone call from Phaedra Parks toddler, Ayden. Minus 12. Talk about reaching for something to fill the time.
Andy Cohen opened the show with this disclaimer…"We don't condone or excuse physical violence under any circumstance."  He forgot the second part of that statement that says, Unless it buys us big ratings.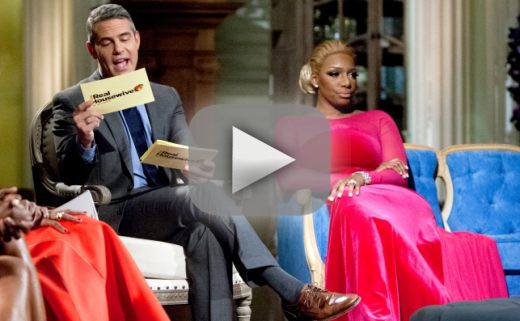 Over on The Real Housewives of New Jersey it seems as though the cast has frequent physical confrontations and no one bats an eye but perhaps that's because they are all family and less likely to press chargers or actually try and have one another fired.

And Kenya Moore definitely wants Porsha Williams fired. 

Minus 50. Kenya took no responsibility for her actions. She claimed she was an adult fighting with her words but it looked more like a spoiled child sticking her annoying toys in other people's faces until they finally snapped.

Kenya said she was only having fun. Well, she certainly is now that she can see Porsha give up her seat on the couch. 

No, Porsha shouldn't have resorted to violence but when does someone's provocation become too much? And if nothing else, I was tired of hearing Kenya lecture everyone on the evils of physical violence. Right message. Wrong messenger. Minus 22.

And P.S. Kenya, just because you can pick up someone's cheating husband, that does not make you a housewife.

Moving on…did anyone else think that Phaedra's earrings looked downright painful? And the funniest comment of the night might have been Kandi calling out Chuck for trying to make her look like a "slut bucket" 

Plus 15 just because that's a term I've never heard before. 

Now, on to Mama Joyce. I had no doubt that the woman was vying for her own peach on the show. Minus 18.

What mother forgets the date of her own daughter's wedding? Mama Joyce. That's who.

Mama Joyce sat on that sofa in her fancy dress, waving her diamonds in Andy's face and acting like she'd had a few too many before coming out on stage. It was really kind of sad to watch. 

Maybe worse was when she said she'd raised her daughter to be a millionaire and didn't want her marrying a "hundredaire."  Minus 32. Apparently there's no room for love in Mama's equation, only dollar signs. 

Let's face it, all season we witnessed Mama Joyce being selfish and loud. She doesn't seem to care if her daughter is happy or not as long as the gravy train doesn't stop while she's on it. 

Finally, we got to the rift between Cynthia and NeNe.

Kandi was right. NeNe came off like a selfish friend who didn't care about anyone's feelings but her own. Plus she appeared to be a hypocrite when she refused to have talk about their issues on the sofa. When you cash Bravo's check you agree to play their game. Minus 22.

Maybe the husbands will bring a little more excitement to next week's episode.

Episode total = -141!                                      Season total = -1459!

Your turn TV Fanatics. Is Cynthia anything more than NeNe's lapdog?

C. Orlando is a TV Fanatic Staff Writer. Follow her on Twitter.

Tags: The Real Housewives of Atlanta, Reviews, Reality TV