So... Bart has the ability to use voodoo to make women pregnant.
What a strange premise for an episode, no?
The Simpsons Season 25 Episode 19 focuses on one unusual plot thread, Bart's strange magical fertility powers, and eventually reaches a climax just as weird as you might expect: getting two horses to make sweet love to each other.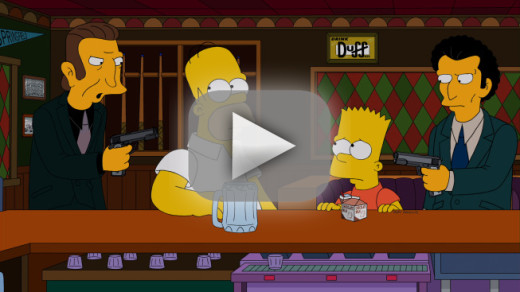 The entire half hour felt odd and unfocused. Bart's irritation with his art teacher leads him to seek out voodoo of all things to get rid of her. He finds a voodoo priestess through Shauna, who you might remember from The Simpsons Season 23 Episode Episode 18, and the two end up having another uncomfortable kissing session so she can make her dad (Superintendent Chalmers) mad. Creepy!

It might have been a bit of a laugh for Bart's voodoo to coincide with the teacher's pregnancy, but the fact that Bart's ability extends to other couples just makes the story seem really ridiculous. And then, out of nowhere, Fat Tony enters the scene.

Fat Tony threatens Bart and Homer's lives if they don't get his racehorses to mate. His request is odd enough, especially since the horses haven't even had sex, so how would he know if they were having reproductive issues?

Once the central conflict is exposed, the writers seek to include some point to all this madness. Bart blames Homer for his bad behavior because he isn't a good role model, referencing his most recent exploits at the Superhero pub crawl (one of the few moments of true hilarity in this episode).

Bart has a point, but it's one that has been made many times (and in better ways) in the past.

Here, it just seemed useless.

But, there were some good The Simpsons quotes this week, and a few amusing moments in between the inane plot threads. 

Which was your favorite?

Tags: The Simpsons, Reviews