S.H.I.E.L.D. is reborn!
Coulson's team put their lives on the line and came out victorious over Garrett and the Cybertek super soldiers. It was a heroic effort. The finale had no shortage of action, suspense or heart. It was as near perfect as it probably could be. I only had one disappointment, but I'll get to that later.
While it's not clear whether the new S.H.I.E.L.D. will be considered legitimate or not, it probably helps that Coulson's team was responsible for rescuing some of the top military brass.
Agents of S.H.I.E.L.D. Season 1 Episode 22 concluded on chapter of the story, while setting up Agents of S.H.I.E.L.D. Season 2 nicely.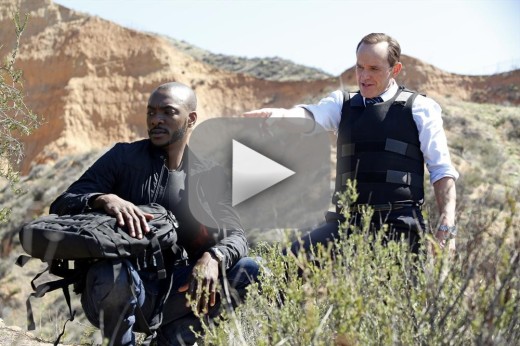 The last few episodes have built up to the finale showdown. Coulson's team took out the super soldiers in the barber shop without a problem. It helped that May got her hands on the powerful weapon to demolish the building on top of the enemies. More importantly, Skye infiltrated the HYDRA computer system.

With that mission a success, they headed into the belly of the beast to take out Garrett. The serum combined with his centipede technology made Garrett lose his mind. He believed he was invincible and all-knowing. Garrett's body was healed, but the belief that he was omnipotent was his downfall. He pulled out a rib from the General's body! What the heck was that? Crazy. 

Skye and May rocked out this episode. I loved the showdown with Ward. The women didn't hold anything back against him. He was their enemy and they wanted to take him out. If anything, they hit him harder because of their personal relationship rather than the other way around.

The circular saw! Ice queen! Nail gun FTW! May knocked out Ward.

Ward may have shown his doubts around Garrett and Raina, but with his former teammates he was a Garrett disciple and HYDRA soldier fighting against his enemy. I was disappointed that he chose to fight for Garrett over his former friends when the moment arose.

He may not have said anything in his defense when he was taken into custody, but I still hold out hope that he can find his way out. Redemption won't be easy and it will take time to earn, but I still believe it's possible. With Ward gone, I hope that Triplett sticks around and is made a full-fledged team member. He's a great character and adds some fun that's desperately needed to the team dynamic.

In contrast to all the fighting that was going on, Fitz and Simmons struggled quietly for their lives. It was heartbreaking to hear them give up on life and talk about death. I never for a moment thought they would actually die, but it didn't take away from the emotions they shared.

That was only topped by Fitz's sacrifice to save Simmons' life. Her use of the oxygen wasn't even up for discussion. It was a noble and soul crushing decision when he pushed the button. I can't wait to see the reunion between them next season. Maybe he can get a real kiss instead of just being kissed all around his face!

Their rescue by Fury was outstanding! Fitz's jerry-rigged beacon worked. It was well-publicized that Samuel L Jackson would be making an appearance on the finale, but I never expected to see him fish Simmons and Fitz out of the water. It was a wonderful surprise. He's involvement in the hour was incorporated well.

The final showdown with Garrett was epic. He thought he was invincible, but he wasn't. The banter back and forth between Fury and Coulson about Garrett's perverted "one man" speech was hilarious. It symbolized all that was wrong with Garrett. The serum and centipede altered Garrett didn't go down easily, but he did go down.

Skye's freeing of the "incentive program" people was a smart move and finding Ace was their "Ace in the hole." Deathlok wanted to do the right thing, but he loved his son more than anything. Garrett never saw it coming when Deathlok took him out. An excellent moment, though I immediately wondered if he would heal.

And, he did heal enough to get into the Deathlok machine to be further regenerated with new parts. I was disappointed for a moment, but only moment. When Coulson picked up the gun and pulverized Garrett, it was done. Finally! Garrett was gone. There's no coming back from that. Garrett was turned into particles which would be spread around and become a part of new things.

Coulson and his team saved the day. He also got the validation that he needed from Fury about why he was saved with the serum. It was meant to heal an Avenger and it was used to heal one. The team now has the tool box to start over and "Billy" to help them at their new base, "The Playground."

Fury is leaving them behind, but will be "everywhere." And, Raina and Quinn got away presumably with the gravitonium. She also visited the "monster," showed a picture of Skye and said, "I found your daughter." And, that wasn't even the last one. Coulson woke up in the middle of the night and started drawing the same or a similar diagram to the one Garrett drew. These are several intriguing strands to explore next season.

Agents of S.H.I.E.L.D. took a long time to find a compelling story to tell, but in the post-Captain America: The Winter Soldier world they found it. The outstanding questions and set up of restarting S.H.I.E.L.D will bring me back for more adventures with Coulson and his team. I'm sold on the series now.

Who do you want to be series regular characters next season?

Carla Day is a staff writer for TV Fanatic. Follow her on Twitter and on Google+.

Tags: Agents of S.H.I.E.L.D., Reviews