For once, the men and women at Station 51 have a good shift. They find success, validation and courage rather than nursing broken hearts and broken wounds in Chicago Fire Season 2 Episode 21.
It's a welcome change after the last few installments of Chicago Fire Season 2.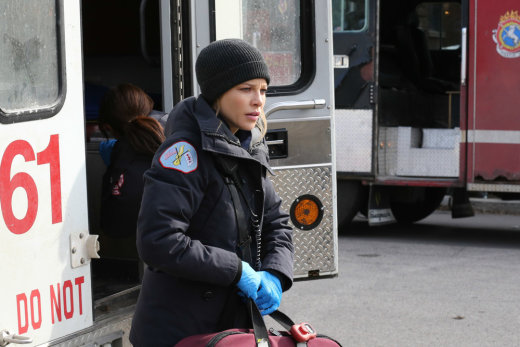 The real drama drives from Dawson's potential prospects as a candidate. Since there's no way for her to be with 51 since she's with Casey, and all prior precedent has fizzled out, if she does pass the test, she'll be at the Austin Station. 

The Austin Station is about as welcoming as a pile of rocks.

The dichotomy between 51 and Austin could not be any greater. The former is welcoming, sleek, modern, and relaxed, while even walking into Austin it's like walking into a different era. The station is older, more rundown and the men there do not even acknowledge Dawson and Shay's visit.

Instead, they decide that it's better from them to go on about the problems the prior female candidate caused them. 

I commend Dawson for trying to find the positivity in the situation, realizing that not all harassment reports are true - something that 51 has dealt with - but from the way the rest of the guys roll their eyes or remark about the Austin house... there's true to be head.

Dawson is going to have a very rough time is she passes her test and land there. 

Casey is still sitting on his proposal to Dawson as he wonders where he'll actually do the proposing, but there's still some uncertainty over what her answers is going to be. She is so focused on being a firefighter she may just decide to hold off on answering until she's past her candidacy. 

Speaking of marriage, Boden's ex-girlfriend Donna's (and now fiancé) pregnancy causes Boden to reevaluate everything as he decides to stay in the baby's life and is even willing to marry her to make the baby's life easier and better.

Her initial shoot down of his proposal brings about a pairing that is really growing and enjoyable to watch: Boden and Mills. Now that they're over their issues with each other, they can actually communicate with each other and offer advice - and it's exactly what Mills does.

He tells Boden flat out that he needs to put himself out there to Donna, giving her a glimpse of their life that is not clinical.

Meanwhile, Shay is finally in a good spot, willing to step up to the paramedic plate now that Dawson is back to trying her luck at firefighting. Naturally, it's the perfect time for Devon to return.

Much like Kelly, there's no real enthusiasm to see her back since she put Shay in such a dark place. Shay even looks to be falling under her spell a little bit as she provides excuses and some of the missing stuff back. 

Maybe there's a chance that Devon is telling the truth, but she's already putting a spell back on Shay. Someone completely ransacking a house is not worthy of trust, but Shay is beginning to give it out again. Hopefully, Shay will reevaluate her options. 

What was your favorite moment of tonight's Chicago Fire? 

Nick McHatton is a TV Fanatic Staff Writer. Follow him on Twitter.

Tags: Chicago Fire, Reviews
Want more Chicago Fire?
Sign up for our daily newsletter and receive the latest tv news delivered to your inbox for free!
More From TV Fanatic
Power struggles ensue all around Chester's Mill. Lives will be put on the line.
Scott decides to get tough on Teen Wolf after rescuing his Beta by declaring he won't sit back and watch more deaths. Find out what else went down in the review!
Heather and Tamra consider making peace with Shannon on The Real Housewives of Orange County. See what went down in our TV Fanatic review!
On Murder in the First, the trial of Erich Blunt reaches its conclusion. But what is the verdict? Find out when you read the review.
---