Most of the time I truly love Blair Waldorf and her aristocratic whacky ass. But then there are those other times I wanna smack the girl and tell her to grow up.
Then again, it's fiction and nobody plays a selfish, spoiled villain better than Blair does.
So what was her beef in Gossip Girl Season 2 Episode 5? None other than her bestie Serena!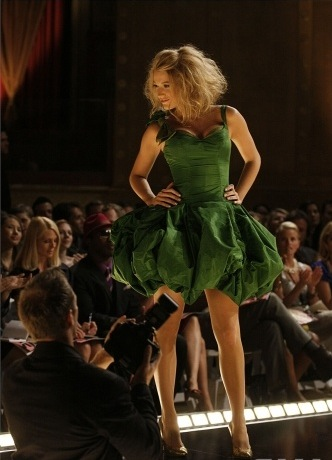 There is nothing Blair hates more than sharing, whether it be sharing a boy, a new dress, or the spotlight.
Chuck worked his magic to re-crown Serena in the Constance hierarchy in Gossip Girl Season 2 Episode 4. One of the things that makes Serena so desirable, such an "it girl" is the fact that she doesn't really care all that much.
Don't ever go to high school, Dorota. The girls are spoiled, stupid and ungrateful! One snapshot with a socialite and it's all Serena, Serena, Serena!

Blair
Blair wants the title of Queen too much. It turns her green with envy and into a complete monster. One of the things that brings the competition out of Blair the most is her mother's attention.

It was eerily reminiscent of the time Eleanor asked Serena to model in Gossip Girl Season 1 Episode 4 and Blair flipped out. That was a dick move Eleanor pulled back in season 1, but this time I really thought Blair went way overboard. Sabotaging her mother's company simply because she was resentful? Oy.

Who knew Jenny Humphrey's dress would be good enough to save the day and steal the spotlight? Especially because apparently what she considers to be a dress is really just a long shirt. That dress she wore to the fashion show was so short, I think she probably flashed Rufus on the way out.

Dan out of his comfort zone made for some great entertainment. Chuck was so miserable in those days...Okay, Chuck was miserable for a lot of days. The two of them never made a great duo, but the scenes they had together were definitely interesting.

I also always found it interesting that Chuck confided in Dan about how his mother really died when he never told his best friend Nate.

I admired Lonely Boy's stance on not exploiting a dude (even if he hated him) just for his work. But then again Lonely Boy turned out to be Gossip Girl, soooo really he was just stowing all of his information away to make a much bigger splash down the road.

So what did you think of Dan and Chuck's night on the town? If you want to revisit their random moment together, don't forget you can watch Gossip Girl online at any time!

Leigh Raines is a TV Fanatic Staff Writer. Follow her on Twitter.

Tags: Gossip Girl, Reviews