There's nothing like a good ol' trip down memory lane.
On Modern Family Season 5 Episode 22 , hat trip was provided courtesy of Phil Dunphy's old answering machine.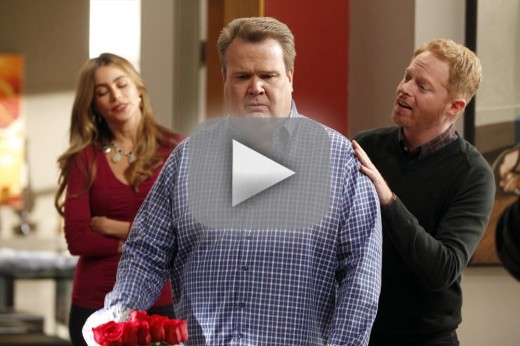 Personally, I am all for nostalgia. I love finding old pictures, notes, videos, etc. However, finding out how you were conceived is really never that fun. 
Haley: I was conceived at a Duran Duran concert?!
Alex: Classy start to a classy life.
Don't you wish the audience could get a flashback to the old Phil and Claire? I want to see what they were like in college. Those messages were pretty funny. Of COURSE Phil drank Zima. Mitchell was still in the closet and had a pager. Claire dressed slutty (duh.)
The only thing better than using some old goodies for a throwback Thursday is using them for a prank. Secret genius Haley came up with the great idea to trick Phil into thinking Claire was pregnant. Alex was right, she does have such potential!
Over at Jay's house, they were having a different kind of afternoon. Manny doesn't want to try a pickle but Jay insisted he's too stubborn. So Gloria makes Jay try her mother's blood sausage. In turn, they make her pet Stella's belly.
Obviously, I think Jay got the worst deal. I don't know what blood sausage is but I don't like the sound of it and I have a jar of half sour pickles in the fridge and a larger version of Stella on my couch. My preferences here are obvious.
This whole persnickety thing is not gonna fly in the world. Never hand people another reason to make fun of you.

Jay
I just don't know why Jay is always pushing Manny to try and act more mainstream. Manny is more interesting because he's a unique kid. I understand sometimes trying to help your child steer clear of a heartbreak when you see his crush is into a different guy.

But for the most part, I hate when Jay tries to push Manny into being someone he's not.

Who is really going to make fun of him for not liking pickles? 

The fight with Mitchell was awkward and unexpected as this is a comedy. However, Modern Family strives to be realistic and, well "modern," and that fight is something that could very realistically happen. It was an honest moment between Jay and Mitchell confronting something that was uncomfortable for them.

I come to Modern Family for the laughs and not the drama, but I'm guessing this will lead into some part of next week's plotline. After all, it is part one of the wedding finale episodes!

So what rare item would you rather by? Wyatt Earp belt buckle or vintage Spiderman comic book?

Leigh Raines is a TV Fanatic Staff Writer. Follow her on Twitter.

Tags: Modern Family, Reviews