Was anyone really surprised to learn that Dr. Leekie was behind the death of Susan Duncan?
From everything we've seen so far, it appears that Leekie tries to adeptly play both sides of the table but he's never quite gained sympathy. In Orphan Black Season 2 Episode 6 Sarah finds the swan man, aka Ethan Duncan, aka Andrew Peckham. He's holed up with Shioban (of course) and he seems a bit off.
Perhaps he has had more than any one man can take? Leekie stole his science, his wife and then his daughter. The ultimate betrayal was poisoning Rachel in such a way that all the love she was shown as a little girl was erased. The dude has reasons to want to shack up with a bird.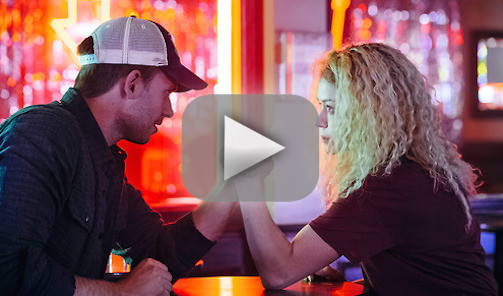 It does make me worry even more about Cosima, working so close to Leekie at the Dyad. With gene sequencing friend Scott now on the team, at least she has another ally at the ready.

The science sometimes goes over my head (damn you real Cosima!), but I thought what Scott uncovered was either that the stem cells being used were from Kira (the only known genetic spawn), a child out there that nobody knows about or Leekie and Henrik are a lot closer than we know and he's using Helena's eggs to help save Cosima.

That latter idea seems a stretch given how interested Henrik is in producing actual life. He doesn't seem the type to squander miracle embryos, unless Leekie lied to him. So where did the stem cells come from?

All of that aside, the very best of episode goes to Helena. I've had this crazy affinity for her since the start. How lost and innocent she seems one moment, followed by her extraordinarily tough and physically capable side are so fun to watch. She's also Ukrainian, and my peeps come from there. She can be my sestra!

They blew me out of the water by choosing "Sugar, Sugar" by The Archies for her to sing in the car. Take any guess as to what my favorite song was as a wee girl. Watching her and Sarah bond was really touching and a long time coming. Sarah has been so worried about so many things, but she never quite understood all that her sister was.

Seeing her sing and laugh, hearing her dreams about wanting children and hearing Helena tell her she is a good mother all helped Sarah see the other side of the nun-raised assassin. When they were sleeping in the tent, Sarah rolled over to face her sister, putting them in the tent like they were in the womb. They were complete.

Helena at the bar was also beyond expectations. "White Russian?" she asks Jesse as he sits down beside her. Double entendre much? I loved that he saw the side of her that Sarah just got to know and they even shared some steamy kisses before she had to fight off another suitor by thumbing his eyes and punching his lights out.

Great guest appearance by Patrick J. Adams, a known Orphan Black super fan, a vocal supporter of the show. He shared via Twitter, "Twitter....making dreams come true...#orphanblack" when he was cast. As far as Helena knows, Jesse did give her his hat, which essentially made him her boyfriend. Perhaps he'll make a return visit!

The most painful part of Helena's journey was when the police woman said her sister was there to get her. Her eyes lit up at the thought of Sarah coming and calling herself sister. Instead it was Gracie. Gracie isn't ready to embrace Helena, but she knows the consequences of returning home empty handed.

Little did Gracie and Mark know that children were on Helena's mind and offering hers to her was the perfect bait. I was disappointed in Sarah for leaving Helena, but she was hot on the trail of the swan man.

Not to leave out one of our other favorites, Allison was doing her best not to get kicked out of rehab for the sake of the kids. It seemed strange that Vic was in the same facility, but he's apparently working for Angie. Is it wrong that I hope she suffers a misfortune and, oh you know, dies? I'm sick of her sticking her nose in where it doesn't belong. Go find a new case. 

Focusing a good portion of the hour on Helena really worked. I'm scared to death for her, of course, but don't blame her for following the trail to "her babies." There were some excellent Orphan Black quotes (you don't think we'd forgotten about Felix, do you?) and more knowledge about everything is always welcome.

You can watch Orphan Black online to catch up on the latest, and read through the Orphan Black reviews on past episodes to chime in with your thoughts as you go.

Will Helena be successfully implanted with her babies?

Carissa Pavlica is the managing editor and staff writer for TV Fanatic. Follow her on Twitter and on Google+.

Tags: Orphan Black, Reviews